No respite from soaring onion price
To be imported by air; rice, vegetables also getting pricier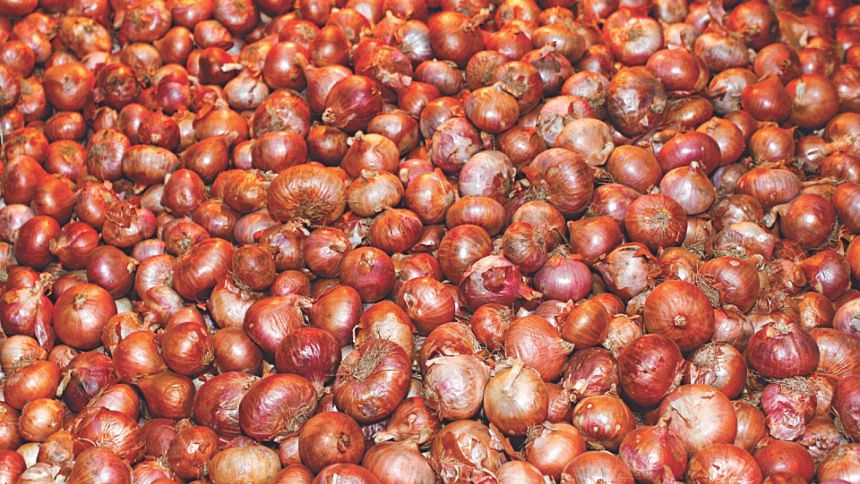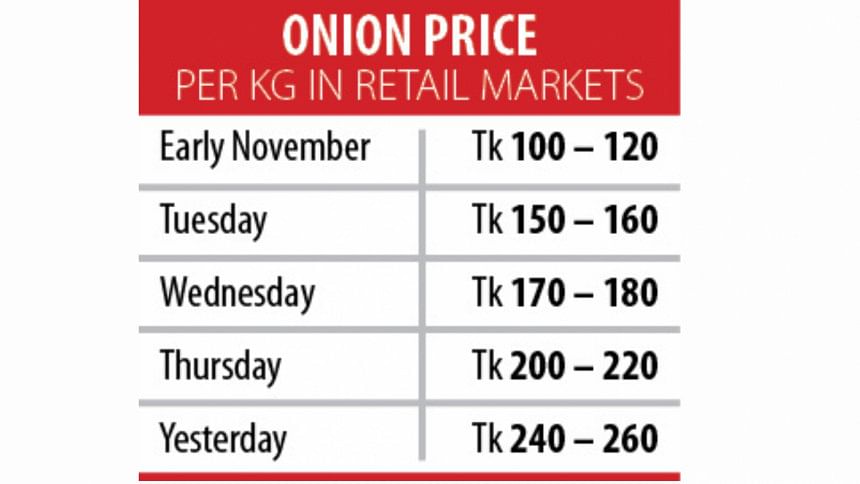 There seems to be no stopping the spiralling prices of onion. Each kg of the essential spice was sold for Tk 240-260 in the capital yesterday and the prices kept rising by the hour.
To boost supplies, the government will use cargo planes to import onion within the shortest possible time.
"Through cargo planes, the TCB is importing onion from Turkey while S Alam Group from Egypt and many other companies from Afghanistan and the United Arab Emirates [are importing onion]. All procedures have already been completed," BSS reports citing a commerce ministry release.
Besides, a large consignment of onion will arrive at a sea port soon, it added.
Onion prices began to rise about two months ago, when India restricted its onion export. But the prices started to rise sharply last week.
Earlier this month, each kg of locally grown onion was sold for Tk 100-120 in the kitchen markets in the capital. But the price jumped to Tk 160 on Tuesday morning and then kept rising.
The prices rose by Tk 30 to 40 every day since Wednesday.
The Daily Star yesterday visited six kitchen markets and several retail stores in the capital's Karwan Bazar, Moghbazar, Farmgate, Mohammadpur, Kazipara and Shewrapara.
Prices of some other essentials, including rice, some vegetables and soybean oil, also increased by Tk 5-10 in the last 10 days.
A kg of fine rice was being sold for Tk 48-50 and coarse rice for Tk 33-35 yesterday.
Besides, prices of bottled soybean oil rose by about Tk 5 a litre, and cauliflower by about Tk 10 apiece.
"We can't help eating onion because curries taste bad without it. But at the same time, we can't afford it," said Mohammad Khokon, a shopper in Karwan Bazar.
Another shopper in Kazipara, Farid Uddin said, "We are buying as little goods as we can."
A few days ago, the Burmese variety of onion was cheaper by Tk 20-30 than the local variety, but the prices came quite close yesterday.
The reporters found each kg of local onion was sold for Tk 240-260 at retail stores and Tk 230-240 at wholesale markets yesterday afternoon. The Burmese variety was cheaper by about Tk 10.
The wholesalers and retailers blamed supply shortage for the price hike and said the prices may soar further unless India resumed exporting onion.
"Importing onion from India was faster and easier. On the other hand, importing from Egypt and Myanmar takes a long time," said Rezaul Karim, a wholesaler in Karwan Bazar.
Meanwhile, many retail stores in residential areas have stopped selling onion.
"I stopped selling onion two weeks ago. Shoppers haggle too much," said Jakir Hossain, a grocery store owner in Tejturi Bazar area.
PRICES MAY FALL SOON
Senior Awami League lawmaker Tofail Ahmed at a relief distribution programme in Bhola yesterday said the prices of onion "will become normal soon" as around 50,000 tonnes of imported onion will reach the country.
"Different countries are facing onion crisis this year," said the chairman of the Parliamentary Standing Committee on Ministry of Commerce.
At another programme in the capital's Dhanmondi, AL General Secretary Obaidul Quader said, "We are trying to identify those responsible for the price hike. I hope that the prices will come down soon."