No fitness docs, yet running
70,000 vehicles have not renewed fitness certificates for 10 years; BRTA to cancel registration if not renewed by May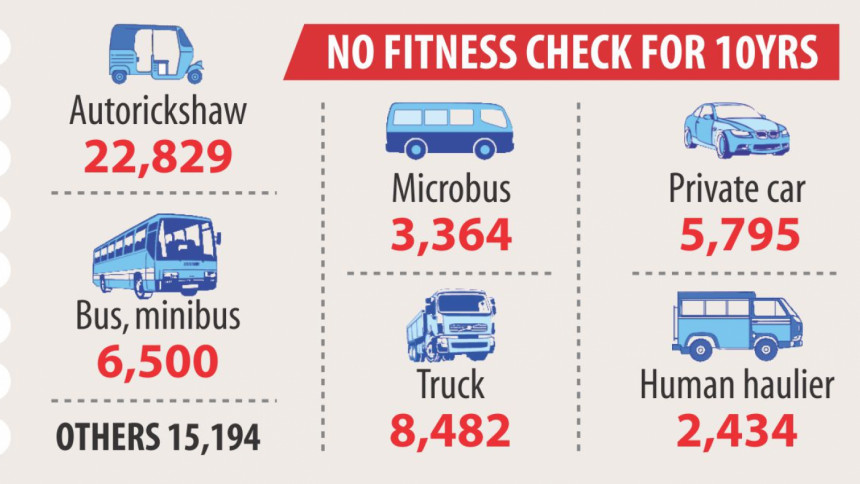 More than 70,000 vehicles have not had their fitness certificates renewed in 10 years, and many of them are on the road posing serious risks of accidents.
Bangladesh Road Transport Authority (BRTA) asked the owners of these vehicles -- 14,982 of them buses and trucks -- to renew their fitness certificates by May 31. Otherwise, their registrations will be cancelled.
In a notice published in newspapers last month, the transport regulator requested the owners to inform the authority if their vehicles have been discarded.
"In addition to cancelling their registrations, we will file cases against each vehicle owner to realise the dues [renew fees, taxes etc]," BRTA Director (operations) Sitanghsu Shekhar Biswas told The Daily Star early this month.
Under the Motor Vehicle Ordinance 1983, vehicles must undergo mandatory fitness checks every year. But the 71,218 vehicles in question did not do so since January 2009.
Unfit vehicles are a key reason behind road accidents, a major issue in the country right now, especially since last year's massive student protests demanding safer roads.
Tens of thousands of students took to the streets in Dhaka and other cities following the death of two college students in a road accident in the capital on July 29.
Students also took the to streets last week following the death of a university student in capital's Bashundhara area.
At least 4,439 people were killed in 3,103 accidents last year, and faulty vehicles were one of the main reasons, according to Nirapad Sarak Chai, a road safety campaigner.
As of December last year, about 38 lakh vehicles are registered with the BRTA. Of them, 24.5 lakh are motorcycles that do not require annual fitness certificates. 
Of the rest, some 6.5 lakh vehicles obtain fitness certificates every year on average, a BRTA official said.
Last year, the BRTA revoked registrations of 56,410 vehicles, including 3,740 belonging to different ministries and government agencies, for not renewing their fitness certificates for more than a decade.
The process to file cases against these vehicle owners is underway, Sitangshu said.
Prof Moazzem Hossain, former director of Accident Research Institute (ARI) at Buet, said the operation of such a huge number of unfit vehicles indicates that the authority's enforcement system was non-functional.
"Unfit vehicles increase the risks of accidents and so these vehicles definitely make our roads riskier," he said.
The Daily Star spoke to three executive magistrates who regularly conduct drives against unfit and illegal vehicles. They said such vehicles usually operate in the suburbs of Dhaka.
All three spoke on condition of anonymity because they are not authorised to speak to the media.
"I led a mobile court drive last week in Jatrabari and found many vehicles that did not have their fitness certificates renewed in 10 years or more," said one of the magistrates on March 10.
Such vehicles are operating on the Chattogram Road-Gulistan and Tarabo-Bishwa Road without even the route permits, the official added.
"Around a year and half ago, when I conducted a mobile court drive in Savar, I found many vehicles that did not renew their fitness certificates in 10 years or more," another magistrate said.
"You would find such vehicles operate in different short routes like Savar- Manikganj, Manikganj-Paturia, Nabi Nagar-Chandra, with backing from local political leaders. The number of such vehicles increases before Eid," he added.
According to Sitangshu these people are "wilful defaulters". 
Under the law, owners must inform the authorities if their vehicles have been discarded.
But no one does so, making it almost impossible for the BRTA to say if the vehicles are on the road, he said. "But we think many of them are."
Many of the vehicles whose registrations were cancelled last year had been registered 30 to 40 years ago. But the majority of the 70,000 vehicles in question had been registered less than 15 years ago, he said.
"They are dodging taxes and creating safety concerns," he added.
The law does not say how long a vehicle can operate, said a BRTA official. 
"We have nothing to do if someone can maintain their vehicle beyond 20 years if they are fit for the road," he said.
Mahbub-E-Rabbani, director (road safety) of the BRTA, said they could do little apart from conducting mobile court drives against such vehicles.
A court could fine highest Tk 2,000 for this offence, an executive magistrate said.