Murders he wrote
A key suspect in several murder cases, Banani don Sohel remains at large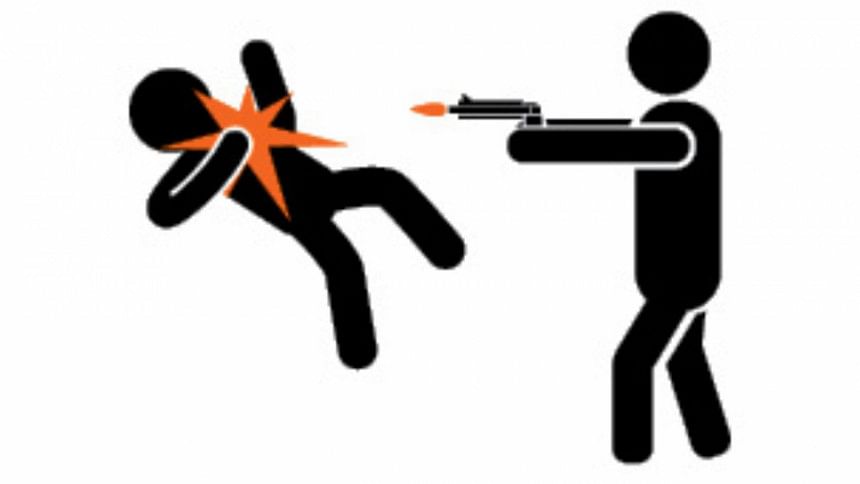 A politically-affiliated murderer may just be planning his big comeback. At least that is what the locals in his area believe. For them, it is a nightmare come true.
"He is a monster," a mother of one of his many victims said, when asked to describe him. "He is just a monster."
Former Banani Jubo League Joint Convener Yusuf Sardar Sohel, whose brutality was captured on a close-circuit camera, reportedly fled the country in July soon after allegedly killing Kazi Rashid alias Rashidul, former vice-president of the local Jubo League Banani Thana unit.
According to Detective Branch officials, Sohel has recently begun discreetly contacting his associates in Bangladesh.
"Sohel has been calling his associates using a number with the country code of Albania. We suspect he is not in the country," said Inspector Moniruzzaman of the serious crimes division of the DB.
Since news of him contacting his associates broke, those who were opening up about his crimes have now gone silent.
A victim The Daily Star talked to recently, now refuses to speak further on the matter and called 12 times just so his account is not published. 
Another victim has been calling on a daily basis. "He [Sohel] is sending me threatening texts to withdraw the case," she said.
The physical distance does not comfort her any longer. She requested not to name her in this story.
For Sohel who grew up in the capital's Mohakhali, this is not the first time he has escaped, only to return later, thanks to the blessings of political leaders that he enjoys. 
Back in 2001, after the BNP came to power, he escaped from the country and found himself in South Africa.
When the AL returned to power in 2009, Sohel returned too. His evil streak had been sharpened, or so it seemed.
In 2012, he was accused of shooting three Jubo League men, including the then general secretary of AL's youth front Zakir Hossain of the Mohakhali, on July 1 of that year.
Later on September 16, 2016, police arrested him over shooting a rickshaw puller in the leg. He was released on bail three days later.
He faces at least four cases filed with Banani police alone.
All of his alleged crimes were heavily reported, but Sohel remains beyond the reaches of law. This air of immunity around him stems from what those close to him say is an association with the power-brokers in the country, including top ruling party politicians and police officials.
In fact, when officials at Gulshan Police were asked how Sohel still had a licence for his guns, they could not come up with any answer.
Assistant Commissioner (Gulshan Zone) of Dhaka Metropolitan Police Rafiqul Islam said that it was a matter for the Detective Branch, who in turn said local police should deal with the matter.
For now, it seems Sohel is laying the groundwork for his "homecoming".
'IT'S A MURDER'
Recounting the infamous murder, brazen in its execution, Inspector Moniruzzaman said six people were involved in the incident. One of those arrested -- Zaki -- confessed that it was Sohel who had fired the shot that killed Rashed.
"The rest of the five are absconding, but we are making every effort to arrest Sohel," the inspector said.
On July 15, Kazi Rashed, 32, was killed allegedly by Sohel, with whom he had a long-standing feud.
At the time, police said there was evidence suggesting that Rashed was actually killed inside the Banani office of the Jubo League and his body was dumped near his home, which was 100 yards from the office complex.
Afterwards, a leaked footage from a CCTV camera, which Sohel himself installed at the entry of his office, captured him and his cohorts removing Rashed's body from the premises. The damning evidence forced Sohel to go into hiding.
Rashed's wife Kazi Mousumi filed a case with Banani Police accusing Sohel and several others, Rafiqul Islam, assistant commissioner of Dhaka Metropolitan Police, told The Daily Star at the time.
A RETURN UNWELCOMED
Although Sohel has not been seen in the area since the murder, his presence can still be very much felt in Mohakhali. The bloodshed he left behind is still very fresh.
And no one is talking anymore.
Sohel, who was given the name Sundari Sohel by his friends for his fair complexion, has left behind an aura which has become the physical manifestation of the man himself.
He may have left the neighbourhood, but the neighbourhood has yet to free itself of him.
An Awami League office, right at the entry of Mohakhali near the kitchen, is adorned with posters prominently featuring Sohel next to some of the most powerful leaders in the country.
He smiles bright in the picture but those that know him closely are quick to point out how his eyes betray no emotion.  
A few feet away from the office is the house where the high-profile murder took place. This is where Rashidul -- a former vice-president of the local Jubo League -- was dragged to the third storey of a building and shot.
The same building still has the sign of Rainbow News 24, a supposed online news portal run by Sohel. It was at this building's entry that the CCTV Sohel put up for his own security had instead captured his crime.
But the first sign of Sohel's infamy are the posters lining the road towards Rashed's house. Walls are plastered with posters demanding justice for Rashed's murder. It is accompanied by a picture of Sohel with a noose placed around it. 
A few yards from there is an under-construction building. When the owner of the unit had refused to pay Sohel Tk 1 crore in ransom, the Jubo League man took it upon himself to mete out a fitting reply to what he considered a huge slight.
In a fit of rage, Sohel stormed into the building, grabbed one of the workers there and threw him off the roof, killing him on the spot. The action earned him a supposed Tk 30 lakh, according to sources close to the victim.
Despite his reputation though, Sohel carried himself like a shaman does: attracting followers with charm and when that failed, intimidation.
This combination is what led Rashed to leave South Africa and return to Bangladesh when Sohel came calling.
A beautiful friendship was about to meet a tragic end and Rashed was not blind to the signs of that.
VIOLENT DELIGHTS, VIOLENT ENDS
A number of locals and family members said Rashed and Sohel grew up very close to each other. They went to South Africa together and stayed there for six years after the BNP-led government assumed power in 2001.
In 2011, Sohel returned first, only to go back and bring Rashid back along with him.
He promised him riches and a stable life. Sohel peddled dreams and Rashed bought them.
Such was the bond that Sohel appeared as Rashed's wife Mousumi's legal guardian during the marriage ceremony.
However, soon the cracks in the friendship appeared as Sohel began to find solace in alcohol.
"He was an angel in the morning when he was sober. But at night, it was a completely different picture," Mousumi recalled while speaking to this newspaper at her home in Mohakhali.
After long hours of drinking, Sohel would fly into alcohol-fuelled rages, even beating up Rashed on multiple occasions.
"Rashed would return home at night and I would see his bruises. He would always tell me that everything would be fine and that he would leave Sohel's side soon," she said.
Over the last three years, a silent enmity developed between Rashed and Sohel.
Sohel, under the influence of alcohol and drugs, had grown increasingly paranoid.
He began suspecting Rashed of joining forces with someone else. Sohel was "sure" that a betrayal was in the offing. He was very bitter about Rashed distancing himself from him and a conflict arose between them.
Locals and other family members of the slain Jubo League leader corroborated the account.
On the morning of July 15, Rashed was summoned away some place. His family waited for him to return in vain.
Finally, around 4:30am the next day, neighbours informed them that Rashed's body had been found close to their home.
Rashed's mother rushed out towards it. When she saw the lifeless body of her son, she broke. She cradled her child in her arms for one last time.
Even then everyone knew who was responsible for the murder.
People's suspicions have been confirmed for over a year. Yet Sohel remains elusive.
And he might just be coming back.