President pardons top terror Joseph
The convicted killer leaves country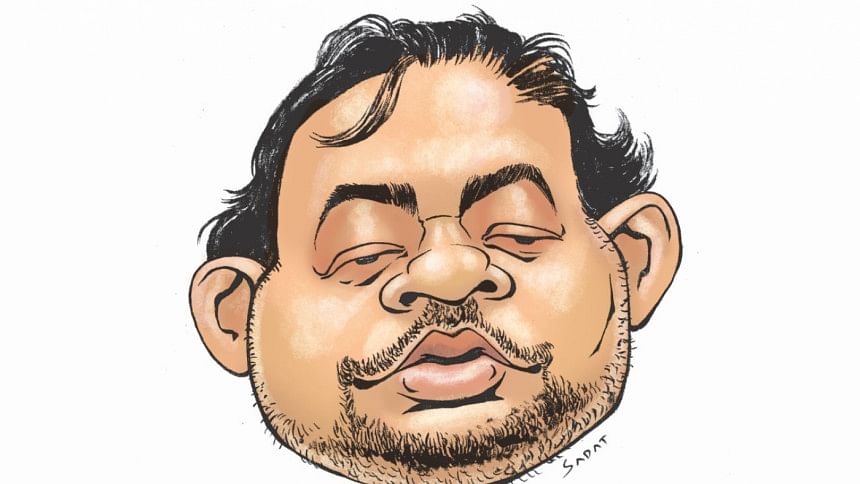 Tofayel Ahmed Joseph, one of the top criminals in the police list of the 1990s, has been "secretly" freed from jail after a presidential clemency that cut short his life sentence for murder.
Joseph, brother of a former director general of Border Guard Bangladesh, on Sunday left Dhaka Medical College Hospital, where he was "being treated".
"The president pardoned him. We released him upon receiving the order," Jahangir Kabir, senior jail superintendent of Dhaka Central Jail in Keraniganj, told The Daily Star yesterday.
While his whereabouts are not known, Home Minister Asaduzzaman Khan yesterday told reporters that Joseph was supposed to leave the country for medical treatment.
In December 2012, another infamous criminal Bikash Kumar Biswas got out of Kashimpur Jail-2 on bail and fled the country.
Law enforcers believe he runs organised crime rackets from abroad. 
The home minister yesterday seemed to know little about the matter.
"He applied mentioning that he was very ill. About one to one and a half years of his sentence remains. He filed a mercy petition. The honourable president must have granted the petition.
"The president permitted him to be treated abroad. I know this much," he told reporters at his secretariat office.
Asked for comment, noted human rights activist Sultana Kamal said, "It falls under the purview of the president's powers. We can only hope that he took the decision upon much consideration."
She also hoped that the presidential clemency would bring a positive change in Joseph and prevent him from causing harm to anyone in future.
A jail source said the process of his release apparently began on March 31 when he was shifted to a cabin on the 9th floor of the new building of the DMCH.
No prisoner without a major disease is kept there. Prisoners are usually kept at the Cabin Block on the second floor, the officer added.
"It has been done to free him secretly and to dodge the law enforcement and intelligence agencies," he said, seeking anonymity.
A Dhaka court on April 25, 2004, sentenced Joseph to death for killing Freedom Party leader Mostafizur Rahman Mostafa in 1996.
Joseph's elder brothers Haris Ahmed and Anis Ahmed were also given life sentence for the murder. Haris and Anis remain absconding.
The verdict was upheld by the High Court.
On December 9, 2015, the Supreme Court commuted the death sentence of Joseph to life sentence.
Joseph was accused in 10 other cases of extortion, and possession of illegal firearms.
A lawyer for Joseph in 2015 said his client served over 18 years in jail and he had been in the condemned cell of Dhaka central jail for over 10 years.
The lawyer also said a life sentence meant 30 years in prison as per the jail code and the period had been reduced considering the convict's good behaviour in prison.
Jail officials said the process of presidential clemency for Joseph started on June 7, 2016 when his mother Renuja Begum applied to the home ministry for commuting Joseph's sentence. Two weeks later, the appeal was sent to the law ministry for opinion.
Sources in the jail said Joseph was treated well inside the prison. He had stayed comfortably at Bangabandhu Sheikh Mujib Medical University (BSMMU) hospital for "back pain". It was reported in newspapers that he spent his hospital days gossiping with friends.
Joseph was a Chhatra League leader of Mohammadpur. He entered politics under the guidance of his elder brother Haris Ahmed. He later joined the infamous Subrata Bain's gang known as Seven Star. He exerted his power in the city and became one of the top criminals of the country.
Soon after the general elections in 2001, the BNP-led government announced a list of 23 most wanted criminals and a reward ranging between Tk 50,000 – 100,000 for each of their arrest.