Making Car Interior Components: Jute fibre shows huge potential
French firm wants JV for increased use of Bangladeshi jute in automobile industry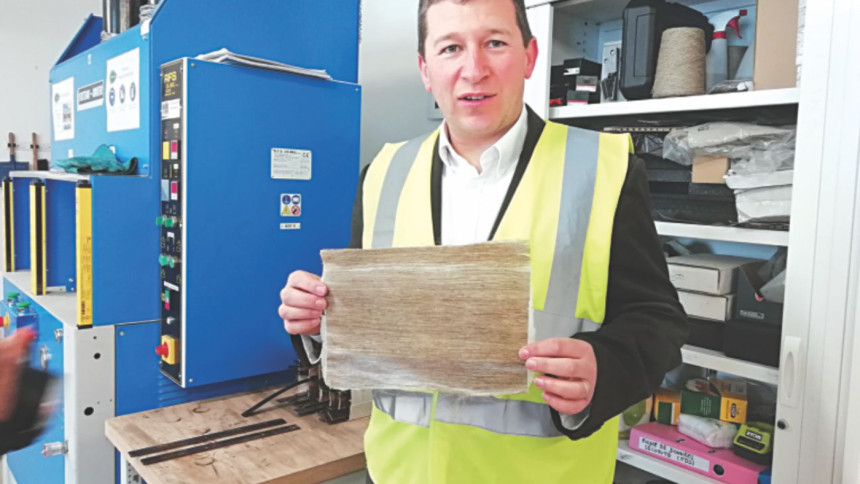 As the world is now keener on natural fibres and eco-friendly products, a French company is thinking of setting up a joint venture in Bangladesh for making jute-based car interior components.
"Bangladesh is the best place to buy jute. But you have to ensure quality jute," said Karim Behlouli, chief executive officer of NatUp Fibres, a leading French company based in Normandy.
Talking to journalists visiting from Bangladesh in his office at Yvetot in Normandy last month, he said Bangladesh has a huge potential to become one of the major suppliers of jute to the global car industry.
If the natural fibre is used in cars, it reduces the vehicle's weight and improves fuel efficiency.
NatUp Fibres is one of the major suppliers of car components. It makes dashboards, door panels, parcel shelves, wheel arches, headliners, spare wheel covers, and backs of seats using natural fibres like flax (linen), hemp, kenaf (mesta), and jute.
The company also makes fibres and linen threads for the clothing, furnishing, transport, filtration, sports, and leisure industries and for domestic use.
Karim said his company buys around 1,400 tonnes of jute from Bangladesh every year.
"We are investing more to add value to jute. Although we usually use flax to make the interiors of vehicles, flax is expensive than jute," he said.
The price of flax is €1.1 per kilo whereas a kilo of jute costs €1, he added.
Touted as the "golden fibre" of Bangladesh, jute is one of the cheapest and the strongest natural fibres and considered as the fibre of the future, industry insiders said.
The lightweight fibre is increasingly making its way into composite makers for use in cars. In recent years, major global automakers have started using jute-based composites.
The car makers used to use fibreglass to make interiors before. But fibreglass is not recyclable or biodegradable, so in the mid 90's the search for a green alternative began. Jute emerged as the frontrunner.
Bangladesh started supplying jute to high-end car makers like BMW, Mercedes-Benz, and VW in the early 2000s, according to Bangladeshi jute exporters.
The global car industry needs approximately 80,000 to 100,000 tonnes of natural fibres a year, of which 10,000 to 12,000 tonnes of jute are supplied by Bangladesh, said Mushtaq Hussain, managing director of Golden Fibres Trade Centre, a leading jute exporter.
When asked about the French company's interest in joint venture, he said, "It would be a good initiative … It would add more value to jute."
Mushtaq, also a member of Bangladesh Jute Goods Exporters Association, said if any foreign company makes jute fibre-based components here in Bangladesh instead of buying raw jute, it would help generate more revenue.
However, Karim said, "If things go well, we may go for a joint venture in Bangladesh. But it is still at the planning stage."
There are many opportunities to transform jute fibre into diverse export products and expand its market globally. "The future of jute is very good. We need more innovations here," Karim said.
Jute industry was once the lifeblood of the country's economy but it lost the glory days since the 80's. By the late 2000s, production reached around 9.9 lakh tonnes.
Recently there has been some hope. In 2017-18 fiscal year, jute production was about 19.6 lakh tonnes from 7.58 lakh hectares.
The top executive of NatUp Fibres thinks this is high time for the country to tap into the potential of jute.
He suggested reorganising the sector and investing more on production.
The growers were not getting the benefits due to middlemen at different layers. "They [the farmers] are poor and work very hard... We need to empower the farmers," he said.