Lapsing into hopelessness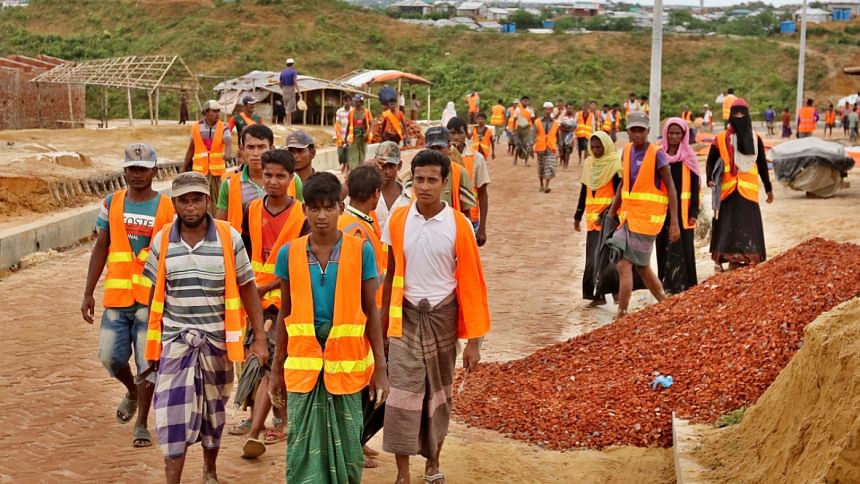 The Rohingyas in the refugee camps in Cox's Bazar feel like they are trapped and this is breeding frustration among them.
"No work, no movement, no entertainment, no education, no big gathering…We do not know how many days or years we have to stay here in a tiny room. We have to rely on relief for survival. It is not a life at all. We want to taste the life of freedom," said Rohim Ullah, a Rohingya leader living in Camp-25.
Although the government of Bangladesh, in association with a number of non-government organisations and UN bodies, has ensured some of the very basic necessities for Rohingyas, it has not proven to be a substitute for home. 
The Rohingyas in Bangladesh have been living in the same bamboo structured houses with tarpaulin roofs as when they first arrived. Their travel is restricted and they have to rely on humanitarian aid as opposed to holding jobs.  
Their sanctuary now gives them only momentary relief.
The Rohingyas' uncertainty has grown stronger after the second attempt at starting their repatriation on Thursday failed.
The refugees resoundingly rejected the offer to return to Myanmar, with all those selected in the first batch turning down the opportunity.
Refugee Relief and Repatriation Commissioner (RRRC) Mohammad Abul Kalam said that none from the 295 families interviewed by the UNHCR and RRRC over two days had volunteered to return.
"We have interviewed 295 families, but none has yet shown interest to return to Myanmar," he told reporters.
Mohammad Zakaria, a Rohingya leader, after his interview with the UNHCR and RRRC, said, "If our demands are met, we will go back without needing to be told. We came as a wave of people and we will return the same way."
But until the right conditions are in place, the Rohingyas are not thinking about repatriation.
The conditions include guarantee of citizenship, assurances of safety and security and freedom of movement. While the Myanmar government has time and again said it wanted to take back its people, it has kept mum on all of the Rohingyas' demands.
"We were tortured regularly in Burma [Myanmar]. We came here for safety. We want to go back, but not as refugees but as citizens of Myanmar," Mostafa Kamal, 50, said.
"I am a stateless person; I do not want the same fate for my children," said the resident of a refugee camp in Cox's Bazar's Kutupalong.
More than 742,000 Rohingyas fled a military crackdown by Myanmar that began on August 25, 2017. The refugees have been living in Bangladesh.
Myanmar's crackdown on the minority was said to have "genocidal intent", a fact Rohingyas firmly believe and thus are resolute in not going back to Myanmar unless certain conditions are met.
Like Kamal, thousands of Rohingyas now find themselves in the same predicament, stuck in a limbo.
"We do not want to live here. We want to go back but the Burma [Myanmar] government must make the minimum good gesture," Kamal said, highlighting how their demands remain unaddressed.
Elizabeth Hallinan, Advocacy Manager for Oxfam's Rohingya Response, said: "Rohingya people feel as though they are in limbo with no end in sight. They are alive, but merely surviving. Immediate action is needed so they are free to travel and work to provide for their families."
The Rohingyas have repeatedly said they felt trapped as their safe, voluntary and dignified return has remained uncertain till date.  
"Everyone is saying they are working for us but nobody comes to consult us," said Abdur Rahman, another camp resident. 
A REFUGE, NOT HOME
"In Myanmar, we were in constant fear of being attacked by the army or the Mogs [Buddhists]. But at least we do not have that fear right now. It is a great relief for us," said seventy-year-old Abdul Hakim.
Hakim saw his home burnt to the ground in Rakhine State. He lost everything he had. But the yearning for home is one that does not fade.
"In Myanmar, it was as if we were imprisoned, but in Bangladesh we are in heaven. But I still want to live as a citizen of Myanmar and not as a stateless person," said Karim Mia.
While Bangladesh has proven to be a good host, the conditions in refugee camps, given the extent of the influx, is not all that heavenly. 
The future of the Rohingyas, especially the younger generation, is bleak due to the lack of formal schooling and any sort of vocational training. 
Of the 912,373 Rohingya refugees in Bangladesh, 55 percent are under 18 years and 41 percent are 10 or under as of July.
Some 36 percent of Rohingya children between the ages of three and 14 remain without access to primary education, while more than 96 per cent of those in the 15 to 24 age bracket do not participate in any learning activities.
Even for those who get to study, there is no recognised curriculum.
In these conditions, some dreams remain just dreams.
Fourteen-year-old Ahmedullah, a resident of Balukhali camp, spoke of his dreams of becoming a teacher and also the futility of the ambition.
"I know my dreams will never come true," he said with a faint smile.
There is no schooling for Rohingya adolescents aged 15 to 18, which makes teenagers, mostly boys, turn to madrasas for their education.
As for the Rohingya girls, most remain at home due to the societal norms. Some have begun breaking free of such traditions.
The camps, however, can be dangerous for girls. Human traffickers have been known to target young Rohingya women, promising them jobs outside the camps. Girls face other forms of violence and human rights abuse at Bangladesh's camps, too, including child marriage.
"I cannot bathe during the day time. I have to take a shower at night or very early in the morning as there are no separate bathrooms for men and women. I cannot even go to the washroom at night as it is far from my house," said Ramida Aktar, 15.
Most Bangladeshi refugee camps are overcrowded and, as a result, unhygienic. Monsoon rain, cold and landslides bring new threats for the refugees every day.
As Rohingyas are passing their time idly, frustration often grips them.
India-based Observer Research Foundation reported earlier, "Most of the youth in the camps sit idle engaging in fights and violence within and around the camps. Perpetually, these helpless individuals fall easy prey to the drug traffickers."
For now, one of the positives that can be witnessed in the camps is the sense of community.
Although initially they did share a common voice, a unified front is becoming increasingly evident.
"When we came here, we were detached from our neighbours and family members. Now each block here is like a family," said Abdus Salam of Camp 27.