Jobs taken, benefits too
Termination rules not followed by many garments factories amid pandemic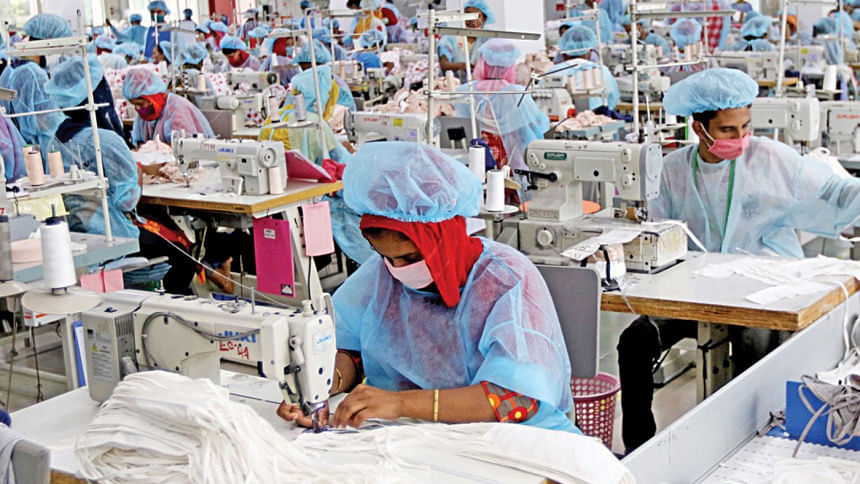 After Dragon Sweaters' Dhaka factory closed due to the pandemic last year, former garments worker Abdul Kuddus had to sign away rights to half of his termination benefits.
It had been nine months since he had earned a salary, nine months since he was retrenched -- so something was better than nothing.
"Our factory closed down on March 26, 2020 when the shutdown was announced, but unlike the other factories which opened up in April, ours never opened. When we tried to join work, they told us that the factory was closed until further notice," said Kuddus.
He and his colleagues were, however, not terminated -- a process that lawfully involves providing termination benefits to the workers and handing over their provident funds.
After nine months of protests, physical sit-ins and continuous occupation of the parking lot of Sromo Bhaban, at the end of last December, the workers settled for a portion of the money they were legally owed. Even then, many workers still haven't received these dues.
According to Bangladesh's labour laws, employers have a right to stop work and retrench workers in case of an epidemic (or a pandemic, in this case), but workers must be given a service benefit. This lump sum consists of 30 days of wages for each of the years the worker was in service, and is in addition to the provident funds that workers accumulate.
"Sitting at the ministry, we were forced to draw up a new contract that stated that instead of 30 days' wages, we would be given 15 days' money [for every year] and the money that was docked from our salary each month for the provident fund," said Kuddus.
"We did not have a choice. The workers badly needed the money, any money."
This arrangement was only for the 89 workers of the company who were under the government-set wage board. Garment Workers' Trade Union Centre (GWTUC), the union that negotiated the settlement, said that according to the contract drawn up, the 269 "piece-rate" workers -- who get paid as per their production -- would get no service benefit, nor would 75 staff members who only got their provident funds.
"The workers had to let go of a few things and the owner had to loosen his stance too; the contract was done mutually. The government cannot object when there is mutual understanding," said Deputy Inspector General AKM Salahuddin of the Department of Inspection of Factories and Establishments (DIFE), Dhaka, who was present at the meeting.
Meanwhile, four payment dates came and went, but Kuddus -- who was at the forefront of all the worker negotiations -- is yet to get anything even though he had worked at the factory for 18 years.
"I didn't even get the money that was docked from my monthly salary as a provident fund. I have now filed a case with the labour court," said Kuddus.
According to the calculations of the case, the factory owes him Tk 7.4 lakh, of which a third is money he himself saved from his salary as a provident fund. As of now, 25 other workers have also filed cases with the labour court alleging wage theft.
Even workers who had received the money allege having been woefully underpaid.
For example, female worker Romesa, who said she joined the factory in 1997, got only Tk 28,000.
"I used to deposit Tk 200 of my Tk 8,600 salary each month, so shouldn't it be more?" she asked.
She got less than half of her own savings for 23 years of service and Romesa did not even know that the factory also owed her 15 days of wages for each of these years as per the negotiations.
A report released two weeks ago by DC-based labour rights organisation Worker Rights Consortium (WRC) titled "Fired then Robbed" calculated that Dragon Sweaters still owes its workers $133,200.
FACTORIES NOT COMPLYING WITH COMPENSATION LAWS
Between October and November of 2020, the Centre for Policy Dialogue surveyed 610 factories -- ranging from small to large -- and found that 96.4 percent of the factories did not comply with the compensation laws when retrenching workers -- essentially committing wage theft. CPD released these findings in the beginning of this year.
The organisation found that the larger the factory, the less likely it was to pay termination benefits to its retrenched workers.
Around half of the surveyed sample comprised medium (500-2,500 workers) and large factories (more than 2,500 workers).
The study found that 84 percent of the medium-sized factories interviewed and all of the large factories only paid their workers their salary, but not the outstanding arrears or any compensation as per the law.
Out of the 2,562,383 workers from the surveyed factories, 357,450 lost their jobs between January and September 2020 -- approximately 14 percent of total jobs.
"Almost 60 per cent (364 out of 610) factories have retrenched their workers. Other factories have either laid off workers or their number of workers has not changed," said Khondaker Golam Moazzem, the research director of CPD.
The majority of factories did not follow layoff and termination rules, the organisation also found.
"As per the instructions of DIFE, factories were not allowed to retrench or lay off workers if they received subsidised credit support under the stimulus package. However, most of the factories did not comply with that instruction," said Moazzem.
BRANDS RECORD PROFITS, WORKERS FACE WAGE THEFT
In the second half of 2020, 16 international apparel brands recorded profits of $10 billion, while around 10,000 workers making clothes for these brands globally faced wage theft.
Business & Human Rights Resource Centre, an organisation that works to identify abuse in companies and businesses, revealed this recently in a study.
"A year into the pandemic, garment workers producing for major fashion brands are owed months of unpaid wages, benefits and severance pay while most brands record large profits," stated the report titled "Wage theft and pandemic profits: The right to a living wage for garment workers".
The apparel brands they investigated included Carter's Inc, Hanesbrands, H&M, Levi Strauss & Co, Lidl, L Brands, Matalan, Mark's, Next, New Look, Nike, PVH, River Island, Sainsbury's, s.Oliver, and The Children's Place.
Lidl is also one of the brands using Dragon Sweaters as a supplier, as were the New Yorker and Woolworths, claimed GWTUC.
The Bangladeshi factory the study team focused on was Stylecraft Ltd in Gazipur -- its buyers include H&M, Next, New Look, and River Island.
The report stated, "On December 25, 2020, approximately 3,000-4,000 garment workers staged a demonstration to protest over unpaid wages and benefits from Stylecraft
"The protesting workers were demanding 35 percent of their wages and arrears for September and October, full pay for November, overtime pay and other owed allowances."
Stylecraft's managing director Shams Almas Rahman stated that they had mutually agreed on the payments to be made, after negotiations with the workers.
"They also accepted a schedule of when these payments will be made. We will be paying their wages over the next few months," he said.
As much as $5.17 million worth of orders were cancelled or deferred by various international brands from Stylecraft during the pandemic.
"They told us that with the pandemic going on, they could not be sure about customers visiting their stores, and told us they would take the orders later. There were certain cases where buyers made orders and I bought the raw materials but then all of a sudden the orders were cancelled," said Shams, who chose not to divulge how many buyers cancelled orders.
In their responses to the study team, the brands stated that they were engaging with the supplier to ensure payment of the owed wages.
"Full wages for December and January have now been paid and 17.5 percent of outstanding wages for September and October will be paid over the coming months, well below the 35 percent the workers called for," said the report.
The report also states that while at least two-thirds of the 16 brands and retailers it surveyed are once again turning a profit after the initial disruption caused by the pandemic, "However, staggeringly, over a third have still not yet committed to paying for all orders."
"Even an employer that does not wish to cheat workers of severance may be placed by brands in the position of not being able to avoid doing so," stated WRC's report.
The workers of A-(One) BD Ltd for example, have not yet received a taka, a year into getting laid off. A total of 1,100 workers were left unemployed overnight when the factory, located in the Savar export processing zone, closed on March 26, 2020.
WRC, along with multiple workers interviewed by The Daily Star, identified Benetton and Next as the brands sourcing from the factory at the time of closure. WRC estimated that a total of $585,200 is still owed to the workers in its report "Fired then Robbed".
The factory went into the red after buyers cancelled their orders and its Italian shareholder Alessandro Ferro left the country.
"We learnt that the factory fell into financial trouble because their orders stopped coming due to the pandemic," said the General Manager (public relations) of BEPZA Nazma Binte Alamgir.
"The Italian ambassador told us to let Ferro leave so that he can return to Italy and search for business for his factory. He assured us that this is a genuine case of bankruptcy, and that the factory is in its current situation because it is not getting orders."
According to a count kept by Bangladesh Garment Workers' Solidarity, the workers were given 22 dates to collect their arrears, but each date came and went with broken promises.
"We are thinking of auctioning the factory and its assets to pay back the workers, but that has not been done yet. We will pay the workers their dues, once that is completed," Nazma added.
Workers visited BEPZA as recently as February hoping for money, but were told that they will not get anything until the factory is sold.
"How can I wait that long for the money? I am unemployed and I have not found a job in one year," said Md Abdur Razzak, a former worker of the factory.
"I have been surviving by selling the furniture of my home, but now I have nothing left to sell."