Faulty Probe into Jaha Alam Case
ACC still promoted eight investigators
HC seeks info on all 11 investigators who handled the money laundering cases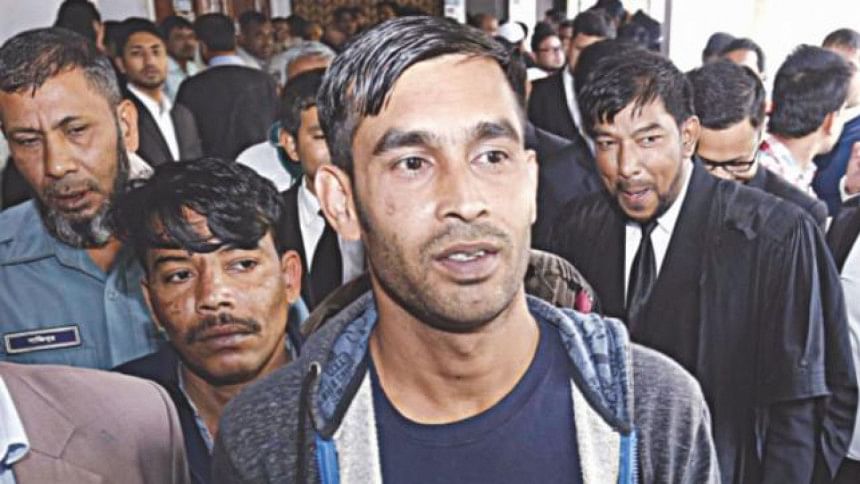 Even as Jaha Alam languished in jail for a crime he did not commit, eight of the 11 Anti-Corruption Commission officials whose faulty investigations led to his wrongful imprisonment were promoted and given more serious responsibilities.
ACC's own investigation report, placed before the High Court on July 11, acknowledged that Jaha Alam had to lose three years of his life in prison because these officials "erroneously incriminated" him in over two dozen money laundering cases involving Tk 18.5 crore.
"It seems that the mistake of identifying Jaha Alam as Abu Salek [the actual suspect] happened because of the investigation officials," said the report, authored by ACC Director (legal wing) Abul Hasnat Md Abdul Wadud.
Their promotion took effect on January 24 while Jaha Alam, a jute mill worker from Tangail, got released on February 4 after serving three years in Kashimpur jail.
During investigation, none of these officials visited Jaha Alam's house to confirm his identity, the report said, adding that some bank officials and introducers of Abu Salek's bank accounts misled the investigators.
"But it is the duty of the investigation officials to unearth the truth and present it before the court. There is no scope for shifting this duty to bank officials or someone else," the report further said.
Under section 40 of the ACC Service Rule of 2008, these officials could face several penalties, including demotion, postponement of their promotion, forced retirement and even termination.
The eight officials are Selina Akhtar Moni, Masudur Rahman, Debrata Mandal, Meftahul Jannat, Silvia Ferdous, Muhammad Joynal Abedin, Rafi Md Nazmus Sadat and Saiduzzaman.
After promotion, Selina, Masudur and Debrata became deputy directors while Meftahul, Silvia, Joynal, Sadat and Saiduzzaman became assistant directors. All of them have been tasked with important departments such as money laundering and special investigation.
Saiduzzaman was later suspended over negligence and misconduct in a separate investigation.
Two other officials -- Deputy Director Shekh Mesbah Uddin and Assistant Director Sumitra Sen -- hold the same post. 
Their elevation to higher positions, although it was part of their regular promotion, has breed discontent and resentment within the ACC.
"This sets a bad example. It shows how someone can get away with such blunders and even be rewarded after that," said an ACC official, asking to remain unnamed.
ACC Chairman Iqbal Mahmood declined to comment on the matter, only saying, "We will go by the rules and court's decision."
Contacted, Dr Iftekharuzzaman, executive director of Transparency International Bangladesh, said, "Such rewards to inefficient officials send signal of a bad precedence."
Meanwhile, the High Court yesterday sought to know the names and other particulars of these 11 officials.
The ACC will have to furnish the details and place a report before the court by August 28, the HC said in a suo moto order after the anti-graft body informed the court that departmental proceedings were underway against them.
ACC counsel Khurshid Alam Khan later told The Daily Star that the commission had issued show-cause notices to these officials, but their replies were unsatisfactory.
This is why the commission has filed departmental cases against them, he said, adding that they can still hold their posts while the proceedings are underway.
HOW DID HE LAND IN JAIL?
The matter came to light in February last year after a private television ran a report on the plight of Jaha Alam, now 34. He was finally released on February 4 this year following an HC order.
The whole saga began in September 2010, when a money laundering case was filed with the Motijheel police against one Abu Salek and his associates over misappropriation of Tk 18.5 crore from Sonali Bank's Cantonment branch.
According to the case statement, the laundered money was then transacted to different accounts of 33 branches in 18 public and private banks.
In 2012, the ACC filed 33 cases over the incident after it took charge for further investigation. A total of 12 ACC officials were appointed as investigation officers of the cases.
Of the 33 cases, Abu Salek was named in 30. Later, his name was dropped from four more cases. In the end, he faced 26 cases that were investigated by 10 ACC officials.
Taking charge as investigation officer for two of the 26 cases, Selina Akhtar Moni asked the bank officials to produce Abu Salek before her.
In December 2014, bank officials produced Alam as Salek before Selina.
Without any field visits or cross-checking the authenticity, Selina pressed charges against Alam, identifying him as Salek.
The other investigating officers did the same and placed charge sheet against him in the rest 24 cases.
Jaha Alam was eventually arrested in 2016 and sent to jail.