HSC grading based on SSC, JSC marks
Evaluation by Dec, govt decides after cancelling this year's HSC exams amid pandemic; mixed reaction among students, parents, educationists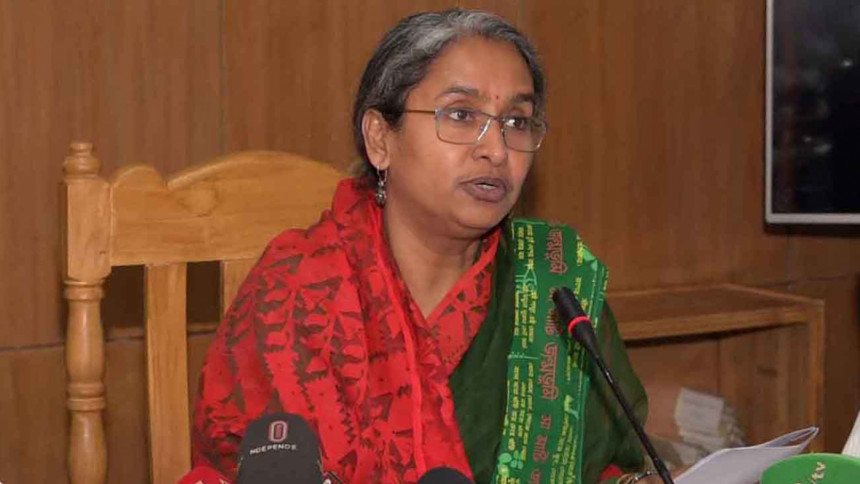 The Higher Secondary Certificate (HSC) and its equivalent examinations of this year have been cancelled due to health-safety concerns.
Instead, candidates would be evaluated based on their results in Junior School Certificate (JSC), Secondary School Certificate (SSC) and their equivalent tests.
This is the first time an HSC candidate would be evaluated without the tests since they were introduced in the mid-60s.
Many candidates, stressed over the pending exams and worried about delayed admissions to universities, breathed a sigh of relief yesterday.
Parents and educationists, however, had mixed reactions about the cancelation.
"We have decided that the candidates will be evaluated based on the results of two public examinations -- JSC and SSC and their equivalent exams the students sat for previously," Education Minister Dipu Moni said yesterday in a virtual press conference.
The evaluation of the candidates would be published by December this year, she hoped.
"The decision has been made keeping in mind the wellbeing of the examinees and their family members across the country," she said.
HSC and equivalent exams slated for April 1 were postponed on March 22 out of fear that they would help coronavirus transmission. More than 13.65 lakh students were expected to sit for the exams.
The government postponed the exams following the closure of all educational institutions on March 17. They are to stay closed at least until October 30.
The minister said had they held the exams following health-safety protocols, they would have needed twice the exam centres.
Dipu Moni said the current Covid-19 situation was not suitable for holding exams that take up more than a month to complete. The government also took into consideration that some examinees or their parents could get infected.
She said many countries, including India, China, South Africa and some in the Caribbean, also cancelled their public and others important exams this year.
ADVISORY COMMITTEE
The education minister said an advisory committee would be formed to chalk out how students who had changed education groups after SSC would be evaluated.
The committee, led by an education ministry additional secretary with Dhaka education board chairman as its member secretary, would also decide how JSC and SSC grades would be used for evaluating the candidates.
Dhaka board chairman Prof Ziaul Haque said they would sit with officials of all boards and their system analysts to prepare the process.
"JSC and SSC are different exams and they will give different weight to the results."
Dipu Moni said universities could hold admission test in January, subject to the coronavirus situation. She said there would be discussions with universities about their test procedures.
MIXED REACTION
Educationist and Campaign for Popular Education Executive Director Rasheda K Choudhury praised the government decision and said it was needed to end the worries of students.
"Evaluation based on two previous public exams is far better than giving auto promotions," she said.
She said the government could still use marks of test exams held at schools and colleges alongside board exam results to evaluate the candidates.
Prof Mazharul Hannan, president of Bangladesh Principals' Association, said this kind of evaluation would deprive many students who otherwise would have gotten a chance to improve.
However, the minister said, "Many things can happen, a good result holder of JSC and SSC, can have an unexpected result … some cannot finish the exams … we cannot take all the issues into consideration."
Former director of the Institute of Education and Research at Dhaka University Prof Siddiqur Rahman said the HSC is an important exam before students go for higher education.
" … A student does not develop that much analytical abilities at JSC exam level … I will urge government to review its decision.
"I think the government can take HSC exams by doubling exam centres and strictly maintaining health guidelines." he said.
Sharif Ahmed, a parent of a candidate from Mirpur area, said the decision to evaluate students based on previous grades was not wise. "It would have been better if the students spent their time in studies until the admission tests for universities."
Ekram Hossain, another parent, welcomed the decision. "We are all free from worries now. I don't have the words to express how relieved I am."
HSC examinee Mahfuz Ahmed said he was relived after hearing the news. He said hundreds of candidates who are members of Facebook group "No HSC during coronavirus" expressed satisfaction.
This is the first time HSC exams have been cancelled since the introduction in 1964, claimed Mazharul Hannan, a teachers' leader.
Dhaka board chairman Ziaul said no HSC exams were cancelled since the country was liberated. He could not say then and there when the exams were introduced.
The closure of schools for over six months has led to the cancellation of exams and left academic calendars in disarray. Educational activities of about four crore students are being hampered due to the pandemic.
This year's Primary Education Completion and its equivalent exams and Junior School Certificate and its equivalent exams were also cancelled due to the pandemic.