He was killed to gag free speech
5 sentenced to death, one to life for murder of writer-blogger Avijit Roy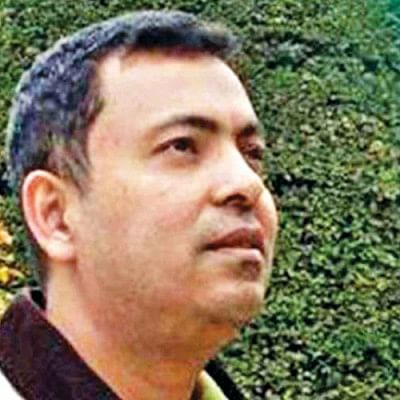 Writer-blogger Avijit Roy was killed to gag and discourage freedom of expression so that no one in the country can write or express themselves freely.
He had to pay with his life for writing and expressing his opinions freely.
Judge Md Majibur Rahman of the Anti-Terrorism Special Tribunal made the observation yesterday while handing down death sentences to five militants and life imprisonment to another for killing Avijit on February 26, 2015.
Labelling Avijit an atheist, the convicted members of Ansar al Islam brutally murdered him as per a decision of the banned militant outfit, said the judge.
Those sentenced to death are Syed Mohammad Ziaul Haque alias Major (sacked) Zia alias Sagar alias Boro bhai, Akram Hossain alias Abir alias Adnan alias Hasibul alias Abdullah, Abu Siddique Sohel alias Sakib alias Sajid alias Shahab, Mozammel Hossain alias Saimon alias Shahriar and Arafat Rahman alias Siam alias Sazzad.
Life imprisonment was handed to Shafiur Rahman Farabi.
The charges against them were proven beyond doubt.
Zia and Akram are still on the run while the rest are behind bars. Sohel, Mozammel and Arafat had earlier confessed to the murder.
Avijit's wife Rafida Ahmed Bonya, however, thinks simply prosecuting a few foot soldiers while ignoring the rise and roots of extremism does not deliver justice for Avijit's killing.
Avijit's brother, meanwhile, demanded immediate arrest of Zia and other fugitives.
The verdict was pronounced at 12:10pm with four of the accused on the dock.
Except for Farabi, the three others were calm during the verdict delivery.
With their hands cuffed behind their backs, all four were taken to the courtroom six minutes before noon amid tight security.
A large number of police personnel surrounded them when they were on the dock, wearing helmets. An archway metal detector was erected at the entrance of the block that housed the tribunal.
Before and after the judgement, with the exception of Farabi, the three others were seen talking among themselves and laughing. They looked calm.
The punishment of the fugitives will be effective from the day of their arrest or surrender, the judge added in his judgement.
The verdict came just six days after the same judge handed down capital punishment to eight members of the same banned outfit, Ansar al Islam, also known as Ansarullah Bangla Team, on February 10 for hacking to death publisher Faisal Arefin Dipan on October 31, 2015. Zia, Akram, Sohel and Mozammel were also among those sentenced to death for murdering Dipan.
Dipan, owner and publisher of Jagriti Prokashoni, was killed because he published a book by Avijit Roy.
Judge Majibur Rahman also observed that the convicts killed Avijit Roy with a common intention to keep people away from thinking and working freely. There is no scope to see which accused played which role, he observed.
"If the killers of Avijit Roy are alive, other members of Ansar al Islam who are untouched will be encouraged to commit the same crime. Scientific and freethinking writers will not be emboldened to write and think freely," the judge observed.
"The accused do not deserve any sympathy," he said, adding so it will be a justice to hang them by their neck till their death.
The deaths of the five convicts will be a consolation to the victim's family members, he said.
Additionally, free-thinking writers will be encouraged to express themselves and it will be a deterrent to such crimes, the judge remarked.
The killers attacked Avijit, then 42, from behind around 8:30pm on February 16 with machetes when they he and his wife were returning from the Ekushey book fair. They also attacked his wife Rafida Ahmed Bonya when she tried to save Avijit. Bonya suffered severe injuries to her head and lost a finger.
Avijit's father Prof Ajoy Roy, who taught physics at Dhaka University, filed the murder case against unidentified assailants with Shahbagh Police Station the next day.
After four long years waiting for justice for his murdered son, Ajoy Roy passed away at a hospital in Dhaka at the age of 85 on December 9, 2019.
Investigation Officer of the case Inspector Mohammad Monirul Islam of the Counter Terrorism and Transnational Crime (CTTC) unit pressed charges against the six convicts on March 11, 2019.
The tribunal framed charges against the six on August 1 the same year.
Ajoy Roy testified before a court on October 28 that year and while testifying, out of frustration, he said he would not continue appearing for the hearings.
"We are quite upset seeing the progress of the trial," he told The Daily Star after coming out of the courtroom that day.
After 32 working days the judge completed the trial, the judge said, adding that 28 prosecution witnesses testified during the trial.
The tribunal fined each of the convicts sentenced to death Tk 50,000 while Farabi, sentenced to life imprisonment, was fined Tk 50,000, in default of which he will have to serve another two years more in jail.
Defence lawyer MABM Khairul Islam said that they would challenge the judgement before the higher court.
ROLE OF THE CONVICTS
According to the judgement, Abu Siddiq Sohel had tailed Avijit Roy on various occasions and exchanged information with his fellow Ansar al Islam members in a plan to kill the writer-blogger.
After following Avijit on February 26, 2015, he confirmed to Saimon that Avijit came to the Ekushey Boi Mela. Besides, he stood guard for the killers with their leaders at the spot during the murder.
Arafat Rahman Siam visited the book fair after buying bags and machetes and followed Avijit with an intention to kill him.
He waited beside Avijit's car with a bag containing machetes.
Arafat and three others -- Ali, Antu and Anik of the operation branch of ATB -- hacked Avijit indiscriminately with machetes.
Mukul Rana alias Sharif, who was later killed in an encounter with police, gave each of the four Tk 2,000 to buy bags and machetes.
The four bought bags and machetes from the capital's Tongi area and individually surveilled Avijit's house.
Arafat and others also surveilled the book fair on February 24 and 25 before killing Avijit so that they could go to a safe place after the murder.
Mozammel Hossain Saimon directed Sohel to follow Avijit. He himself followed Avijit several times. He informed Zia and other leaders that Avijit came to the book fair. During the murder, he stayed near the killers with Zia and other leaders.
Avijit was killed at the directive of Major (sacked) Zia. Zia stood nearby when Avijit was murdered.
Akram Hossain showed Avijit's photo to Sohel. He himself had tailed Avijit several times. During the murder, he was nearby, supporting their leader Mukul Rana.
Farabi uploaded the photos of Avijit, his wife and daughter on his Facebook page and made an open call to kill Avijit, terming him an atheist. He assisted the killers by exposing Avijit.
Besides, six other members of the banned Ansar al Islam were involved in the killing, but the IO did not submit charge sheets against them as their details and identities could not be revealed, the IO said yesterday.
ANUJIT'S REACTION
Avijit's brother Anujit Roy expressed satisfaction with the judgement.
"Police administration should not be relaxed after the judgement. They should continue their efforts to arrest the two masterminds -- Maj (sacked) Zia and Akram Hossain -- as soon as possible," he told The Daily Star over phone.
He was not present at court during the delivery of the judgment.
Anujit said the militant group can be more vengeful and plot conspiracies to kill more people after failing to have their operatives released.
"It is a matter of concern that the two masterminds are still at large," he added.
"I am satisfied with the judgement though it took a long time…," he said. "When fundamentalism is becoming extreme in the country and an attempt was made to justify the killing by citing demeaning of religion, I am satisfied with the verdict… My father would also be satisfied if he was alive," he said.
He also demanded quick execution of the judgement.