Govt moves to save Naria from Padma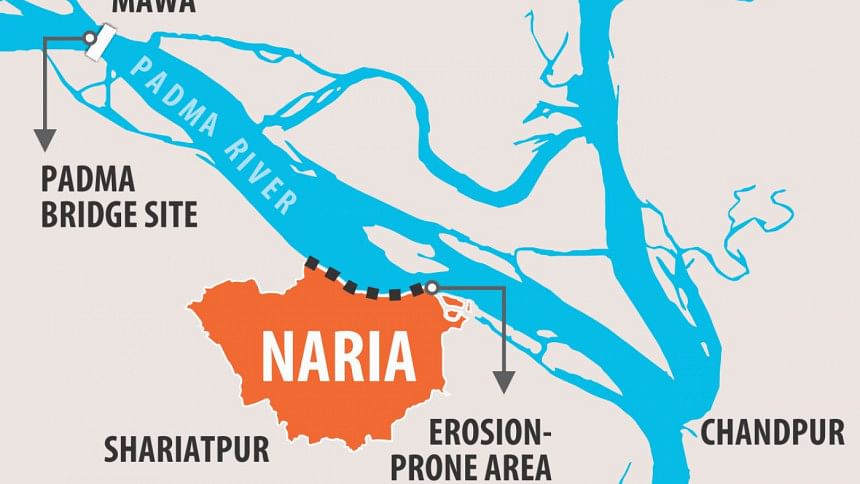 The cabinet committee on purchase yesterday approved a project, involving Tk 1,077.58 crore, for protecting Naria and Jazira upazilas in Shariatpur from Padma erosion. 
After the meeting, Nasima Begum, additional secretary of the Cabinet Division, told reporters that the committee in principle selected Khulna Shipyard Ltd for the work through direct purchase method.
An official of the water resources ministry said the work order would be given to the shipyard as soon as possible.
Under the project "protection of the right bank of the Padma in Naria and Jazira", the shipyard will dredge 9.75km river, work for protecting its 8.9km bank and construct eight ghats.  
The project, taken up by the water resources ministry, has been approved at a time when buildings, houses, schools, shops and roads on vast areas of Naria and Jazira are being devoured by the mighty river.
The official said due to the morphological change in the Padma and Jamuna, shoals are rising at different points in the rivers and thereby course of the rivers are changing.
Besides, high and low tides, strong currents, high waves and water flow from the upstream in their combined effect are causing erosion of the Padma. 
The official said the Water Development Board in 2012 appointed a consultancy firm to conduct a study on how the erosion-prone areas can be saved.
A technical committee reviewed recommendations of the study and then the project was taken up. In January, the Executive Committee of the National Economic Council (Ecnec) approved it.
Yesterday, the cabinet committee on purchase okayed 22 projects, including protection of the right bank of the Padma, involving Tk 5,809 crore. 
Earlier in the day, the cabinet committee on economic affairs approved five proposals.
Under a project, about 55 lakh tonnes of various petroleum products will be purchased in 2019. Half of the products will be brought under the government-to-government arrangement and the rest through a competitive bidding process.
Under another project, Bangladesh Shipping Corporation will purchase six ships, two of them capable of carrying coal, through the government-to-government arrangement. Chinese government will fund the project. 
The committee also gave the  nod for construction of a circular railway line around Dhaka city under a public-private partnership initiative.