Erosion strikes 19 villages in Goalanda
1,250 houses devoured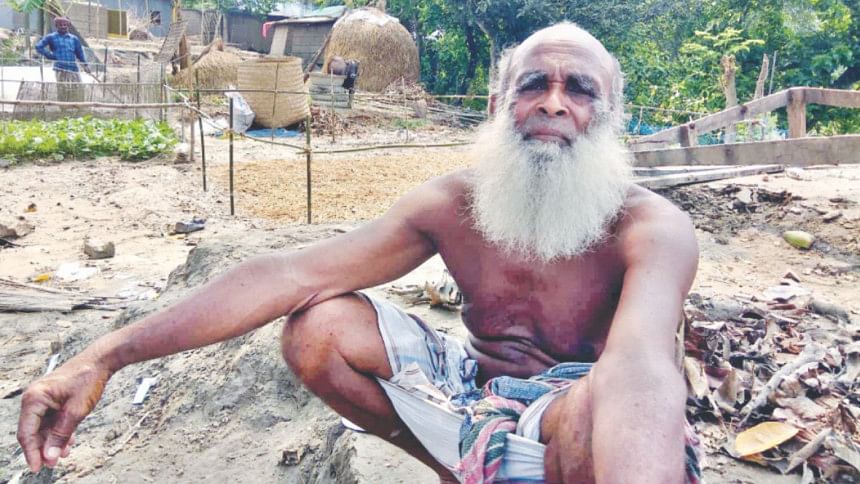 The Padma has devoured most of the areas of 19 villages in Rajbari's Goalanda in the last two months. 
Locals said Daulatdia, Dabegram and Chhota Bhakla unions are affected by Padma erosion every year.
But the erosion that began from the last week of July eroded away some 1,250 houses, around 1,500 bighas of croplands, a mosque, a mazar and about 2,000 trees of eight villages under Dabegram union, seven villages under Chhota Bhakla union and four villages under Daulatdia union, said chairmen of these unions while talking to this correspondent.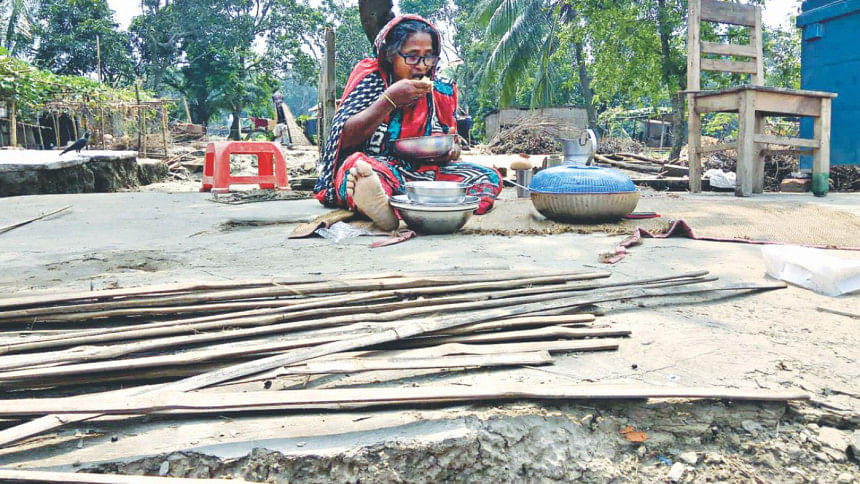 Some 2,000 more houses in the three unions are under threat of being devoured by the river, they said, adding that the affected families are living under the open sky.
Jashim Sheikh, 75, an inhabitant of Malotpara village under Dabegram union, said, "At least 60 houses of our village have gone into the Padma within 15 days. Now we are living under the open sky."
Alom Gazi, 35, of the same village, said they had no work for a month as all their croplands were washed away by the river.
Munnab Bepari, 35, of that village, blamed unplanned river dredging for the erosion.
Anwara Begum, 45, of Dollapara village under Daulatdia union, said, "Our house, along with six bighas of land, has gone into the Padma."
Another villager Amina Khatun, 60, said they were living in a relative's house, and they had no money or land to build a new house.
Nurul Islam Mondal, chairman of Daulatdia Union Parishad, said, "I have told the  people, who lost their houses, to build their houses in Nurul Islampara village as his family owns a huge portion of land of the village. We distributed 20kg of rice to each of the 1,000 affected people today [yesterday]."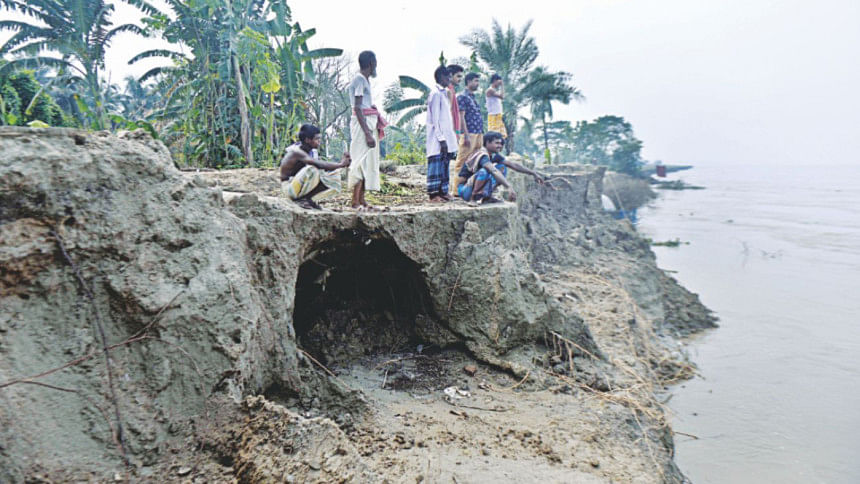 Contacted, Shikder Mohammad Mohighmen Aktar, agriculture officer at the Department of Agricultural Extension in Goalanda, said they primarily estimated that around 100 to 150 hectares of agricultural land were damaged. When water would recede, they could ascertain the figure of the affected croplands.    
SM Nururnobi, sub-divisional engineer at Water Development Board in Rajbari, said they had visited the affected areas and informed their higher authorities. They would also come up with a plan on how to protect the areas from erosion after surveying the spot.