Gone with the blaze
45,000 refugees lose their homes, belongings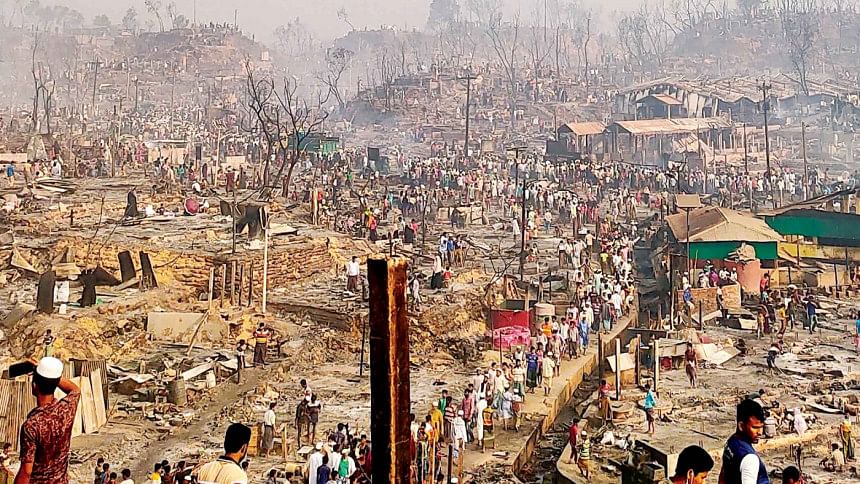 Fleeing a crackdown by the Myanmar military, 35-year-old Chubera Begum, along with her four children, arrived in Ukhiya from Rakhine State in August, 2017. She then found shelter in a tent at Balukhali camp, the largest refugee camp in the world.
In a span of three years, the Rohingya woman was able to build a house with bamboo and corrugated iron sheets with her income from a tea stall.
But all her hard work came to naught as she helplessly watched her home and all belongings turn to ashes in the devasting blaze that erupted at Balukhali Camp-18 in Cox's Bazar on Monday.
"I was just making preparations for lunch. Suddenly, I heard people screaming. I stepped out of my home and saw a huge fire spreading quickly towards our home," Chubera told this newspaper yesterday.
She then rushed back, immediately took her daughter and sons out of the house, and ran to safety.
"My home, all my savings and belongings went up in flames," she said.
Visiting the sprawling Rohingya camp in West Balukhali, charred objects were found scattered across the vast swathes of the camp which resembled a war zone. Smokes were still billowing out of the ravaged houses in some places even hours after the blaze was doused.
Some people were seen sifting through debris to find anything that could be of use. Several women were wailing, reeling from the loss of their homes and belongings.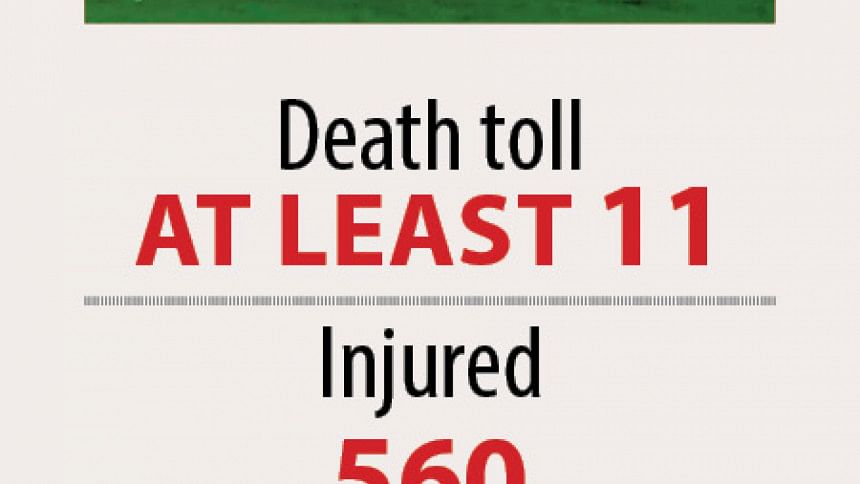 Talking to The Daily Star, Sukkur Maji (supervisor) of FWC block of Balukhali Camp, said panic gripped the refugees in the block as the fire spread quickly.
Referring to statements of a number of refugees in the camp, he said the fire originated from camp-18, about half a kilometre from the FWC block. Fed by gas cylinders, it started spreading fast, he added.
"The fire turned devastating due to a lack of water," he mentioned.
Shah Rejwan Hayat, commissioner of the Relief, Rehabilitation and Repatriation Commission, said they recovered 11 bodies, including three of minors.
The UNHCR, however, in a statement said primary reports show that as of yesterday morning, 15 refugees lost their lives in the blaze.
At least 560 people were injured and an estimated 400 people are still missing, said the statement published on the UNHCR's official website.
It also said around 10,000 shelters are estimated to have been destroyed or damaged.  Besides, about 45,000 Rohingya refugees lost their shelters and belongings in the devastating blaze.
Meanwhile, Disaster Management and Relief Secretary Md Mohsin said, "We have not yet received information about any refugee going missing. It is being checked whether anyone has gone missing."
He was speaking at a briefing at the Refugee Relief and Repatriation Commissioner's office in Cox's Bazar yesterday.
GAS CYLINDERS
Md Younus, a refugee living in C-block of Balukhali Camp, told this newspaper that authorities had distributed gas cylinders among the refugees for household use on Monday afternoon, several hours before the fire broke out.
Asked, Shah Rejwan Hayat said, "We saw some gas cylinders go off after the fire broke out. It certainly made the blaze go out of control."
It would require a thorough investigation to ascertain how and from where the fire originated, he noted.
The blaze damaged around 10,000 structures, including homes, hospitals and learning facilities. Besides, around 45,000 people were affected by the fire, he said.
"Those who suffered minor injuries were given primary treatment at various facilities."
He said they have formed a high-powered probe committee to find out the cause of the fire.