Education in mother tongue: Govt move for ethnic minority students faltering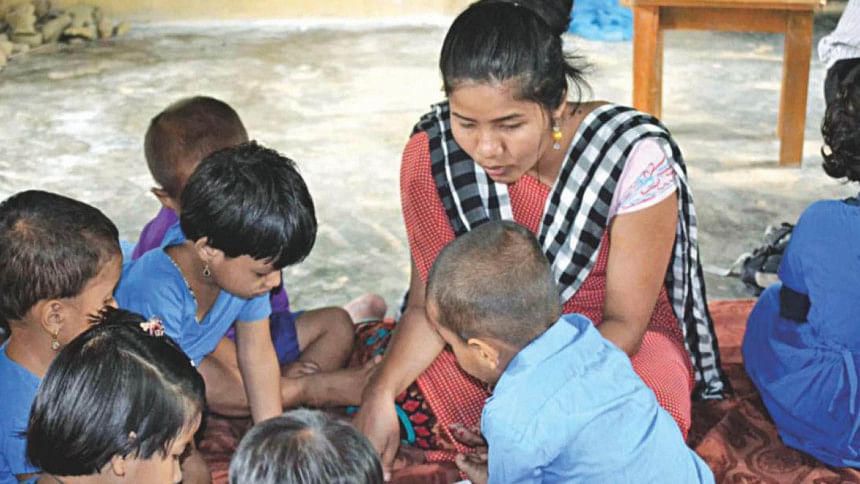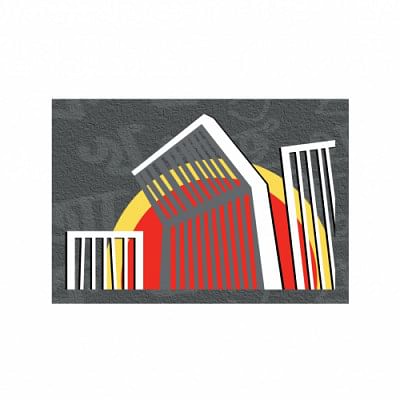 The government move to ensure that children from ethnic  communities are given early education in their mother tongue is apparently falling flat due to a lack of teachers with a good command of these languages. 
As per the government plan, ethnic minority students would learn exclusively in their mother tongue from pre-primary level up to class II and gradually learn Bangla from class III.
With this aim, the government decided to publish textbooks in ethnic languages in 2012.  And since 2017, it has been distributing textbooks in Chakma, Marma, Tripura, Sadri and Garo languages.
This year alone, the National Curriculum and Textbook Board (NCTB) has distributed 2,30,130 copies of textbooks in these languages for 97,594 students.
But it all risks coming to nought as most of the teachers can speak in the languages but they do not know how to read and write them.
"They need intensive trainings on teaching using the textbooks," said the headteacher of a government primary school in Khagrachhari Sadar upazila.
The teachers, who don't have thorough knowledge on their language, still do not know how to impart lessons based on the textbooks, said several teachers and education officials while talking to this newspaper.
Only 38.60 percent of the 4,204 ethnic community teachers in the three hill districts have attended a 14-day training on their respective languages in the last three years.
The training, organised by the district councils in Khagrachhari, Rangamati and Bandarban, were only intended to introduce the alphabets to the teachers.
A Chakma teacher who took part in the training told The Daily Star that she could not learn much from the training and that it was not sufficient at all.
"I have been acquainted with the Chakma letters, but I still don't know how to read or write a sentence properly," the teacher said, wishing anonymity. 
Several district education officials also admitted that the training was not adequate to make the teachers have a good grip on their languages.
Khorshed Alam, district primary education officer of Rangamati, said, "The training provided by the government was of good quality, but its duration was not enough."
Echoing his view, Siddiqur Rahman, assistant primary education officer in Bandarban, said more training is required for the teachers.
In December last year, the Directorate of Primary Education (DPE) started providing a 10-day training to the ethnic language teachers in the hill districts, but there is still a long way to go.
In Sylhet, the situation is even worse as no training programme has so far been organised for ethnic language teachers, depriving students of the opportunity to begin their schooling in mother language.
Contacted, AKM Shafayet Alam, deputy director at the DPE in Sylhet division, told The Daily Star the crisis of Garo and Tripura language teachers was so acute that conducting training for ethnic language teachers there was almost impossible.
"We discussed the issue [absence of training] with the primary education ministry and the NCTB," he said, adding they were yet to receive any instructions from the higher authorities in this regard.
Against this backdrop, teachers in classrooms prioritise Bangla textbooks over the ones written in ethnic languages for imparting lessons.
Sunali Deb Barma, a student of class II at Daluchhara Government Primary School in Moulvibazar's Sreemangal upazila, told the Moulvibazar correspondent of The Daily Star that they received their books in Tripura language at the beginning of the new year, but no class has been taken using these books.
Moreover, there is no clear instruction for teachers on how to impart lessons in a class where there are students from more than one community.
"When we take classes of Marma and Chakma students, Tripura students find nothing to do and loiter around," said a Chakma teacher at a Khagrachhari school.
Experts say establishing mother tongue-based education at the primary level is not only limited to distributing books.
"It also requires proper training for the teachers and guidelines regarding the teaching method as multilingual teaching system is different from traditional teaching," said Prof Sourav Shikder, a teacher at Dhaka University's linguistics department.
He suggested that the teachers be given a minimum three months of training.
Rabindranath Soren, president of Jatiya Adibasi Parishad, said ensuring proper training is necessary for ensuring the quality of the teaching.
"Besides, we need to keep our languages alive," he added.
Abdul Hye Al Hadi, an anthropologist and chief executive of Save the Heritage and Environment, said the ethnic languages in Sylhet region are disappearing due to the dominance of Bangla.
The ethnic people, particularly their children, can't practise their languages at schools and other places. At one stage, they hesitate to speak in their language even in the family atmosphere.
Sanjeeb Drong, general secretary of Bangladesh Indigenous Peoples' Forum, said the United Nations Charter gives all communities of the world the right to get educated in their mother languages and Bangladesh is a signatory to the charter.
He recommended a special teachers recruitment process for the schools in indigenous communities.
The teachers said that they also found it hard to decide which language to use in the question papers.
"When we ask, the upazila primary education officer they can't give us any specific direction," said a teacher in Rangamati.
Contacted, Primary and Mass Education Secretary Akram-Al-Hossain said, "If more training is needed, we will arrange that by talking with the officials concerned and indigenous community leaders."
Asked about the evaluation, he said, "There will be no internal exam for students up to class III as these students are subjected to formative assessment."