Docking bad loans has now become critical
Says former finance minister AMA Muhith in an interview with Star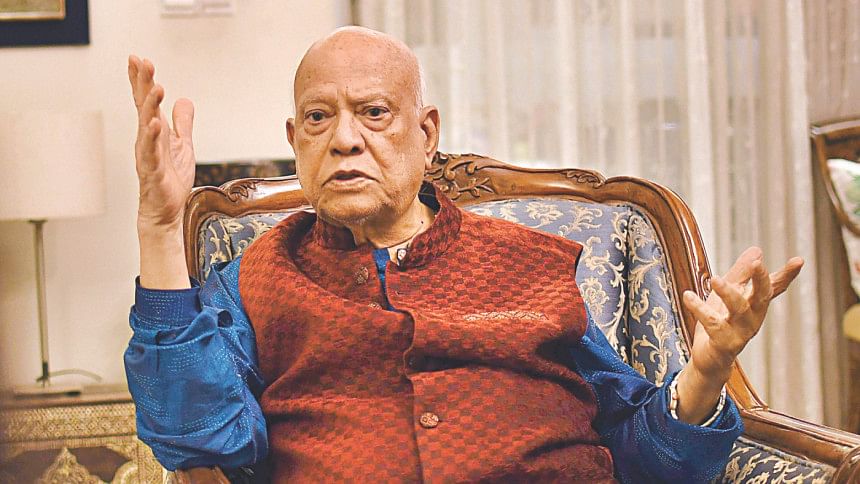 Age is the price of wisdom, it is often said. And an audience with the immediate past finance minister, AMA Muhith, calls to mind that saying.
Take, for instance, his views on the much-debated government move to impose single-digit bank interest rate from April 1, which effectively breaks down the market mechanism for funds.
Muhith, who turns 86 today, feels the move will not yield any benefit.
"Well, the government can impose and banks will have to oblige, but there will not be any big impact on the banking sector," he told The Daily Star in an interview last week at his home in Dhaka.
The reason being, the move is not addressing the root cause of banking sector's problems: the high defaulted loans.
The need of the hour, in his opinion, is banking sector reforms geared towards reducing the soured loans.
As per the central bank's latest data, which is until September of last year, defaulted loans in the banking sector stood at a record Tk 116,288 crore, which is 11.99 per cent of total outstanding loans.
"In our to reduce default loans we have increased it enormously. This was wrong."
He was referring to the central bank's most recent loan scheduling package, which allowed defaulters to reschedule loans by footing just 2 per cent down payment.
"It is not a good policy -- you are just increasing the number of defaulted loans. This was not right. And defaulted loan recovery is not easy anywhere."
Subsequently, he called for strict steps to bring down the defaulted loans to a reasonable level.
One of the steps he champions is fixing a defaulted loan ceiling for banks. "We should fix a target for bringing down the defaulted loan to a certain per cent. I'm not suggesting any figure -- the ministry has to decide that."
The banks that fail to lower the defaulted loan ratio to that number will not be allowed to do new business; they will have to work with their existing business, so the banks will collapse.
"So, they will have to do something about it. We have to be strict."
He, however, admitted that he was indulgent towards banks while as the finance minister from 2009 to 2018.
"I have given too many opportunities to the banking sector. I have indulged them," he said, while citing the Banking Companies (Amendment) Act 2017 as an example.
The amendment extended the tenure of a private bank's board of directors to nine years from six and increased the quota for board seats for a family from two to four. The move, effectively, tightened a single family's hold on a private bank.
"The stage for pampering is over, I feel. If I were in the government now, I would have put a stop to it and asked the banks to behave."
He also admits that there are too many banks in Bangladesh. Out of 60 banks in operation now, 12 of them came into being after the Awami League came back to power in 2009.
"We have too many banks but I was never worried as I thought they would automatically be forced to merge and there would be a reduction in number."
When quizzed that he himself had the chance to usher in consolidation in the sector in case of Farmers Bank: "It was my mistake. I should have allowed it to die."
He said he was not under any pressure to keep alive Farmers Bank, which was rechristened to Padma Bank in January last year as part of the bank management's effort to sweep the gross irregularities and loan scams under the carpet and get an image makeover.
The bank, which was established in 2013, became a hotbed for financial irregularities in less than three years of operation.
Allegations of corruption against them became deafening and depositors, including different government agencies, started pulling out their money.
This prompted the central bank and the government to step in and rescue the bank. Four state-owned banks -- Sonali, Janata, Agrani and Rupali -- and one public merchant bank, the Investment Corporation of Bangladesh, bailed out Farmers by buying equity shares worth Tk 715 crore in March 2018.
When prodded that another lender, BASIC Bank, became indisposed during his tenure, he became animated.
"BASIC Bank was destroyed by just one man: Sheikh Abdul Hye Bacchu. The current chairman is a very good banker and I have immense faith in his capabilities. But the state at which Bacchu left BASIC, it's very difficult to recover from there."
Bacchu, Muhith asserts, was made the chairman of BASIC Bank on September 2009 -- on political consideration.
"He had good contacts everywhere and he leveraged them fully."
Muhith, however, insists that no political appointees can now be found in state banks' boards. "It started from my time."
The damage though has already been done, with eight state banks now accounting for more than 50 per cent of the defaulted loans on September 30 last year: Tk 59,622 crore.
The government is now planning to form a public asset management company (PAMC) to take over banks' toxic loans from them and has already etched a draft act on it.
Muhith is not opposed to the idea.
"I think the PAMC can improve the situation. It depends on how the company decides which asset it will take and in what condition."
If the PAMC does that stringently, there is no chance of banks exploiting it and dumping their bad assets on it.
"At the same time, banks whose assets are being taken over PAMCs, those banks must be punished in another way."
Asked whether, like his successor AHM Mustafa Kamal, he thinks the country's double-digit interest rate is the reason behind the high volume of defaulted loans, Muhith begged to differ.
"The interest rate has relation with inflation. Our inflation is high in comparison to international standards."
The average inflation crept up four basis points to 5.59 per cent in 2019, according to data from the Bangladesh Bureau of Statistics. And, it is on an upward trend.
But to organically bring down the interest rates, he suggested narrowing the bank spread, which is the difference between what a lendercharges a borrower and what it pays a depositor.
"It is less than 4 per cent now in most cases. It is a good development and we should take it forward," said the retiree, who voraciously reads nine newspapers every day to remain informed.
One of the major causes of concern for the economy now is the sliding exports, particularly of the garment sector.
Garment exporters, who have been enjoying cash privileges for long, are now demanding more benefits to prop them up.
Asked whether it was wise to give garment exporters cash incentives all this while, which artificially made them seem competitive and might have made them complacent, Muhith said: "It's a very good question and I don't have the answer. Cash subsidy is clearly not having a lasting effect."
Subsequently, he is lukewarm on the prospect of ceding to garment exporters' demand for Tk 5 extra for each dollar of their export receipts.
"A simple device in the form of a cash bonus will make everything alright -- is not right. Their [garment exporters'] solution is not good. They are seeking little more cash bonus but no, it's not that easy."
The garment exporters will have to bring in qualitative changes.
"I will advise the government to be very cautious about it."
Muhith, however, praised Kamal's move to dispatch four finance ministry officials to Vietnam, Thailand, Sri Lanka and India -- all Bangladesh's competitors in global apparel trade -- to see first-hand whether those countries' governments are extending such cash benefits to give their garment exporters a leg up.
He though advised giving greater attention to diversification and industry deepening.
"The development on the export front is very bad. We always did well in exports. We have maintained a growth rate of 9-10 per cent -- it is very high. It's true that it cannot be maintained forever. But the sudden fall is a bit much, which is a matter of concern."
Another cause of concern for the economy is the underwhelming collections of the National Board of Revenue, which has sent the government to the doors of banks to meet its expenditure needs. The development is poised to crowd out private sector credit.
When asked why collection growth has slowed down so visibly, Muhith's face turned red with rage. He seemed to indicate that the tax administration had been providing inflated figures over the years.
The practice has now stopped, which is why the growth seems so low in comparison.
"Revenue bureaucracy is to be blamed. They were liars and they have just led us into nowhere. They should be punished, even those who have retired. For three years they have supplied us with false reports. They were deliberate lies, they showed growth when it was declining. Our revenue growth has historically been low."
Muhith's proclamation does have weight as for years the actual collection figures provided by the Comptroller Auditor General later on hugely fell short of the figures provided by the NBR.
But to boost collection growth now, he suggested sending university students door-to-door to survey the wealth status of households in suburban areas.
At the end of their visits they should make a list of which households should pay taxes and suggest an amount of tax. And the government should act on it.
"Once you give them a notice, they come under the tax net. They will then come forward and argue about the arbitrary amount of tax. Once you are in the net the arbitrariness will disappear and you will have to discuss with them and give a tax rate."
The new value-added tax law, which was supposed to boost collections to a certain extent and Muhith supervised for a large part, has not been a success yet.
"It was made with great hopes. We expected that it would be an all-time solution but that hasn't been the case."
The reason is that VAT calculation is rather complex.
"The whole theory of VAT is that you pay tax on the value you add, so 4-5 people end up paying tax for the same item. But they were all supposed to pay a little amount. We do not have the bookkeeping and discipline needed for it to work. This is our problem. We do not have the system yet to track value addition. It will take a while to get there."
One major incident that took place during Muhith's time as the finance minister is the cyber heist of about $1 billion from the Bangladesh Bank's account with the Federal Reserve Bank of New York (NY Fed) in February 2016.
A resolution is yet to come through, four years on.
When probed why, Muhith said: "Our mistake was, we should have filed the case against Fed earlier. Because, Fed obviously failed. They have made the mistake. We would have never known were it not for Sri Lanka."
Of the sum that the hackers made off with, $20 million was routed to an account with a Sri Lankan bank, which reversed the transfer.
He suggested the government to take on a more aggressive stance now.
"One of our objectives should be to drive Rizal Bank out of the banking system. The entire banking system is based on trust and Rizal Bank is a fraud. In my opinion, Rizal Bank should not exist in the world and we should have taken the appropriate measures for that."
Asked what achievement he is most proud of as the finance minister, he instantly said: "The growth of the economy."
"For a finance minister of Bangladesh, the only option is reduction of poverty. If you reduce poverty you will be successful," said Muhith, who is now occupied with authoring his book titled 'History of the World'.