A rare lack of festivity
DNCC goes to polls today, but voters show little enthusiasm; many say they won't vote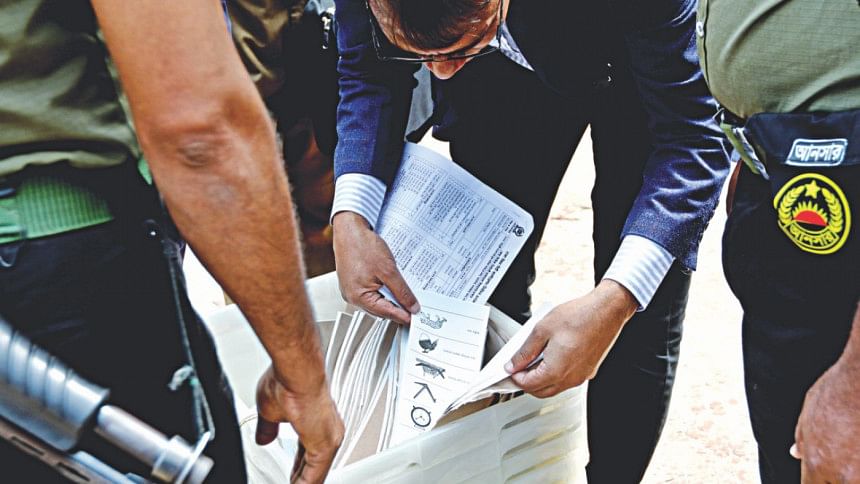 The Dhaka North City Corporation mayoral by-election takes place today but it lacks enthusiasm and festivity.
Many city dwellers said they did not even know whether they were among the voters. Others said they would not go to the polling centres as the election was likely to be one-sided.
"As you can see, there is no poster of any mayor candidates. None of them came to our area to seek vote either. I don't know who are running for the [mayor] post," Mohammad Faruk, a grocer in Mohammadpur, told The Daily Star yesterday.
Zahed Mia, a rickshaw puller living in Badda, said there was hardly any electioneering in his area as well. "It does not look like an election," he said.
Many in other DNCC areas echoed their remarks, adding that they had no idea where their polling centres were.  
The mayor by-polls lost its appeal after some major political parties, including the BNP, boycotted it, claiming that a free and fair election was not possible under the current Awami League   government.
The mayoral post fell vacant following the death of Annisul Huq on November 30, 2017. He had been elected mayor on April 28, 2015.
Election to councillor posts in 36 new wards -- 18 under the Dhaka North City Corporation (DNCC) and 18 under the Dhaka South City Corporation – is also taking place today.
The voting starts at 8:00am and will continue till 4:00pm without any break.
Meanwhile, at a press briefing at the Nirbachon Bhaban yesterday, Chief Election Commissioner KM Nurul Huda said all preparations were over for holding the election in a free and fair manner.
He called upon all voters to cast their ballots for their candidates of choice without any fear. He also asked the candidates to follow the electoral code of conduct.
A total of five candidates are vying for the mayor post while 116 for the councillor positions.
Among the five mayor runners, ruling party candidate Atiqul Islam and Shafin Ahmed of Jatiya Party were seen campaigning. However, Anisur Rahman of the National People's Party, Shahin Khan of the Progressive Democratic Party and independent candidate Abdur Rahim were hardly seen during the electioneering, which officially began on February 11 and ended on February 26 midnight.
The total number of voters in the mayor by-polls is around 30.35 lakh and polling centres 1,286.
For the council election to the DNSCC, around 5.9 lakh people are expected to vote. Besides, 45 candidates are vying for six councillor posts reserved for women.
In the other city corporation, the number of voters in 18 wards is around 4.96. A total of 125 candidates are contesting for the 18 councillor positions while 45 for six councillor positions reserved for women.
EC sources said 19 law enforcers would be deployed at each polling station while 23 for each "important" polling station. Besides, 72 executive magistrates will work in DNCC areas and 24 others in DSCC areas for today's election.
CEC Nurul Huda said BGB and Rab personnel would work as striking force on the voting day.
He asked all polling agents not to leave their respective polling centres until they got the result sheets.
Responding to a query over the opposition political parties not joining the polls, Huda said the commission did not have anything to do if anyone was not eager to participate in any polls.
"It's s not a matter of having no confidence in the commission. But it is an irritating matter for us," he said.
VEHICULAR MOVEMENT
The CEC said all public transport could ply the main city thoroughfares today. But private vehicles would be able to run only during emergencies.
On February 19, Road Transport and Highways Division had issued a circular, imposing restrictions on vehicular movement on the election day.
The restriction will be applicable to motor-run three-wheelers, auto-rickshaws, motorcycles, taxi cabs, microbuses, SUVs, pickups, cars, buses, trucks, easy bikes and locally made vehicles.
The circular, however, said highways and important roads and side alleys connecting highways to the DNCC area were exempted from the ban.
Also, the ban will be relaxed for the candidates, their agents, local and foreign election observers having approvals from the returning officers and ID cards.
Besides, ambulance, vehicles of polls officials, law enforcement agencies, fire service, electricity, gas and telecom service providers will remain out of the purview of the ban.
Restriction on movement of motorcycles came into force from midnight last night and would continue till Friday midnight.