Digital Security Act: 11 sued, two sent to jail
Digital Security Act: 11 sued, two sent to jail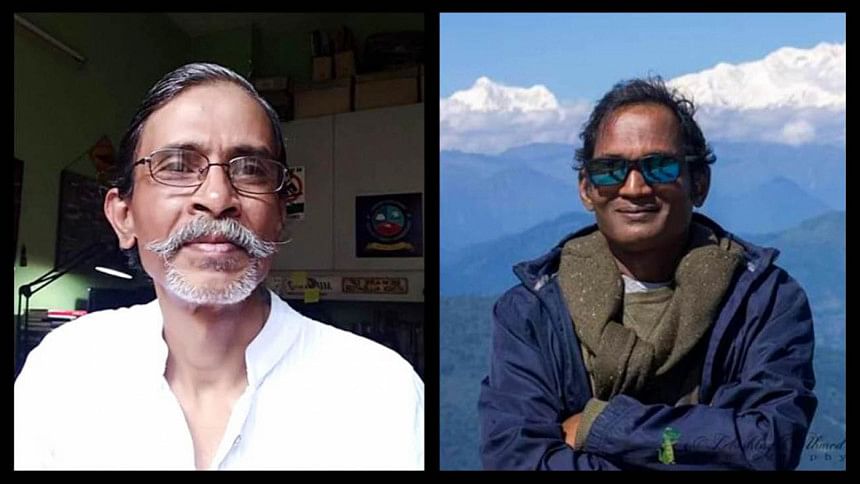 Eleven people, including a cartoonist, two journalists and a writer, were charged with "spreading rumours and carrying out anti-government activities" under the Digital Security Act yesterday.
Swedish-Bangladeshi journalist Tasneem Khalil who runs Netra News, US-based journalist Shahed Alam and blogger Asif Mohiuddin are among those named in the case filed by Rab-3 Assistant Director Abu Bakar Siddique with the Ramna Police Station.
Of the other accused, Cartoonist Ahmed Kabir Kishore and writer Mushtaq Ahmed landed in jail after they were produced before a Dhaka court.
Two more accused -- Didarul Islam, a member of politico-civic organisation called Rashtrachinta, and Minhaj Mannan Emon, managing director of BLE securities and shareholder-director of Dhaka Stock Exchange -- were handed over to the Ramna police by Rab-3 yesterday evening. Both of them were shown arrested in the case.
Minhaj is the older brother of the slain LGBTQ activist Xulhaz Mannan.
THE CHARGES
The first information report said, "These people have been knowingly posting rumours against the Father of the Nation, the Liberation War and the coronavirus pandemic to negatively affect the nation's image and to create confusion among the public through the social media and cause the law and order situation to deteriorate.
Tasneem was also charged for writing about the members of the army and different law enforcement agencies, according to the FIR.
Kishore, Mushtaq, Saer Zulkarnain, Ashik Imran, Shapan Wahed and Philip Schuhmacher were made accused for being the admins of a Facebook page called "I am Bangladeshi".
The case documents claimed that page contained "fake rumours" to "negatively affect the country's image" and "hamper the law and order of the country".
The page "I am Bangladeshi" mostly shared published news reports, political cartoons and Facebook statuses reflecting on the current crisis and funny memes.
The FIR also said, "We found evidence that he [Kishore] is spreading rumours to create confusion by drawing cartoons of different ruling-party leaders."
While some were charged for running the "I am Bangladeshi" Facebook page, others were charged for having "anti-government" chats with them.
Examining the cellphones of Kishore and Mushtaq, evidence was found that they had "anti-government" chats with Tasneem, Shahed, Asif and Minhaj, mentioned the FIR.
ARRESTS
According to the FIR, Kishore was picked up around at 2:30am on May 5 from his Kakrail home. Two mobile phones, an external hard disk, a desktop computer and 200 CDs were also seized.
It mentioned that upon interrogation, he disclosed the name of Mushtaq who was then apprehended from his Lalmatia house around 3:15am on May 5.
However, Mushtaq's family alleged that he was picked up in the early hours of May 4.
His wife Lipa Akhter told The Daily Star, "Rab personnel with five large vehicles showed up at our Lalmatia house around 1:45am on Monday. They said that they were from Rab-3. They took away Mushtaq around 3:00am and since then we had no idea where he was, or where he had been taken.
"Around 3:30am last night [yesterday], I received a call from the Ramna Police Station saying my husband is with them and that I was to come over to the station and give him food," she added.
Monirul Islam, officer-in-charge of the police station, told The Daily Star that a team of Rab-3 handed Mushtaq and Kishor over to them yesterday morning.
Mushtaq who writes under the pen name "Michael Kumir Thakur" was critical of the government's handling of the Covid-19 crisis on social media.
He wrote a book titled "Kumir Chasher Diary" published in November 2018, and was working on another book.
The family of one of the accused, Didarul, an activist of Rashtrachinta, alleged that he had been picked up from his house in the capital's North Badda on May 5 evening.
Rab-3 personnel handed him over to police yesterday evening, a day later.
"Some people arrived by two black microbuses before iftar. They were in plainclothes, but introduced themselves as Rab-3 members. They said Didarul would return soon. He was taken away two minutes before iftar," said his wife.
Another accused, Minhaj, had been missing for over a day before he was shown arrested in the case yesterday.
His wife Ivy Anwar said, "Around May 5 noon, he received a call. He told me that he had been called by a law enforcement agency and that he would be back soon.
"He left and I haven't heard from him since then. His phone is switched off and I don't even know which law enforcement agency he had gone to meet."
In a separate incident, a man named Momen Prodhan was arrested in Narayanganj's Rupganj for sharing a video clip of a parliamentarian harvesting green, unripe rice while volunteering for a farm.
Mahmudul Hasan, officer-in-charge of the Rupganj Police Station, said, "Prodhan was arrested because he had shared the video clip as well as some inciteful and anti-government Facebook statuses."
Meanwhile, as many as 97 noted citizens, including researchers, journalists, professors, students and lawyers, gave a statement decrying the arrests and the case.
"We are observing with extreme concern and worry that even during a pandemic, the law enforcement units of the state continue to violate fundamental rights in the name of controlling rumours," it said.
The signatories include noted photojournalist Shahidul Alam, Jahangirnagar University professor Dr Anu Muhammed, Dhaka University professors Samina Luthfa and Fahmidul Huq, Supreme Court lawyers Jyotirmoy Barua and Syeda Rizwana Hasan.
They demanded the release of all those arrested for exercising their freedom of expression online and in the media, and called for the scrapping of the Digital Security Act.
The filing of the case and the arrests come hot on the heels of imprisonment of photojournalist Shafiqul Islam Kajol and several others arrested under the Digital Security Act since the shutdown began on March 26.
Kajol went "missing" on March 10 and was suddenly "discovered" in Benapole by Border Guard Bangladesh on May 3, 53 days after his disappearance.
He is facing three cases under the Digital Security Act for sharing on his Facebook page a news link on ruling party lawmaker Saifuzzaman Shikhor's alleged links to a notorious female Jubo League leader.
Kajol was arrested -- initially on the charges of trespassing, and later in the evening under section 54 of the Code of Criminal Procedure (CrPC) -- and sent to Jashore Central Jail.
The following day, the Counter Terrorism and Transnational Crime unit of Dhaka Metropolitan Police filed a petition with the Chief Metropolitan Magistrate Court, seeking to show him arrested under the Digital Security Act.
The same day, Mohammad Mahtab Uddin Talukder, Sunamganj district correspondent of SATV and editor-publisher of Daily Haorancholer Katha, was arrested by police for updating an unverified Facebook status claiming a local parliamentarian had been arrested.
Earlier on May 2, three journalists from Ghorashal in Narsingdi were arrested for plagiarising a quote of a police official from another report, without talking to him.
Police also arrested journalist Golam Sarwar Pintu of Dainik Bangladesher Alo on April 14 after Sheikh Salim, a Dhaka city councillor of Ward 38, filed a case under the Digital Security Act with Badda Police Station. Pintu's crime was that he had covered a protest staged by locals demanding relief.
Besides, at least 11 other journalists were detained or charged under the act in recent times.
Toufique Imrose Khalidi, editor-in-chief of bdnews24.com and Mohiuddin Sarker, acting editor of jagonews24.com, were sued under the act on April 19.