Dhaka Wasa's Legacy: A decade of failure, inefficiency
Safe water for all remains a far cry; no solution to waterlogging despite spending hundreds of crores of taka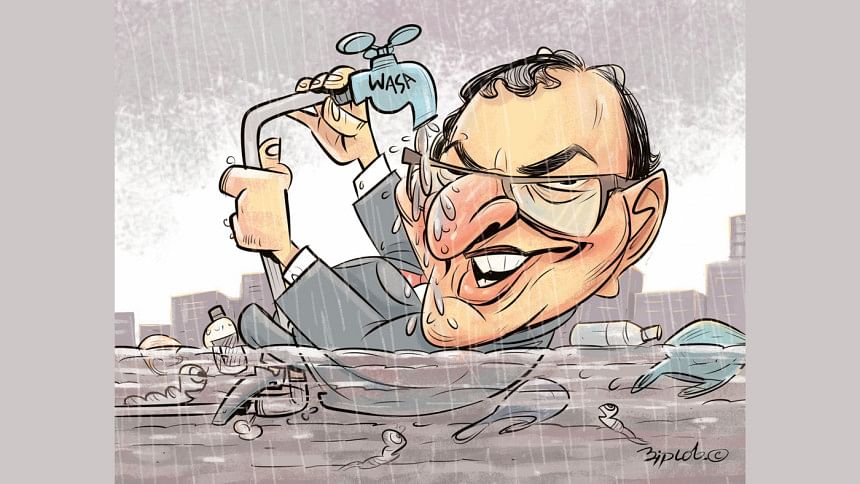 On September 26, 2007, The Daily Star ran a report with a headline "Living with dirty, stinky wasa water", highlighting the innumerable sufferings of Dhaka city dwellers.
Almost 13 years have passed since then and the Dhaka Water Supply and Sewerage Authority (Wasa) has taken up many projects and spent hundreds of crores under a managing director who has been running the show for 11 long years.
But many Dhaka dwellers are still living with dirty and stinky water, facing acute shortage of drinking water, being deprived of access to the sewerage network and encountering the same old waterlogging problems.
Contacted on Sunday, a Dhaka Wasa official working in their call centre said they received complaints about foul-smelling water from Satish Sarkar Road in Ganderia, English Road and Rahmatpur of Jatrabari.
"We also received complaints about leakage from Subash Bose Avenue, Mitford Road and Nawabpur Road in Old Dhaka yesterday [Saturday]," said the official.
Residents of Nakhalpara, Hemonto Das Road of Sutrapur and South Kutub Khali also complained of getting no water, he added.
There are, however, more areas in the long list of suffering subscribers.
Residents of East Jurain, Donia, Shyampur, West Jurain, North Jurain and Muradpur, parts of Dhupkhola, English Road, Rahmatpur of Jatrabari, parts of Shanir Akhra and some houses in Shewrapara also told The Daily Star that they were getting putrid water from the Wasa supply line.
Mizanur Rahman, a resident of Jurain's Mistir Dokan area, said many of around two lakh residents of East Jurain are facing similar problems and some are not even getting water.
Mizanur is one of a few hundred residents from Jurain, Shyampur, Madhya Badda, Rampura and Tejgaon who staged a demonstration in front of the Wasa's Karwan Bazar headquarters on April 23 last year, demanding supply of pure water.
The image of him carrying a jug full of dirty water as a sarcastic gift of 'sherbet' for Wasa managing director Taqsem A Khan for saying "water supplied by Wasa was 100 percent safe" is still fresh in the minds of Dhaka residents.
"Unfortunately, nothing has changed," Mizanur told The Daily Star on Sunday. 
Mohammad Kanchan, a resident of West Kafrul, said their water has a bad smell throughout the year, but it turns dirty when it rains.
Sakhawat Hossain, a resident of Satish Sarker Roard, echoed Kanchan's words.
"The situation is bad at the moment. But I'm afraid things may turn worse during Eid-ul-Azha, when hundreds of sacrificial animals will be slaughtered. We might get blood-stained water, like [we did] last year," Hossain feared.
Wasa has around 8,000 kilometres of supply line -- around 3,000 km of which consist of derelict 150-year-old pipes -- for around 3.9 lakh connections in its 360 square kilometre service area. It produces 255 crore litres of water daily. Of this, 22 percent is surface water and the rest is extracted from underground with 900 deep tube wells, according to an official of Wasa.
A Transparency International Bangladesh (TIB) report published on April 17, 2019, said 91 percent of Wasa subscribers had to boil the supply water to make it drinkable and, in the process, burned gas worth Tk 332 crore a year.
The TIB findings also showed that nearly 45 percent of subscribers do not get the desired amount of water, while about 35 percent complain of poor-quality water throughout the year.
Wasa MD Taqsem A Khan had however snubbed the TIB report as 'unfounded'.
While supply of safe water is an issue Wasa is yet to ensure, the key utility service provider has also come under severe criticism for failing to solve the perennial waterlogging problem in the capital during monsoon.
Persistent rain last week that caused various city streets to be submerged and many residential areas inundated with knee to waist-deep water, once again exposed Wasa's poor drainage management system.
According to Wasa officials, more than Tk 5 crore was spent under different projects to clean and develop Dhaka's 26 canals this year. Besides, around Tk 12 crore more was spent on cleaning and repairing the drainage network.
Dhaka residents, however, have not benefited from those initiatives.
The two city corporation mayors -- Dhaka South's Fazle Noor Tapash and Dhaka North's Atiqul Islam -- on Wednesday came down heavily on Wasa and Bangladesh Water Development Board for their failure to properly clean the canals and the drainage system. During an unannounced visit at some canals and pumping stations along with LGRD minister Tajul Islam, they even demanded that the responsibility be hand over to the city corporations.
Dhaka Wasa maintains 26 canals that stretch for around 80 km, 10-km box culverts, around 385 km stormwater drains and four permanent pumping stations. The two city corporations maintain around 2,200 km of surface drains.
The Bangladesh Water Development Board, on the other hand, are responsible for 52 sluice gates and one pumping station.
According to leading urban planners, although it is Wasa's duty to ensure pure drinking water for all, residents of many parts of Dhaka city are supplied with putrid water despite the price of water having increased 13 times in the last 11 years.
The price per unit (1,000 litres) of water was just Tk 6 in 2009, but now stands at Tk 14.46.
In the last seven fiscal years till 2018-19 Dhaka Wasa has undertaken various projects – ongoing and completed – related to the water supply costing approximately Tk 20,500 crore, according to Wasa data. 
Iqbal Habib, joint secretary of Bangladesh Paribesh Andolon, said that the main reason behind the foul-smelling and dirty water is Wasa's failure to invest sufficiently in meaningfully improving its supply line.
"Wasa just increased the amount of production to say that they are producing according to city dwellers' demands, but did not take necessary steps to improve the supply network to deliver safe water to its subscribers," said Iqbal Habib.
"In the last decade or so, there has also not been any visual change in sewage treatment facilities, although Wasa is charging sewerage bills every month," said Habib, adding that the sewerage networks of Wasa still only covers 19 percent of the city.
"The waste treatment master plan earmarked in 2016 is yet to be implemented. Of the four waste treatment plants under the master plan, Wasa could start building only one so far at Dasher Kandi, and even that is taking a long time to be completed," said Habib.
Experts also said that Wasa did not show any interest in investing their own funds in solving the waterlogging problem; instead depended on government and foreign funds.
In the last three years, Wasa spent at least Tk 125 crore, but none from its own coffers, says an official of Wasa, wishing not to be named.
According to Wasa data, ongoing and completed projects relating to sewerage and sanitations had cost around Tk 3,473 crore in the last seven years, while the cost of projects to improve the city's drainage system (both natural and artificial) was around Tk 1,433 crore over the same period.
The experts however also blamed waterlogging problems on the fast depletion of low-lying wetlands, flood flow zones, storm water retention ponds, ditches and canals in the name of development.
Time and again, the authorities have been warned of grim consequence in urban storm water management ,but they paid no heed, the experts said.
But the reality is many of the flood flow zones, retention areas and parts of rivers have time and again been filled up in the name of urbanisation.
Wasa's failures on other fronts
Allegations of widespread corruption and delays in project implementation are the other issues that hampered Wasa from providing the desired service to its clients. It was highlighted in a report of the Anti-Corruption Commission (ACC) submitted to the LGRD ministry on July 18, 2019.
Wasa keeps extending deadlines and increasing the costs of its projects to create room for corruption, said the ACC report.
The ACC said corruption and irregularities also took place in the selection of consultants and contractors, during revenue collection and overtime bill disbursements.
Manual meter reading is also an area where syndicates have been formed to misappropriate money and deny the government its revenue, said the report that identified eight projects and three areas in Dhaka Wasa where corruption takes place, and made a 12-point recommendation to prevent graft.
The parliamentary standing committee on public undertakings, in its meeting on October 20 last year asked the Dhaka Wasa boss to take immediate measures to rid the public organisation of corruption and ensure that people get proper services from it.
The JS body also blasted the Wasa MD for his failure to provide safe drinking water to citizens and deal with the waterlogging problem.
In face of repeated criticism, the DWASA MD assured the parliamentary committee that the problems were being dealt with and there would be safe water for all the city's residents by 2021.
Wasa MD's role under scrutiny
Dhaka Wasa MD Taqsem A Khan drew huge public backlash last year when he said the 'water is 100 percent safe for drinking'.
He also offered an unconditional apology to the HC bench on December 7, 2019 for making an untrue statement about sewerage lines connected to the Buriganga River.
The Wasa MD submitted a report to the HC on December 2 last year saying that there are 67 underground drains and sewerage lines connected to Buriganga river, although he had submitted another report to the court on June 18 the same year saying that there were no such lines connected to the Buriganga.
Besides, TIB on July 20 termed repeated reappointment of Taqsem A Khan 'questionable' and called for a neutral audit of performance.
"After a controversial appointment in 2009, the present Wasa managing director has been serving the post in questionable ways for five consecutive terms for the last 11 years," TIB Executive Director Iftekharuzzaman said in a media statement.
"It could be known through media reports and other authentic sources that rules and regulations have been violated on each occasion of renewing his appointment," said Iftekaruzzaman.
The TIB executive director said allegations against the Wasa managing director's reappointment also came to light in TIB's report titled "Dhaka Wasa: Challenges of Good Governance and Way Forward".
Taqsem's current term expires on October 14.
What the Dhaka Wasa MD has to say
On the issue of waterlogging, the Wasa MD blamed reduction of natural reservoirs like rivers, canals, water bodies and flood flow zones in the city.
"Artificial drains are not the solution," Taqsem told The Daily Star on July 23.
When his attention was drawn to the recent remarks of the two Dhaka City Corporation mayors, the Wasa MD said, "I have said many times before that this work should come under one government body instead of seven."
About the TIB report on his holding the post for five consecutive terms, Taqsem said he was ready to hold the position as long as the government desires and finds him productive.
He also said, "The government will be able to answer why they kept me in the post for a long time."
About ACC's corruption report, Taqsem said the allegations of corruption have to be proved first.
"As far as I know, not a single allegation has been proved yet. What does it mean? It means the allegations were not based on facts," he said, adding that his organisation takes immediate action whenever they find any irregularities.
The Wasa MD has often been heard telling reporters that Wasa's production of water supply is now in surplus against demand, but there are some pockets that creates water crisis due to technical problems.
Regarding the failure of providing safe water to city dwellers, Taqsem said Wasa's water is safe at source but is contaminated in some areas due to leakage of old pipelines.