Dhaka-Jashore Highway: Extortion stalks cattle trucks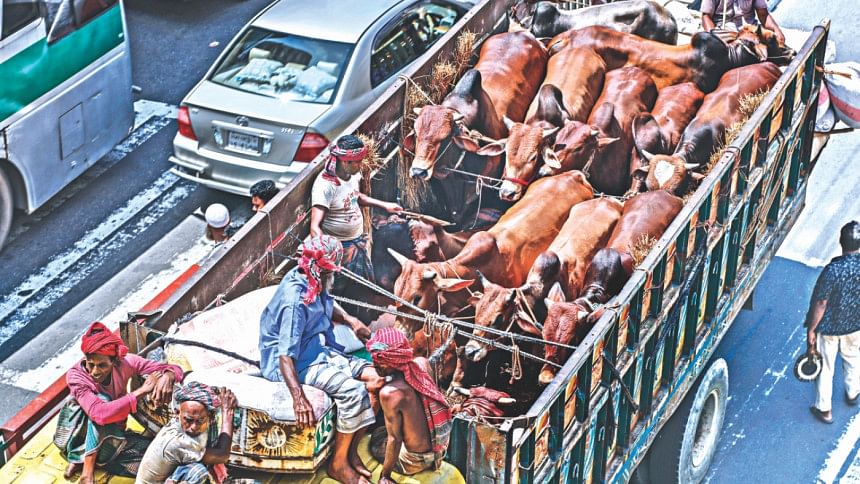 Different transport workers' associations and local goons are extorting money from cattle-laden trucks at seven points on the Jashore-Dhaka highway.
Besides, local drivers alleged that monthly toll collection from trucks by a section of unscrupulous traffic personnel was going on as usual.
This was found during a journey on the 250km route. 
This correspondent boarded a cattle-laden truck from Saatmile Bazar in Sharsa upazila of Jashore on Tuesday to get the first-hand knowledge of extortion from such vehicles. 
Another purpose was to verify cattle traders' claim that illegal toll collection on highways is a big factor behind the high prices of the sacrificial animals.
According to truckers, police used to charge up to Tk 400 each from cattle-laden vehicles at several points on the highway, including Ramnagar in Magura, Rajbari intersection and Kanaipur in Faridpur, and Paturia. But it stopped around a week ago. 
During the journey, the driver told this correspondent that they pay Tk 2,000 per month to a certain traffic police officer, who provides them with "a pass for free movement" in any district.
If stopped by any traffic police anywhere in any district, they have to show that pass to drive ahead, he said, without disclosing any name.
On Tuesday evening, this correspondent got on the cabin of the truck in Saatmile Bazar, one of the largest cattle markets in the region, with two cattle traders alongside a helper and the driver.
He was allowed on the truck on request of a local chairman though the traders said they don't accept any outsider for safety of their cattle. The 18 oxen the truck was carrying were priced at Tk 23 lakh.
On the road, the truck was first stopped before the Navaron bridge in Sharsa. Some people collected Tk 300 from the trucker giving two slips -- one was titled "contribute for development of Navaron Bazar" and the other "Driver's Transport Agency". 
As it reached Jhikargachha after about 20 minutes, the driver had to pay Tk 100 to some people who claimed to be from Jashore District Truck, Trunk-lorry, Tractor and Covered Van Workers' Union.
He also paid Tk 50 each to three groups in Palbari and Newmarket points in Jashore and Goalondo intersection of Rajbari. They claimed it was for Jashore Municipality, Jashore District Truck Owners' and Workers' Joint Welfare Fund and Rajbari District Road Transport Workers' Union respectively.
Around 12:30am on Wednesday, the truck had to join an around six-kilometre queue of vehicles up to the Daulatdia ferry terminal.
The driver paid Tk 20 for weighing the vehicle though it is supposed to be free. The helper then left for the toll booth to pay the ferry charge of Tk 1,060.
There the ferry tickets were not given by the employees of Bangladesh Inland Water Transport Corporation but some local goons, according to the helper.
When he went to collect the ticket, they asked him what the truck was carrying. As he said they were transporting sacrificial animal, those men charged additional Tk 500 without providing any slip.
They, however, gave a ticket for the ferry charge.
Around 5:30am, after five hours of wait, the truck could board the ferry. After crossing the river, there was no interruption for any illegal toll collection.
WHAT AUTHORITIES SAY
On July 31, IGP Mohammad Javed Patwary instructed police officials not to stop any truck carrying sacrificial animals on the highways unless there is a specific allegation. He gave the instruction at crime conference at the Police Headquarters.
About the extortion near the Navaron bridge, Moshiur Rahman, officer-in-charge of Sharsa Police Station, yesterday said they removed an illegal toll booth, operated by some truck workers' union leaders, in the area.
When told that two days ago this correspondent witnessed toll collection at that point, he said he would look into the matter.
Half an hour later, the OC called back and said two persons of Jhikargachha Truck Workers' Union were collecting the toll and they were asked to stop it immediately.
Tajul Islam, president of Bangladesh Inter District Truck Drivers' Union, said illegal toll is being collected in the name of different transport workers' unions in different areas.
"We informed it to police and they asked for a written complaint from us. I will file the complaint after this Eid."
Md Abdul Maleque, additional inspector general of police (highway), said he was not informed about these allegations and he would ask the district police to take steps.    
Zillur Rahman, assistant general manager of BIWTC Aricha office, denied that local goons were collecting the ferry charge at Daulatdia.
But Rajbari Superintendent of Police Mizanur Rahman said they got complaint about illegal toll collection by some outsiders at the ferry terminal and asked the BIWTC authorities to ensure sale of the tickets by their staffers.
The Daily Star tried to reach Jashore Municipality Mayor Jahirul Islam Chaklader Rentu for his comment about the allegation of illegal toll collection from trucks in the name of his municipality.
But he did not receive any calls yesterday evening.
[Our Benapole and Manikganj correspondents contributed to the report]