Denial of Treatment: Hospitals defy govt warnings
Patients suffer as many hospitals send them away for failing to produce Covid test reports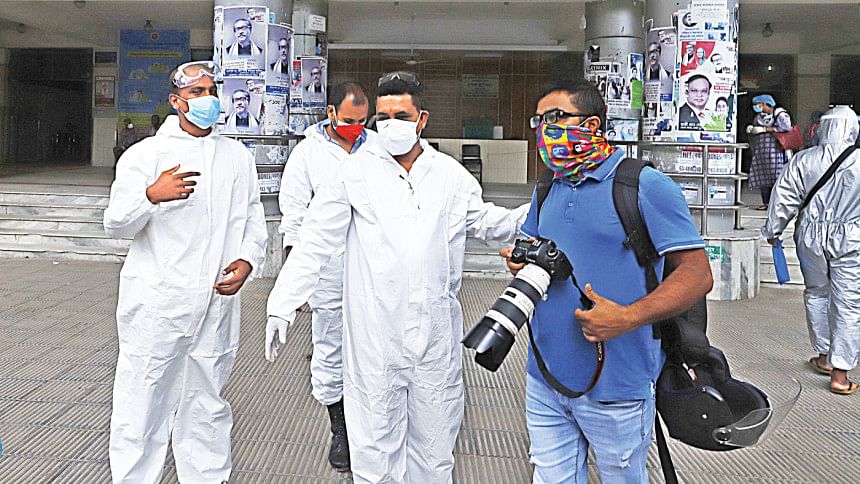 For 50-year-old Md Mostafa and his wife, last weekend was nothing short of a nightmare. He shuttled from one hospital to another in the capital with his ailing wife Sathi Khanam, a kidney patient, only to be turned away.
Sathi used to get dialysis done at the Kidney Foundation Hospital in Mirpur-2. But the hospital denied her treatment when they went there on Friday. It asked for her Covid-19 test report as a precondition for getting treatment.
The couple rushed to Kurmitola General Hospital and then to Mugda General Hospital with the hope of either getting tested or treatment but all to no avail.
They then went to Dhaka Medical College Hospital where they were told that only the patients admitted there could have their tests done.
"I was in utter distress as I heard most of the private hospitals are not treating patients amid the crisis. Then I came to know about a clinic in Dhanmondi. I took her there and finally got her dialysis done," said Mostafa, who used to work at a launch on the Dhaka-Barishal route.
Sathi is one of the few lucky patients who managed to get treatment during this pandemic.
There have been reports that many hospitals -- both public and private -- are denying patients treatment despite repeated instructions and warnings from the government.
Some hospitals demand Covid-19 test reports before hospitalisation, ignoring the fact that it now takes even a week to get test results. Besides, patients with Covid-19 symptoms were denied admission by hospitals though they tested negative for the virus.
The health ministry issued an order on May 11, asking all private hospitals to keep separate arrangements for suspected coronavirus patients.
It also asked hospitals not to turn away any patients if they have treatment facilities. And if a hospital has to refer any patient to another one, it has to inform the Covid-19 Hospital Control Room of the DGHS about this and follow the DGHS instructions to ensure treatment for the patient.
The ministry warned that punitive measures, including cancellation of licences, would be taken if the directives were ignored.
The same day, the ministry gave a similar directive to the public hospitals.
On May 24, the ministry issued another order directing all the government and private hospitals with 50 or more beds to make separate arrangements for treating Covid-19 patients and the general ones.
Besides, the government also held several meetings with the authorities of private hospitals and the association of owners of private clinics and diagnostics over the issue.
But all these have not been translated into actions.
One month has elapsed since the issuance of the last order. But most of the private hospitals are yet to make separate arrangements for suspected Covid-19 patients, let alone treating both infected and non-infected patients simultaneously.
The regulatory authorities and the DGHS seem to have failed to ensure implementation of the orders, thanks mainly to a lack of coordination and strict monitoring mechanism.
The failure has brought to the fore the issue of limited capacity of the health ministry and the DGHS to make these hospitals comply with government orders.
And it is the patients who are becoming victims of a lack of coordination and accountability.
The death of a 22-year-old nurse of the capital's Ibn Sina Hospital is a glaring example.
Habiba Sultana died in front of the emergency unit of the very hospital where she had worked after allegedly being denied admission there on June 14. She had suffered a stroke on June 10 and was initially admitted to the National Institute of Neurosciences.
Her family members alleged that the Ibn Sina Hospital authorities did not admit her because they failed to produce her Covid-19 test report which had been lost.
Similar incidents of patients being denied treatment at hospitals have been reported in the media since the Covid-19 outbreak.
According to the DGHS, there are 2,200 government hospitals and 5,500 private hospitals and clinics across the country.
Public health experts say that issuing directives and warnings is not enough to ensure treatment of all during this crisis which has thrown the country's already overstretched healthcare system into disarray.
There must be specific guidelines and coordination between all stakeholders and also means to ensure accountability, they said.
They raised questions about the rationale of issuing such orders as only a few hospitals have the capacity to set up separate units for Covid-19 patients and the general ones.
Prof Dr Rashid-E-Mahbub, former president of Bangladesh Medical Association, said that though the government asked all the public and private hospitals with 50 beds or above to provide treatment to both Covid-19 patients and general ones, many private hospitals don't have that capacity.
Besides, the private hospitals which have that capacity would charge patients hefty sums, he pointed out.
"The government's decisions are not viable," he told The Daily Star.
"It's not possible for hospitals to arrange treatment for Covid-19 patients overnight. By issuing such orders, the government put the hospital authorities and the service seekers on a collision course."
The government should have selected the private hospitals that have the capacity to treat Covid-19 patients and requisition those for providing treatment to all, he mentioned.
Prof Maniruzzaman Bhuiyan, president of Bangladesh Private Clinic and Diagnostic Owners' Association, said that following the government orders, they directed the hospitals having 50 beds or above to provide treatment to both Covid-19 patients and the general ones.
He claimed many of those hospitals already started providing treatment for coronavirus patients while others are working to start the healthcare services. But a good number of hospitals may not be able to do so because of a lack of health workers and infrastructure.
Prof Maniruzzaman noted that the private hospitals and clinics provide two-thirds of the healthcare services in the country.
"We are serving the nation in a big way. We are working side by side with the government to provide people with treatment during this pandemic. You should write about this positive side too."
Referring to instances of private hospitals' refusal to treat patients, he said those hospitals are doing so ignoring the organisation's decision.
Asked whether steps would be taken against those, he said, "We will urge them not to do this."
Contacted, Aminul Islam, director (hospital) of the DGHS, said many of the big private hospitals have started giving treatment to Covid-19 patients. But the small ones are yet to do so.
All the civil surgeons have been directed to take necessary measures to implement the government orders, he said.
When his attention was drawn to the issue of patients being denied treatment, Aminul asked this correspondent to give an example of such an incident.
As he was given three such examples, he said, "We have not yet got any written complaints in this regard. If we get any written complaints, we will take steps after proper investigation."