Crazy pills flying in
Smugglers explore air route to bring yaba into capital, Dhaka airport saw 63,898 tablets seized in 4 months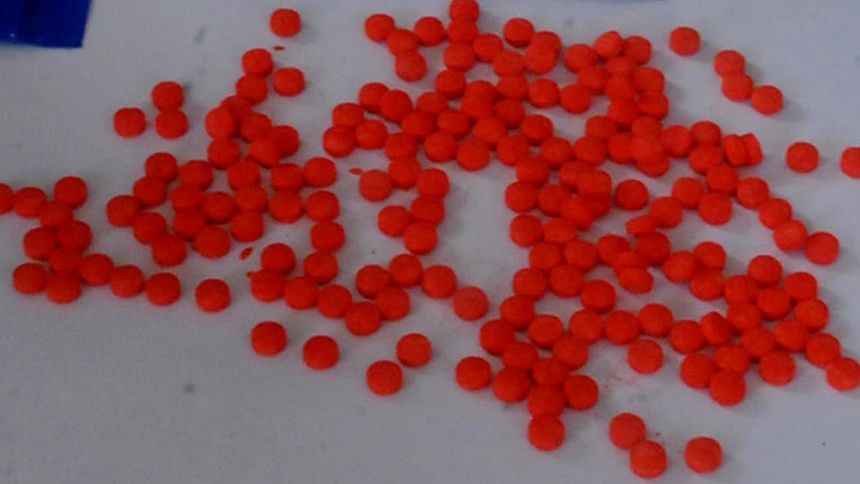 Yaba smugglers are now using air routes to carry the crazy pills to the capital from Teknaf, the gateway for the drugs to Bangladesh.
The new route comes amid tougher vigilance on yaba smuggling, especially on highways, by law enforcers since the anti-narcotics drive began on May 4 last year. 
The new route is being used by different yaba smuggling syndicates, who pay drug mules to bring the contraband items to the capital by hiding those in their rectums and abdomens, according to the Airport Armed Police Battalion (AAPBn).
The matter came to the AAPBn's attention after the arrests of 32 such people along with a total of 63,898 pills at the Hazrat Shahjalal International Airport (HSIA) in the past four months.
Among the arrestees, six were yaba traders and the others were carriers. The arrested traders were carrying the drugs themselves at the time.
At least 26 cases have been filed in this connection, said Alamgir Hossain, additional superintendent of police of AAPBn.
On July 30 last year, the AAPBn apprehended the first such carrier at the airport -- Rima Ghos -- while she was carrying 3,843 pieces yaba concealed in her body and luggage.
No one was arrested in August and September, but in November, 19 people were arrested and 14 cases were filed with the Airport Police Station.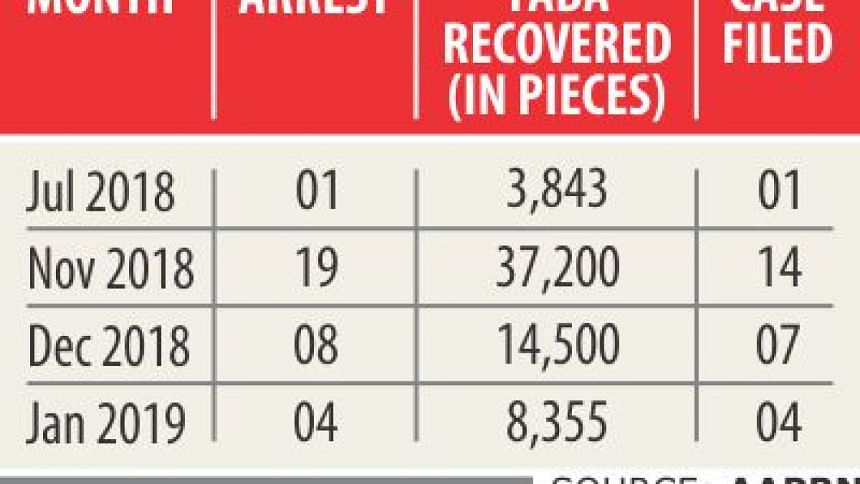 Eight people were arrested in December and four more in January from the airport, according to the AAPBn database.
"The smugglers have chosen the new route as they think it is safer than the Dhaka-Chittagong highway for quick movement," he told The Daily Star on Sunday.
"We are now trying to detect the syndicate members and the masterminds behind this."
Some of these yaba consignments were supposed to go to Narail and Munshiganj from Dhaka airport via road, said additional SP Alamgir.
At least 15 syndicates are involved in the smuggling of the pills to the capital from Cox's Bazar.
This is not the first time that some yaba smugglers changed their conventional routes to dodge law enforcers.
Earlier in April last year, officials found syndicates using another route. Consignments first reached Teknaf after crossing the Naf River and then went to Patuakhali's Kuakata on fishing boats. The pills then made their way into the capital via Barishal, smuggled in cars, buses or trucks.
In July last year, law enforcers found yaba being smuggled from Myanmar into Bangladesh through the Indian border in three districts of greater Sylhet. India's Mizoram, Meghalaya and Assam were the conduit routes for the clandestine operation.
FROM ADDICTS TO CARRIERS
Alamgir Hossain, additional SP of AAPBn, said as the airport had no machines to detect non-metal objects, such as yaba pills, law enforcers depend on information to detect carriers.
Sometimes they verify the background of passengers to gauge whether the person can afford a flight.
"Once we detain someone, we take them to nearby hospitals for x-rays to determine where they are carrying the drugs," said Alamgir.  
About the techniques used to avoid detection, Alamgir said that around 50 to 100 pills are wrapped in sticky tape and inserted inside bananas which are then swallowed by the carriers before they board their flights.
"They excrete those out after reaching safe places in the capital."
Male carriers also insert small packs of the pills inside their rectum, while their female counterparts wrap them in plastic materials -- such as condoms -- and hide them in their cervix to dodge law enforcers.
Earlier, yaba smugglers used orphans to smuggle the drug. Besides, the pills were also found being smuggled inside watermelons, jackfruits, tyres, motorcycles fuel tanks and shock absorbers, petrol containers, mobile phones and inside books.
AAPBn officials said all 26 carriers arrested in the last four months claimed to be addicted to yaba from before. They took up the work after their traders convinced them that it was an easy way to make some money.
"Majority of the arrestees are between 20 and 26 year old. The yaba traders target unemployed addicts first and lure them by paying a sum of money in exchange for being a carrier," said a high official of AAPBn, requesting anonymity.
During interrogation of the recent arrestees, investigators were told that the carriers were paid Tk 20,000 to Tk 25,000 for each successful delivery, apart from the cost of the plane fare, hotel and food bills.
A pill can be bought at Tk 70 from Cox's Bazar whereas the wholesale price in Dhaka is Tk 150 and the retail price is Tk 300, he said.
Asked about such offers, two yaba addicts in the capital told this newspaper that they often get such proposals from their suppliers.
Regarding the availability of the drug following the anti-narcotics drive, they said they did not face any problem in getting the pills.
"Yes, we were facing problems in September and October last year, as our supplier started charging Tk 350 to Tk 400 for each pill, but now we are getting it for Tk 250 to Tk 300," one of them said.
Sources said drug traders had adopted new techniques after law enforcers began the anti-narcotics drive.
The traders, for instance, now only meet or sell to trusted buyers after setting up a meeting place for the exchange via mobile phones or social media sites.
SURRENDER PROGRAMME 
TO START
Since the countrywide anti-narcotics drive began on May 4 last year, at least 290 alleged drug traders have been killed in "shootouts".
But as this hardly deterred smuggling syndicates, law enforcers are now planning to ask drug traders to surrender.
As a test case, a surrender programme is supposed to be held in Teknaf on February 16, in which around 100 yaba godfathers and traders are expected to surrender, sources said.
"If the surrender programme yields successful results, we have plans to launch the programme in other districts," a high official of Police Headquarters told The Daily Star, wishing anonymity.
Meanwhile, Inspector General of Police Mohammad Javed Patwary, at a meeting with field level police officials at Rajarbagh Police Lines on February 7, directed his subordinates to make the on-going anti-narcotics drive more visible as the government has announced a war on drugs.