Coronavirus Fallout: Govt to help affected SMEs
Move designed to protect the industries that employ 2.45cr people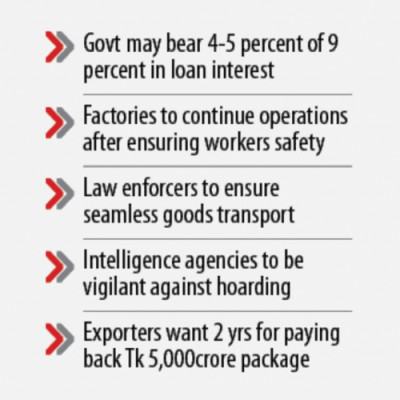 The government is set to bear a portion of the interest payments on working capital of small and medium enterprises that have been hit hard by the ongoing shutdown amid coronavirus scare.
It may cover 4-5 percent of the 9 percent interest burden of the SMEs and export-oriented industries to help them recoup losses, according to a top government official.
"Trade and Tariff Commission has sent a proposal to ensure that no small and medium industry shuts down for a lack of working capital, and no jobs are lost due to coronavirus-related economic problems, and Finance Ministry is working on it," Tapan Kanti Ghosh, chairman of Bangladesh Trade and Tariff Commission, told The Daily Star yesterday.
The SMEs are now facing a big crisis with economists and bankers urging the government to protect the businesses for the sake of the country's economic growth.
The country has 78.18 lakh SMEs that employ 2.45 crore people, according to Bangladesh Bureau of Statistics.
The majority of the SMEs are cottage-based, which account for 40 percent of the total employed population of 6.08 crore.
As a whole, the SMEs contribution to Bangladesh's GDP is 20.25 percent, according to a study conducted by the International Cooperation Organisation for Small and Medium Enterprises in Asia (ICOSA), Japan.
An assistance of sorts was offered to them on March 19, when Bangladesh Bank asked banks not to consider borrowers as defaulters if they fail to repay instalments until June 30 this year. But their accounts will continue to accrue interest during the period.
Tapan said there is a plan to form a separate fund similar to the Export Development Fund, managed by the central bank, to support SMEs.
In addition, export-oriented industries will also be given support so that they can recoup losses amid the fallout of the Covid-19 pandemic that have so far claimed more than 42,000 lives globally.
The government will provide the support in addition to its previously announced Tk 5,000 crore fund for export-oriented factories for paying wages of workers.
At a high-level meeting presided over by Commerce Minister Tipu Munshi yesterday, top officials discussed ways of keeping the supply chain of essentials uninterrupted to prevent mismatch between supply and demand as well as price fluctuations between production zones and urban areas.
They also had a discussion on the risk of shortage of commodities in the market owing to a lack of transport as many truckers are staying off the road for fear of coronavirus and a lack of security, said meeting sources.
At the meeting, a decision was taken to alert the law enforcement agencies to ensure seamless movement of goods throughout the country and curb scope of extortion.
Besides, intelligence agencies would be asked to be vigilant to prevent hoarding of goods by unscrupulous traders or businesses, they said.
The meeting was attended by Cabinet Secretary Khandker Anwarul Islam, Army Chief General Aziz Ahmed, Prime Minister's Principal Secretary Ahmad Kaikaus, NBR Chairman Abu Hena Mohammad Rahmatul Munim, Finance Secretary Abdur Rouf Talukder, Commerce Secretary Jafar Uddin, Bangladesh Bank Governor Fazle Kabir and leaders of the business community.
Later, Tipu told this newspaper that if any garment factory has work orders from international retailers or global brands, it can continue operation by ensuring adequate health safety measures for its workers.
About the meeting, he said it was a coordination meeting between government high-ups, the army chief and business leaders for assessing the current situation.
The minister said there is confusion about operation of garment factories as the government announced holidays from March 26 to April 11.
Some factory owners are keeping their production units open while some others are keeping their units shut because of confusion, he mentioned.
"There is no confusion. If any factory has work orders from international retailers or brands, it can run its operation," Tipu said.
In separate statements last Friday, the Department of Inspection for Factory and Establishment, and Bangladesh Garment Manufacturers and Exporters Association said factories can be kept open with adequate safety measures for workers.
The minister yesterday said some businesspeople want to export Personal Protective Equipment as they have been producing a lot of those recently. The ministry will decide on this later.
The exporters demanded an extension of the repayment period for the Tk 5,000 crore stimulus package. The government gave them 24 months, including six-month grace period, for paying back the money.
"We heard them. We will discuss all the issues soon and reach a decision," Tipu told this newspaper over the phone after the meeting.
He urged house owners to reduce rents for workers at this time of crisis.
The minister further said the state-run Trading Corporation of Bangladesh has started selling some essentials, including edible oil, lentil and sugar, at low prices across the country.
There is no possibility of a sudden price hike of these goods in the upcoming Ramadan as the country has an adequate stock of basic commodities, he added.