Connectivity can change the region
Visiting Indian FM stresses stronger connectivity between India, Bangladesh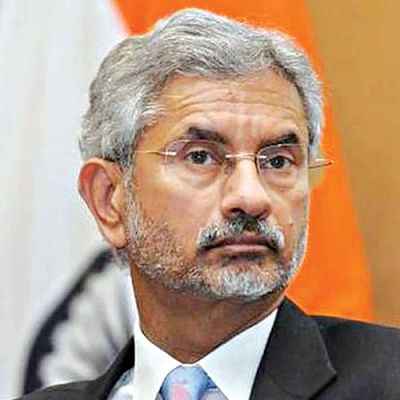 Bangladesh and India are looking forward to stronger connectivity between the two countries and with South Asia and beyond in the next 20 years.
As the two neighbouring countries celebrate their 50th year of diplomatic relations, Indian External Affairs Minister S Jaishankar said, "Connectivity is productivity."
Emerging out of a meeting with Bangladesh Foreign Minister AK Abdul Momen at the state guesthouse Padma yesterday, he said, "If we can get connectivity right between India and Bangladesh, I can tell you the entire geo-economy of the region will change. The Bay of Bengal will look very different."
At a joint press conference after the meeting, Jaishankar said they spoke about involving a third country, preferably Japan, which is a very good friend of Bangladesh and India, in terms of connectivity. Japan is already involved in a number of major connectivity projects in the Bay of Bengal under the Bengal Industrial Growth Belt.
"Our relations transcend orthodox partnerships, and I believe our bonding is central to the realisation of the dream of a peaceful, prosperous and progressive South Asia," he said.
The purpose of Jaishankar's visit is to prepare the groundwork for Indian Prime Minister Narendra Modi's visit to Bangladesh on March 26-27. It will be the Indian premier's first travel outside India since the coronavirus pandemic as well as his second as PM to Bangladesh. Modi virtually held a meeting with his Bangladesh counterpart on December 17 last year.
Jaishankar, who arrived in Dhaka around 10:00am yesterday, also called on Prime Minister Sheikh Hasina and inaugurated a branch of India's Cultural Centre in Gulshan before flying back to Delhi last night.
PROJECTS TO BE INAUGURATED MAR 26-27
Modi and Hasina are likely to inaugurate Shwadhinata Sarak that connects India from Mujibnagar; Feni Bridge, Dhaka-New Jalpaiguri passenger train service, and Bapu-Bangabandhu Digital Museum, a memorial for the Indians who were martyred in 1971, officials concerned told this correspondent.
Modi is also likely to visit the memorial of Bangabandhu in Tungipara, Gopalganj, and Orakanda, a place of worship of the Matua community, in the district.
Dhaka and Delhi are scheduled to sign some MoUs that were discussed in yesterday's nearly two-hour Momen-Jaishankar meeting. The MoUs are on connectivity, trade, water sharing, security, border killing, energy, and post-Covid cooperation.
The Indian minister stressed on connectivity -- rail, road, and waterways.
There are a number of connectivity projects under Indian Line of Credit worth $7.86 billion. Five rail lines out of total eight that were suspended since 1965 are already operational.
Under MoUs signed between the two countries, India can use Chattogram and Mongla ports to transport goods to its northeastern states. It will allow the landlocked Assam, Meghalaya and Tripura states to access open sea trade routes. India is constructing the roads and rail lines to Sabroom as part of its massive development work in the northeast, according to Indian media.
Bangladesh sought to join the India-Myanmar-Thailand Trilateral highway to improve connectivity with the Southeast Asian countries.
"India welcomed our proposal and said it will talk to the countries concerned," a foreign ministry source said.
Bangladesh also seeks materialisation of the Bangladesh-India-Nepal Motor Vehicle Agreement. Indian officials say a protocol needs to be signed for this. A Bangladesh official said the government has already submitted a draft protocol to Nepal and was awaiting response.
"The significance of our ties with Bangladesh lies in its centrality for our 'Neighbourhood First' and its growing relevance for our 'Act East' Policy. We see Bangladesh as a key neighbour and a valued partner not only in South Asia but also in the broader Indo-Pacific region," Jaishankar said.
He said after connectivity, India also gives high priority to people-to-people connectivity, health, education, and culture.
BORDER KILLING
Bangladesh has been raising the issue of border killings before India, urging it to bring the number down to "zero". At a home-secretary-level meeting on February 27, Bangladesh asked India to use non-lethal weapons.
According to Ain O Salish Kendra, at least 49 Bangladeshi citizens were killed along the India-Bangladesh border by Indian Border Security Force last year. The figure was 15 in 2018 and 43 in 2019.
According to the Indian government, in 10 years until December 10 last year, a total of 132 Bangladeshis and 95 Indians were killed in BSF firing on the Indian side. During the period, 17 BSF personnel died and 1,110 BSF members were injured in confrontations with smugglers.
Jaishankar said many of the border killings happen deep inside India and the issue was discussed in yesterday's meeting. One needs to ask why the problem is there, he said.
"Every death is regrettable … so, our shared objective should be no crime no death at the border. I am sure if we can get it right, no crime no death, we can together address this problem effectively."
WATER SHARING
Sharing of water of the Teesta has been a long-pending issue as the Teesta deal could not be signed due to West Bengal Chief Minister Mamata Banerjee's last-minute opposition in 2011. India says as it is a federal system, and as per their constitution, approval of the states is a must for striking any deal on common rivers.
The two countries are now working on six other rivers -- Manu, Muhuri, Khowai, Gumti, Dharla and Dudhkumar – and are sharing water flow data.
"We discussed it. Our water secretaries will discuss it very soon. You know India's position. That has not changed," Jaishankar said.
Foreign Minister Momen said, "We focused on possible ways to materialise our commitments and how to prioritise and accommodate each other's priorities in a mutually beneficial manner.
"This is a landmark year for our two countries. We discussed some of the important activities that we plan to undertake jointly to celebrate these historic occasions."
He thanked India for presenting vaccine doses.