City polls on Jan 30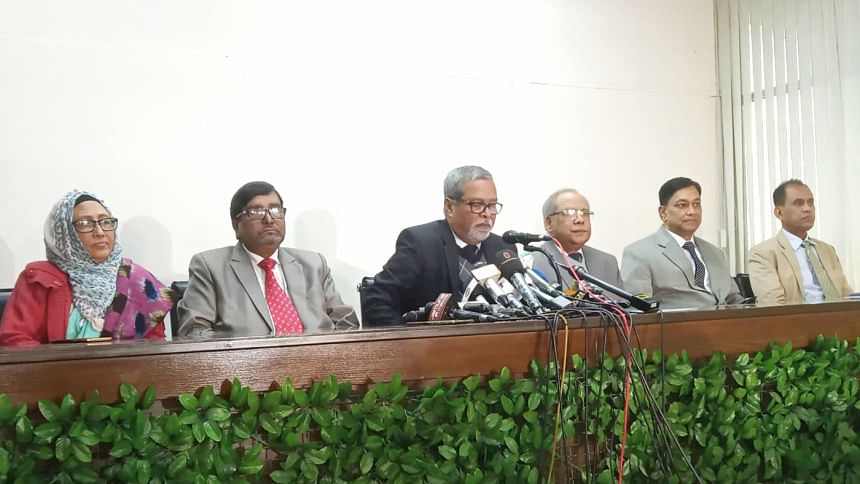 The elections to Dhaka South City Corporation and Dhaka North City Corporation will be held on January 30, the Election Commission announced yesterday.
During a press briefing at the Election Commission (EC) office, Chief Election Commissioner (CEC) KM Nurul Huda said electronic voting machines (EVMs) will be used in the polls instead of traditional ballot boxes.
Army will not be deployed in the polls, he added.
Four other election commissioners -- Mahbub Talukdar, Rafiqul Islam, Kabita Khanam and Brig Gen (retd) Shahadat Hossain Chowdhury -- were also present at the press briefing.
The last date for submitting nomination papers is December 31 and the last date for withdrawal of candidacy is January 9. The EC will scrutinise nomination papers on January 2.
CEC KM Nurul Huda, in the press briefing, also requested the voters to turn up to the polling centres. "We will ensure security so that you can return home safely after casting your votes," he said.
Responding to a question, he said there was no scope of thinking that the EC works for any particular political party. "The elections will be competitive and open for all," he assured.
The CEC also said that the incumbent mayors of the city corporations would have to resign from their posts for taking part in the upcoming polls.
According to the EC, the two city corporations have over 54.02 lakh voters -- 30.35 lakh in DNCC and 23.67 lakh in DSCC -- to cast their votes in the elections.
Along with electing the mayors, DNCC voters will also elect 54 ward councillors and 18 reserved women councillors while DSCC voters will elect 75 ward councillors and 25 reserved women councillors.
Meanwhile, a statement of the ruling Awami League read that the party would sell nomination forms to aspirants for mayoral positions from December 25 to December 27. The forms will be available at the AL president's Dhanmondi                   office.
On the other hand, the BNP is likely to participate in the polls, said the party leaders.
The BNP standing committee would make a final decision on joining the Dhaka city polls, said BNP Secretary General Mirza Fakhrul Islam Alamgir in November.