Beijing must play due role
Say experts about Rohingya crisis as PM heads for China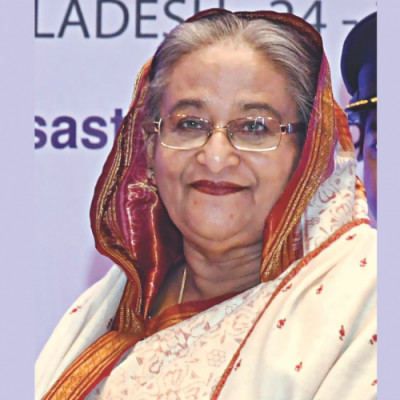 Prime Minister Sheikh Hasina leaves for China on a five-day visit today and she will discuss various issues with Chinese leaders, including Rohingya repatriation.
The PM will hold bilateral meetings with Chinese President Xi Jinping, Prime Minister Li Keqiang and Chinese National Peoples' Congress Chairman Li Zhanshu.
Besides, Bangladesh and China will ink eight memorandums of understanding and agreements on power, loan, economic and technical cooperation, investment cooperation, sharing of hydrological data, tourism and cultural exchanges.
Hasina will also address the Annual Meeting of the New Champion of the World Economic Forum.
Meanwhile, international relations experts said China may face image crisis and challenges in regional trade and investments unless it effectively acts to address the Rohingya crisis.
They said China is now a big economic power, but its stance in regard to the human rights of the Rohingya remains questionable, as the country has opposed any concrete actions by the UN Security Council against Myanmar.
Apart from this, lingering of the Rohingya crisis means regional instability that could affect trade and investments being promoted by China as a regional powerhouse, they say.
"Therefore, it's crucial that China plays an effective role. Otherwise, it will face reputational crisis and challenges in trade and investments regionally," said Prof Imtiaz Ahmed of international relations department at Dhaka University yesterday.
The experts said it was high time that China exerted its influence on Myanmar that would lead to the solution of the crisis. They said China, a close ally of Myanmar, was behind the signing of a deal between Bangladesh and Myanmar in November 2017 on repatriation of over 741,000 Rohingyas who fled atrocities in Rakhine.
But repatriation has not begun as Rohingyas say Rakhine was not safe and there was no guarantee of their citizenship and basic rights. The situation got complicated with the escalation of clashes between Myanmar military and Arakan Army, an ethnic rebel group, in recent months.
The International Criminal Court (ICC) is in the process of beginning investigation into the atrocities defined by rights bodies as crimes against humanity and genocide.
Experts here said Bangladesh, with its domestic challenges of unemployment and climate change, was facing environmental and diplomatic challenges because of the Rohingya. Human trafficking, drug trafficking, and threats of radicalisation in the refugee camps were some of the concerns.
"Why should China take the blame for supporting Myanmar, which is doing wrong? It's a matter of global reputation of China as well," Prof Imtiaz told The Daily Star.
China too has a lot of investments in Myanmar and Bangladesh and is going to do more in the coming years. If the problem lingers, it would create instability and that's not helpful for business, he added.
Former ambassador Munshi Faiz Ahmad, chairman of Bangladesh Institute of International and Strategic Studies, echoed Imtiaz.
The issues of safety and citizenship are the two major aspects of Rohingya repatriation. Rohingyas won't volunteer to return if there is no international body to monitor the repatriation and ensure safety after their return, he said.
Bangladesh needs to propose the formation of such a body led by China, he added.
"China has a lot of interests in Myanmar and Bangladesh. For its own sake, China has to take immediate and strong steps to address the problem," Faiz said.
Even businesses in Rakhine would require manpower and the Rohingyas could be turned into an asset after they return there. China should consider these aspects, he added.
Maj Gen (retd) Muniruzzaman, president of Bangladesh Institute of Peace and Security Studies, said it was China that recommended bilateral repatriation deal between Bangladesh and Myanmar and it should help implement the deal.
"It has been two years since the crisis began. Our economic situation is not such that we can keep and feed them for an unlimited period. They must go back to Myanmar," he said, adding, "Otherwise, it has serious security and economic consequences in the region."