Big blow to fish farmers
Yaas destroys 4,830 fish, shrimp enclosures in Bagerhat alone; loss estimated at Tk 4.5cr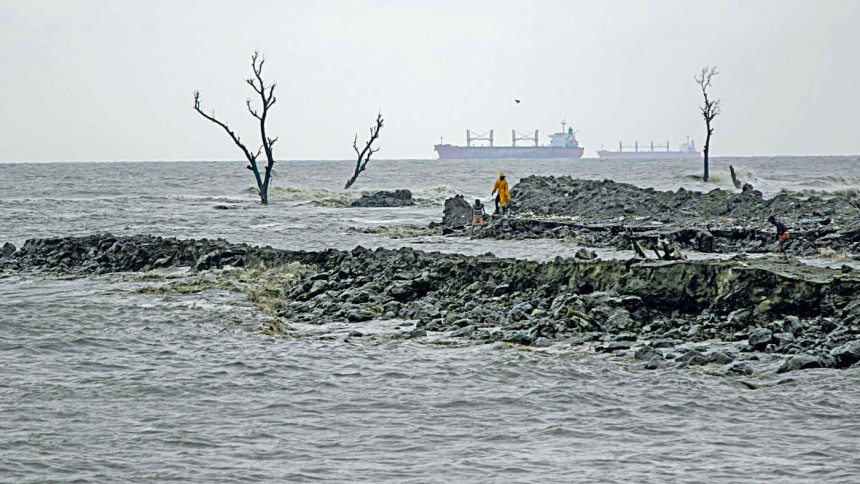 Fish, shrimp enclosures and other structures in coastal areas surrounding the Sundarbans were damaged by tidal surges and storms due to the impact of cyclone Yaas, causing a loss of over Tk 5 crore.
Around 4,830 fish and shrimp enclosures were washed away by tidal surges on Tuesday and Wednesday in Bagerhat. The losses can roughly be estimated at around Tk 4.5 crore, said ASM Russell, district fisheries officer.
Fish farmers of Rampal, Mongla, Sharankhola and Morrelganj upazilas of Bagerhat are the worst victims of the disaster, he added.
"It was raining incessantly on Tuesday night, making the surrounding bank of my shrimp enclosure vulnerable. When tidal water came, the surrounding bank collapsed and all of my fish got washed away. I suffered a loss of around Tk 5 lakh," said Shahriar Hossain, a shrimp farmer in Rampal upazila.
Several hundred fish farmers experienced a similar situation in the district, said Mahtab Hawlader of Teligati village in Morrelganj upazila.
Government officials are now preparing a list of affected fish farmers to provide with assistance, said ASM Russell.
There are 67,000 shrimp and other fish farms in Bagerhat. The target for fish production in this district in the current financial year is 33,000 tonnes, he added.
The fisheries officer, however, claimed that the damage of fish and shrimp enclosures would not affect the production target, saying fish did not die; rather it went from one place to another.
Meanwhile in the Sundarbans, several water vessels, watchtowers, jetties, crocodile sheds, foot rails and other structures were damaged by tidal waves and storms, inflicting a loss of around Tk 60 lakh, say forest officials.
Water of canals and rivers adjacent to the forest rose five to six feet  on Wednesday. Besides, there was a strong wind. These inflicted infrastructural damage, said Joynal Abedin, assistant forest conservator of Sundarbans East Forest Department under Sharankhola range.
The disaster also damaged wildlife. Four bodies of deer were recovered after the storm, he added.
In Khulna, some 36 villages of Koyra upazila were inundated after embankments were breached.
Locals are repairing embankments at different points to stop gushing of water into the localities, said SM Shafiqul Islam, chairman of Koyra upazila parishad.
Koyra upazila is surrounded by Kabodak and Sakbaria rivers. There are around 155km embankments in the upazila. Of these, around 4km was breached at 25 points.
"We have already repaired four points, but 21 points are yet to be repaired," said Shafiqul.
Abul Hossain, superintendent engineer of Water Development Board in Khulna, told The Daily Star that they already distributed geo-bags to local chairmen to repair embankments. The chairmen were repairing the dams with the help of locals, he said.
He added that they already engaged workers at different points to repair the dams. "We are assessing the damage caused by the disaster."
Contacted yesterday afternoon, Enamur Rahman, state minister for disaster management and relief, said 27 upazilas of nine districts were affected by the cyclone.
Dams broke at 51 points in different districts and around 9,00 cattle were also affected. The government has already sent 16,500 packets of food for the affected people, he added.