'Begum Para' In Canada: Mostly govt officials bought houses
Foreign minister tells The Daily Star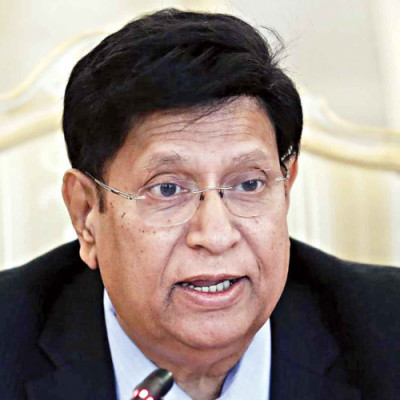 The "Begum Para" of Toronto in Canada has come up during numerous political discussions in Bangladesh. Many Bangladeshis have bought luxurious residences in Begum Para, spending millions laundered from Bangladesh. Mainly, the wives and children of Bangladeshi millionaires live in these residences, hence the name Begum Para. It is largely believed that mainly politicians have bought residences there. 
Foreign Minister AK Abdul Momen recently came up with an eyebrow-raising comment that government officials are forging ahead in the race to purchase luxurious residences in Begum Para. The minister spoke to The Daily Star on this issue on Thursday over phone.
The Daily Star: You have recently given information of government officials purchasing luxurious residences in Canada. We want some more details about this.
Abdul Momen: You, the media men, often write about Begum Para in Canada… that many Bangladeshis have purchased luxurious houses there. Unofficially, we have collected information secretly. These are not verified. An expatriate has given us some information about this issue. We were surprised. We had thought that politicians may have purchased these houses. But we have information that most of the houses there have been bought by government officials. Some are retired Bangladeshi government officials, while others are serving officers. Their children are living there. Besides, a number of businessmen have bought some houses in Canada.
This is something interesting. Normally, we think government officials are not so financially solvent. So, how could they buy houses in Canada? We don't know how it is possible. Maybe their credit rating is high. You [journalists] know that handsome amounts of loans can be arranged against high credit rating in North American countries. They may have bought houses this way.  Besides, houses may be purchased by depositing only down payments. I don't know the details. That is why, it is not a big issue. We are gathering more information on it.
DS: We understand that this information came from unofficial channels, but we want to know whether the decision to gather information was a policy decision of the government?
AM: We just want to know what the situation is. We often see news reports over money laundering. But I cannot say anything about that. It can also be possible that they may have earned money abroad and purchased the houses using that money. I don't know.
DS: Have you gathered information on behalf of the foreign ministry?
AM: We just want to investigate what is happening. But collection of information is a difficult task. Information cannot be gathered easily.
DS: Is it also difficult if attempts are made officially?
AM: Yes. The Canadian government does not disclose information. You have to go case by case. If you want to get information about a particular house, you will have to visit websites to find out about it. The Canadian government will not give any information.
DS: Is it difficult, too, if the Bangladesh government wants the information officially from the Canadian government?
AM: It is very difficult. If any American citizen deposits money to any bank in Bangladesh, this information can be disclosed because the Bangladesh government has signed an agreement on it. As per the agreement, if any American citizen invests or deposits money in Bangladesh, then Bangladesh Bank will inform the US Internal Revenue Service (IRS). As per US rules, the citizen will have to pay tax, if s/he deposits an amount over $10,000 to Bangladesh Bank. That is why they get information about their citizens easily. Bangladesh has signed this agreement. In that case, the Bangladesh government is transparent. But the situation is different in case of North American countries. These is less opportunity to get information if any Bangladeshi citizen deposits money there.
DS: Is it not a disparity? The Bangladesh government is sharing information, while the American or Canadian government is not.
AM: Their governments cannot disclose the information even if we want it, because North American federal governments don't deal with these issues.
DS: Does that mean that you [the government] are trying to understand the situation for the first time?
AM: Yes, we are trying to know and understand the situation. It is now at a very initial stage. We are just trying to understand.
DS: Do you think that your initiative will give a message to those -- who have already bought houses and those who are planning to buy -- that these will not remain hidden anymore?
AM: Definitely, a message will be sent. Since you (journalists) are writing about it, they will be more cautious.
DS: Bangladeshis, who are living in Canada, are now mobilising. Do you (government) have any communication with them?
AM: Yes, we have communication with those who are mobilising in Canada to bring the killers of Bangabandhu Sheikh Mujibur Rahman back to Bangladesh.
DS: We want to know about Bangladeshis in Canada who have started activities against those who have laundered money from Bangladesh to Canada. We want to know whether you have any communication with them.
AM: No, we don't have any involvement or communication with them.