Beaten up, threatened with 'crossfire'
Says Ariful after bail; Kurigram DC to be removed over midnight raid of journo's home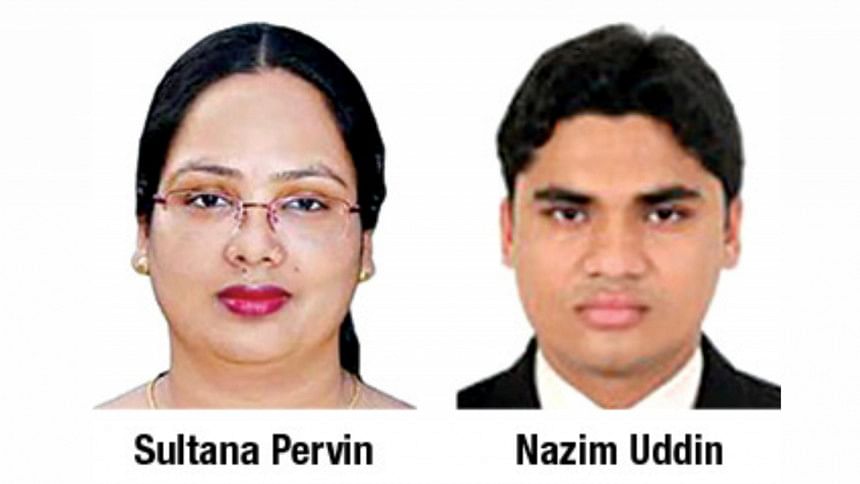 "'You will be put in a crossfire. Your time is up. Recite the kalima.' I thought they were taking me somewhere to kill me. I broke down in tears."
These were the words of journalist Ariful Islam as he described being held and tortured by Senior Assistant Commissioner Nazim Uddin of Kurigram.
Ariful said he was picked up by Nazim and two magistrates from his home late Friday night.
The incident was widely reported in the media and the authorities yesterday decided to withdraw Kurigram Deputy Commissioner Sultana Pervin, who, according to Ariful, ordered the raid.
However, no action was taken against Nazim and the two magistrates as of last night.
Contacted, Public Administration Secretary Shaikh Yusuf Harun said, "She [the DC] will be withdrawn. But we need some time. We need to follow some formalities."
This correspondent called Nazim around 9:15pm when the official said that he was with the DC and that he would talk later. He did not answer the phone despite repeated attempts an hour later.
Ariful, a correspondent of Bangla Tribune, was released on bail yesterday morning. He narrated the gruelling hours of torture to his fellow reporters at Kurigram General Hospital, where he is being treated.
"So, you are a journalist! We will teach you what journalism is. You dared to write against our DC," Ariful quoted Nazim as saying.
Accompanied by police and Ansar men, Nazim and the two magistrates broke into Ariful's home, beat him up, blindfolded him and then dragged him into a vehicle. A mobile court then sentenced him to one year in prison on charges of possessing drugs.
Ariful said he was about to go to bed when the officials entered breaking the door. Nazim immediately started hitting him and swearing at him.
At one point, he asked others to blindfold Ariful and tie his hands before taking him to the vehicle.
"I was crying and begging for life… Then I told them to have mercy for me as my father had died and I have two young children… But they kept hitting me."
After the vehicle drove for a while, Nazim again threatened to kill him.
"I started praying to the almighty," Ariful said, adding that Nazim then asked someone to call the DC.
"After a brief conversation, they took me somewhere. Nazim asked someone to take me upstairs. My hands were still tied. I could see through the blindfold and saw that it was the DC's office."
He said he was beaten up there again. Some people kicked him while others swore at him.
And then one of them stripped him and started filming him.
"I repeatedly wanted to know what my fault was. I even told them that I would apologise to the DC if I made a mistake."
They later gave him some clothes and took him to the local prison.
Nazim asked the jail authorities not to let anyone meet him in prison for a month and said he should not be provided with any treatment, Ariful alleged.
"My body is aching."
Orthopaedic Senior Consultant Uttam Kumar Roy of Kurigram General hospital said there were multiple injury marks on Ariful's body.
NAZIM UDDIN'S NOTORIETY
He was widely criticised after a video clip of him torturing an elderly man went viral in November 2018.
He was assistant commissioner (land) in Cox's Bazar at the time. In the footage, recorded in May that year, Nazim was seen pulling the old man by his shirt collar.
The old man, a landless farmer named Nafu Majhi, told reporters that he was attacked by the official for living on a piece of khas land in Cox's Bazar town.
Nazim was transferred to Langadu upazila in Rangamati following various other allegations against him.
The allegations include taking bribe during eviction drives, assaulting people, misbehaving with people coming to his office over land related issues, harassing journalists and human rights activists and letting grabbers build structures on government land. 
HC WANTS COPY OF MOBILE COURT VERDICT
The High Court yesterday wanted to know the offence for which Ariful was sentenced to one year in prison.
The HC asked for a copy of the mobile court verdict and ordered the government to inform it by today whether Ariful's arrest and punishment were legal.
The HC bench of Justice Md Ashraful Kamal and Justice Sardar Md Rashed Jahangir yesterday sought the information from the authorities while hearing a writ petition filed by Harun Ur Rashid, executive editor of Bangla Tribune.
Earlier in the day, Rashid filed a petition with the HC challenging the legality of Ariful's conviction.
In the petition, Rashid also requested the HC to direct the authorities concerned to pay a compensation of Tk 50 lakh to Ariful.
During the hearing, the HC asked the state to respond to five questions regarding the incident.
The court wanted to know who conducted the drive and whether the rules about entering someone's house at midnight were followed.
The HC also asked whether the matter was so important as to warrant the involvement of 30-40 people.