Amphan Aftermath: 600 families still living on embankment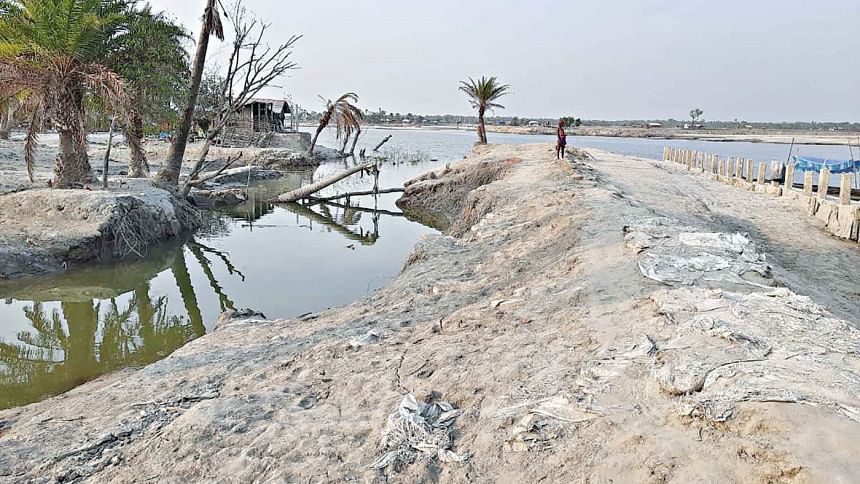 It has been 10 months since the cyclone Amphan hit Bangladesh, but over 600 families have still been living on an embankment at Kashirhatkhola point in Khulna's Koyra upazila.
Shwapon Bain, a 73-year-old victim of the cyclone, recently talked to The Daily Star about the sufferings of his family.
"We live under the open sky and are left with no work or income source. How long can we survive like this?" he said.
The septuagenarian man then said he once had everything starting from house to farmlands and cattle. "But now I am homeless."
He, along with his 10-member family, has been living on the embankment for around 10 months since the cyclone hit Bangladesh on May 20 last year.
"Our entire village was inundated as multiple portions of the embankment along the Kopotakkho were breached by the cyclone," he said.
"The cyclone had damaged everything and rendered us homeless. We are now living here," he added.
His two sons -- Kartick Bain and Biswajit Bain -- used to work as day labourers and seasonal fishermen. But they are now jobless and passing idle time.
"We do not know when we will be able to return home. Our sufferings have now become unbearable," he said.
When Amphan hit the coastal area, around 120-kilometer area in 64 points of the 1,645-kilometre-long embankment in Khulna and Satkhira districts were breached.
A vast area of Khulna and Satkhira districts was inundated as water entered into the localities after breaching the embankment.
People of Khulna's Koyra upazila as well as Satkhira's Shyamnagar and Ashashuni upazilas are the worst victims of the cyclone.
Over 4.5 lakh people of the three upazilas were affected by cyclone Amphan that damaged around 6,500 hectares croplands, over 1 lakh households, and fish enclosures covering around 17,000 hectares of lands, said Ashim Boran Chakraborty, vice chairman of Ashashuni upazila parishad.
Saline water has entered the area causing serious damages to farmlands. Even, people are suffering from acute scarcity of drinking water.
Locals demanded the government's immediate initiative to repair the embankment so that they can return their home.
"Hundreds of people are enduring immense sufferings and passing inhumane lives. Locals are trying to repair some points by their initiatives using their traditional knowledge. But it needs the government's initiative to have a permanent solution," said SM Shafiqul Islam, chairman of Koyra upazila parishad.
Contacted, Mohammad Abul Hossain, superintending engineer of Bangladesh Water Development Board (BWDB) in Khulna, said they have already temporarily repaired many portions of the embankment spending around Tk 608 crore.
But this is not enough. Rather, two mega projects have already been designed to permanently repair the dam, he added.
The proposal for the two megaprojects, which may roughly cost over Tk 2,200 crore now remains at the Planning Commission for scrutiny, he added.
The embankments were constructed in 1960 along with coastal rivers to protect households and farmlands of the region.