91 arrested in anti-drug raid
Rab says detainees involved in drug trade at Geneva Camp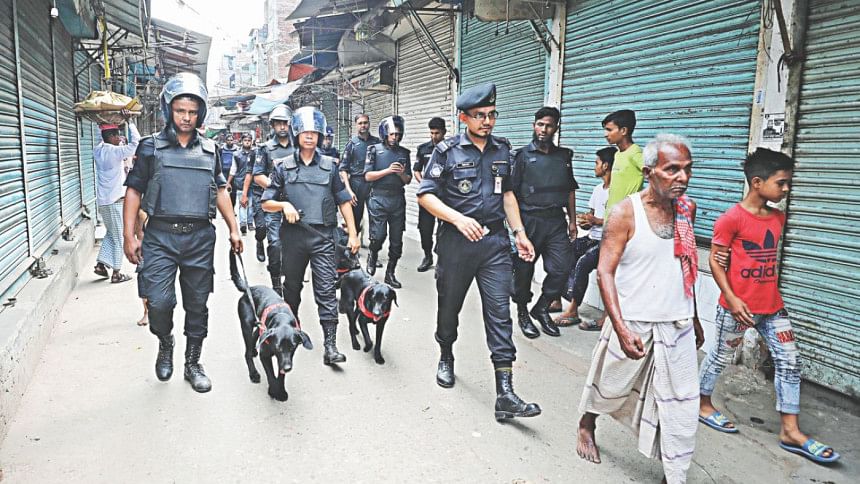 The Rapid Action Battalion yesterday arrested 91 people, including six women, in an anti-narcotics drive in Mohammadpur's Geneva Camp, considered a major drug hub in the capital.
The camp dwellers, however, claimed that many of the detainees were innocent.
The arrests were made in a five-hour drive starting at 5:30am, and at least nine to 10 of the detainees are drug dealers, Mufti Mahmud Khan, director of Rab's Legal and Media Wing, told reporters at the scene.
"We learnt that narcotics are being transported from the Geneva Camp to other spots in the capital, and children are being used in this illicit trade," he pointed out.
"In the past, we conducted many drives and arrested a number of drug peddlers from the camp. But they resumed the illegal trade after getting out of prison on bail," the Rab official said.
Around 500 Rab members took part in yesterday's drive. They raided small rooms and shops with sniffer dogs. A number of the law enforcers were seen guarding all the entrances to the camp.
The elite force claimed to have seized 12,000 yaba pills, 8 to 10 kilograms of cannabis, 20 bottles of Phensedyl and 90 ampules of morphine.
Lt Col Ashique Billah, commanding officer of Rab-2, said they first     picked up more than 100 people from the spot.
"After scrutiny, we detained 91 people. Six of them are women," he said, adding that a case would be filed with Mohammadpur Police Station in this regard.
Asked about claims of detention of a number of innocent people, the Rab official said those who were found to have no links with drug trade were released after scrutiny.
In May last year, a massive anti-narcotics drive was carried out at the camp and 153 people were detained. However, locals alleged that the real drug dealers had fled the camp after being tipped off about the raid.
The Geneva Camp, also known as Bihari camp, is home to more than 40,000 Urdu-speaking people. Each of the Urdu-speaking families has eight to 10 members on average, and around 90 people share a toilet, according to camp dwellers.
Narcotics trade in the densely populated camp has been going on for decades. Even a year ago, drug peddlers of different ages were seen selling yaba openly at the camp.
But the picture changed recently after law enforcers launched anti-narcotics operations in May last year.
QUESTIONS OVER ARREST
As the drive ended around 10:30am, a number of camp dwellers said Rab had picked up their family members who were never involved in narcotics trade.
Mohammad Jamal, 30, who works at Aftab Salon in Adabor area, was picked up when he was about to enter a restaurant in the camp to have breakfast, said his family members.
Mohammad Aftab, the owner of the salon, said Jamal has been working there for a decade, and he never saw Jamal take drugs.
"I never heard of his involvement in narcotics trade," Aftab mentioned.
Jamal's sister Farida Begum said her family members requested Rab members to release her brother but they refused.
"He [Jamal] has a wife and a son. How will they survive now?" Farida asked.
The camp leaders were reluctant to talk about the drive. Some of them told this correspondent that they were in fear of both the drug dealers and law enforcers.
Seeking anonymity, one of the camp dwellers said, "The drug lords don't live in this camp. They do business here through their hired men.
 "Whenever the law enforcers conduct a drive in this camp, they picked up many innocent people. Only a handful of peddlers are arrested."
According to police and narcotics control officials, in recent times, the camp's name has appeared on several intelligence reports of law enforcement agencies and the Department of Narcotics Control.