Myanmar Rohingyas: Killings, rights violation on
UN special rapporteur slams Myanmar govt policies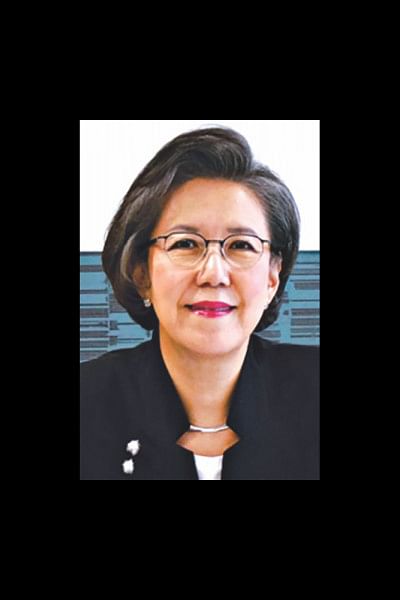 A United Nations special rapporteur has issued a strongly worded statement accusing Myanmar of implementing policies reminiscent of the previous military government, and of presiding over a worsening security and human rights situation.
Yanghee Lee, after ending a 12-day visit to Myanmar on Friday, had a catalogue of concerns, including reports of killings, torture, the use of human shields by security forces, deaths in custody, and an ongoing humanitarian crisis for the Rohingyas and other minorities forced from their homes. 
She said the situation of the Rohingyas from the Rakhine state, many of whom have been forced from their homes amid reports of grave human rights violations, had hardly improved since her last visit in January, according to a UN press release issued in Geneva yesterday.
"I continue to receive reports of violations allegedly committed by security forces during operations. There also appear to be incidents of Rohingyas being targeted for applying to be verified as citizens, as well as village administrators and other Muslims targeted for being 'collaborators' for working with the authorities -- leaving many Rohingya civilians terrified, and often caught between violence on both sides," she said.
She was concerned about the treatment of prisoners, Lee said.                                                                
Her own movements had been severely restricted and access to crisis-hit areas remained off-limits even to international organisations, she said, adding that people who met her had faced harassment, and the government had sought to place unprecedented preconditions on her visit.
The special rapporteur, who visited Yangon and Nay Pyi Taw as well as parts of Rakhine, Shan, and Kayin states, said she had been "astonished" at the government attempts to limit her activities and movements.
"I am disappointed to see the tactics applied by the previous government still being used.
"I understand the new government wishes to normalise its relations with the United Nations, but Myanmar must first become a country that deserves less attention and scrutiny.
"We are told not to expect Myanmar to transition into a democracy overnight -- that it needs time and space," she noted.
"But in the same way, Myanmar should not expect to have its close scrutiny removed or its special monitoring mechanisms dismantled overnight. This cannot happen until there is real and discernible progress on human rights."
The UN expert noted that the authorities have already recognised that state protection and security must extend not only to the Rakhines but also the Muslim communities.
She, however, said, "The government must take concrete steps in this regard, including investigating all alleged violations, ending discriminatory practices, and restoring freedom of movement."
She said around 120,000 people from the area were still living in camps in Myanmar after fleeing their homes, and there was little prospect of a long-term solution.
"Some people were told they would be in the camps for three days, but this has turned into five long years," she added.
Rohingya refugees have been a big headache for Bangladesh as it has been hosting 300,000 to 500,000 Myanmar Muslims for over three decades. They fled to Bangladesh whenever there were crackdowns by Myanmar security forces.
After the latest crackdown that began on October 9, 2016, some 75,000 more people took refuge in Bangladesh.
In addition, some 33,000 registered Rohingyas have been staying in two UNHCR refugee camps while another 300,000 Myanmar's nationals have been living illegally in Cox's Bazar, Chittagong, Bandarban, and Rangamati districts for years.
Lee, a South Korean national and a professor at Sungkyunwan University in Seoul, would present the full report of her visit to the UN General Assembly in October.