Mustafizur in spotlight
Tigers face India in Asia Cup T20 opener today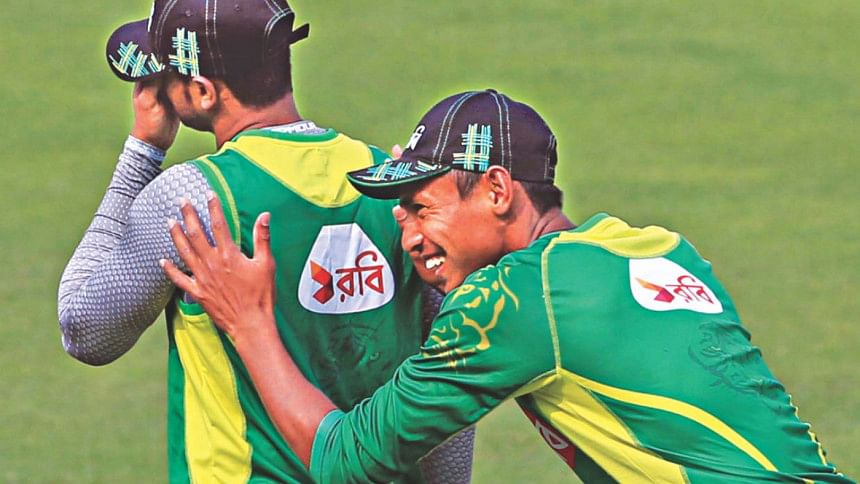 When the Bangladesh-India match in the Asia Cup T20 gets underway this evening at Mirpur , the obvious question about who the impact players are will come to the fore, as it does ahead of any multinational tournament . Will Virat Kohli and Rohit Sharma continue their run-spree? Will the proven India skipper Mahendra Singh Dhoni lead from the front to bring another laurel for his country? 
Spinner Ravichandran Ashwin could also be at the centre of discussion and if not there may be a conversation about whether Shahid Afridi will be able to rediscover his form. At any other time the discussion would centre on these players, but this time there has been a buzz around young Bangladeshi pace sensation Mustafizur Rahman.
In yesterday's pre-match press conference the 20-year old wonder boy's name dominated discussions. Virat Kohli did not hesitate to talk about the Mustafizur threat while Bangladesh captain Mashrafe Bin Mortaza has no doubt about more wonders from the wonder boy.
But why is this young man the centre of all attraction?
A flashback:  June 18, 2015 at Mirpur. A young paceman showed the world how venomous a cutter could be. Simply ask Rohit Sharma, Suresh Raina or MS Dhoni -- who were completely deceived by the canniness of his cutters.  Mustafizur was only the second bowler after Zimbabwe's Brian Vitori to take five-wicket hauls in his first two ODIs and those returns helped his side to a historic series win against India.
Rapidly, his cutter became a topic of conversation among cricket pundits all over the world, if not all his other variations. He is yet to show his ability outside the country but Mustafizur has still been considered as the best young find for the game and already got a place in the ICC ODI Team of the Year in 2015, apart from roping in a contract from the cash-rich Indian Premier League (IPL).
In this context, the Asia Cup will probably be his biggest challenge to date as, without any doubt, all the teams have already analysed his mysterious cutters and slower deliveries and have done a lot of homework to prepare for him. Will Mustafizur maintain his incisiveness against opponents who know his wiles?
People around him believe that Mustafizur has an extraordinary power to read the batsman and his on-field intelligence is unparalleled. Mashrafe is one of them and that is why the captain has no doubt. "He is only 20 but he is outstanding. He has got some extraordinary variations with the ball. It's normal that people will read him and make his life difficult but I think he is doing pretty good homework."
"Mustafizur is always confident because he has the slower, the cutter; even that ball can be bowled with variations. He doesn't worry about the opponent before a match because he believes in his own deliveries rather than thinking what the batsmen will do, so that is why he remains ahead in the battle and this will take him very far," continued Mashrafe.
Will too much attention create any pressure on him?
"No, I am a hundred per cent sure he does not know what is being said about him. He is not one to take pressure.  Sometimes what happens is that players try to listen to what others say about them, but he is different. He doesn't even care about what others say. So dealing with him is very easy," said a confident Mashrafe.
Kohli showered praises on the young pacer by saying that Mustafizur had spiced the game up a bit more with his sharp weapons. "He is a very exciting bowler and is obviously going to be a big factor for Bangladesh in the tournament," predicted Kohli.
So the Asia Cup will be a tournament for both Bangladesh and its best find to further enhance their already burgeoning reputations.