Mother's day today: The forgotten ones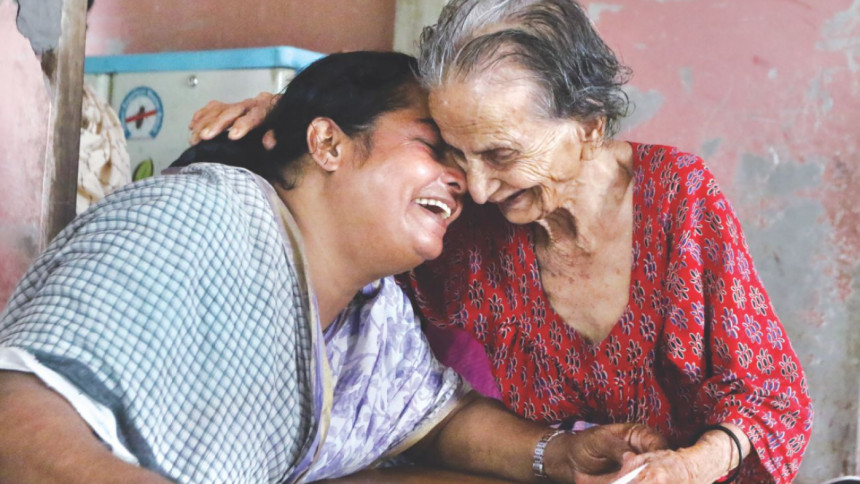 Rani Bala cannot remember much about her life before she was brought to a shelter home at Abdullahpur in the capital. After her daughter and son turned her away, homeless Rani wandered around the streets of Shanir Akhra for two years.
One day, about a year ago, Syeda Shalina Shally, founder of the shelter, Aapan Nibash, got a call from a police officer. "He told me about Rani and I found Rani mashi [aunt]," Shally said.
Rani is one of 36 who in the twilight years of their lives have found a new family in Aapan Nibash and have similar stories. Shally and eight other volunteers love them and take care of them.
From the wrinkles on her face and sunken eyes, Rani appears to be at least 70 years old.
She cannot remember who her husband was, but she "sometimes feels sad remembering her children," Shally said.
Rani had lost her daughter when she was only five years old. Having been reared up in another family, the daughter got married to a man from the Muslim community.
Rani luckily found her daughter and stayed with her at her in-laws' place for a few months until they raised objections about her staying there being a Hindu.
She returned to her son, who had become paralysed. His family refused to let Rani stay there, because she had lived with the Muslims.
"Thus, she lost family, home."
While Shally was telling the story, Rani sat quietly on a bed; her face down. Shally asked a question or two but failed to elicit a response.
Aayat Banu sat close to Rani. From her appearance, she seemed to be in her 90's. She held out her hand to touch Shally's and kissed her.
Asked what she had had for lunch, Aayat said, "dal and rice," with a complaining tone. Shally explained that Aayat loves chips-like snacks but her stomach gets upset often by that.
Aayat has been at Aapan Nibash for six to seven months. She does not remember her family, children or anything of her previous life.
She was in a state of unconsciousness at Lalmatia when Shally found her. Based on what could be gathered from Aayat's incoherent words, Shally believes that she had served as a house-help for most of her youth and adulthood.
"When she lost her ability [to work], she was abandoned ... She often asks, 'will you leave me?'" said Shally, who had worked as a human rights activist for nearly 30 years.
She last worked with Karmojibi Nari, an organisation that advocates for women's rights. In 2009-2010, many members of the organisation who had worked with her shared their concerns about growing old.
About seven of them had become old by then and had lost their ability to continue working. They feared that their families would get rid of them anytime. That was when Shally told them to stay with her, without thinking ahead about how she would meet their needs.
She rented a run-down three-storey building as it did not cost much when compared to the available space. She turned the place in Moinnar Tek, close to her residence and about 10km away from Abdullahpur, into a home for those elderly women who have nowhere else to go.
A number of women inspired by Shally's work joined her as volunteers. One of them cooks for only Tk 2,000 a month.
"I requested rights activists, members of Karmojibi Nari [of the locality] to save a handful of rice [in a jar] every day. I collected the rice at the end of every month," Shally told this correspondent during a visit to the shelter home on Tuesday. "The collected rice and my salary were all that I had to cope with the expenditure [until 2012]."   
With time, six other like-minded people came forward to form a managing committee to support her initiative.
The shelter, in the almost uninhabitable building with no gas, power or running water, runs with small funds from individuals.  
"Younger ones like her are coming to help," Shally said, pointing to a medical student who went there to celebrate her birthday with the women forgotten by the society and their families. 
She had gone in vain to many influential and wealthy people for help. "They said caring for such women was meaningless, worthless.... But where will they go when society has refused to take responsibility for them?" she said with tears gathering in her eyes.
"You know when I found Salma khala [aunt], she was lying by the side of a drain [in Narayanganj], with urine and faeces all over her body.… I got water from a roadside shop, washed her, wrapped a new sari around her and then brought her on a bus."
Another resident, Gollechha had been hurt in a road accident in the airport area. Someone took her to Dhaka Medical College Hospital. No one went there looking for her for a month and then someone from the hospital contacted Shally. Like in other cases, Shally welcomed Gollechha.
Sometimes relatives and children leave elderly mothers and grandmothers at the shelter.
Known to be a 120-year-old widow at Aapan Nibash, Johura is one of them. Her granddaughter left her there because her husband didn't want her.
The flash of the camera annoyed her during her afternoon tea. She attempted to retreat but Shally apologised to her and said it would not happen again.
With a smile, Tuni, 55, showed up with tea. She could easily be mistaken for a volunteer but Tuni is among the few active women there who share the household chores with volunteers.
Tuni had served a home in Gulshan for 45 years. She took care of the elderly parents when their children were abroad. When the couple passed away, her services were no longer required, nor was she.
One of their relatives brought her to Aapan Nibash with two sets of clothes, a few packets of biscuits, milk powder and tea; that was all she earned for serving more than four decades.        
Intellectually-disabled Tuni was still smiling when her story was being told.
Asked how many more the home could accommodate, Shally said she would not close the door on anyone. "They would at least get protection from rain, cold, would be able to lie down and die with dignity." 
Some 20 women of the shelter have passed away over the years. Shally lamented that she had to insist staff of public graveyards to accept the bodies for burial. 
By now, the afternoon sunlight was waving goodbye to Aapan Nibash and shadows began creeping through the windows into the worn-out place.
Shuddering at rumble of thunder, Gollechha called out, "Please, someone bring my sons and daughters home."
"No one knows where her children are," said Shamsunnahar, a volunteer trying to calm her. 
The mother never forgot her children but her children have forgotten their mother.
Today is Mother's Day.
[The shelter could be reached at +8801716680192 and +8801816779163]