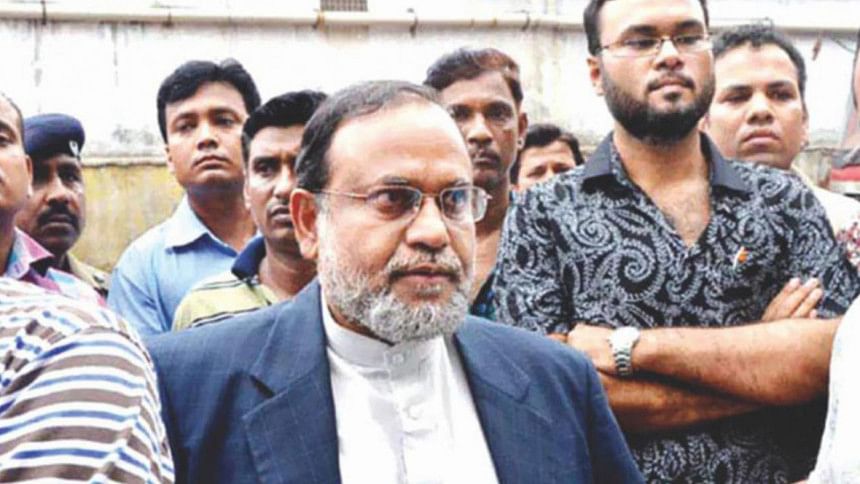 He reorganised the anti-liberation elements to relaunch Islami Chhatra Shibir, the student wing of the Jamaat-e-Islami, only six years after the country's independence, which he had vehemently opposed.
The man, Mir Quasem Ali, played a pivotal role in giving his party a strong economic foundation, and now the Jamaat is believed to be one of the richest political parties in Bangladesh with an indirect affiliation to many business organisations.
When the Awami League-led government set up the special tribunal in March 2010 to try those who committed crimes against humanity in 1971, he started using money and his connections abroad to thwart the trial process.
War criminal Quasem reportedly paid $25 million to an American lobby firm for carrying out a smear campaign to make the war crimes trial controversial and save his party and its top brass.
Though Quasem didn't hold a significant portfolio in his party, his trial had been one of the most talked-about topics over the last few years at home as well as various forums abroad.
"It is because of his wealth. He [Quasem] used money as a weapon. What portfolio he held in his party is not important here, the significant thing is that he was the treasurer of the Jamaat-e-Islami," Prosecutor Tureen Afroz explained.
"He adopted different strategies to put pressure on the Bangladesh government through his connections abroad to thwart the trial. But those were not successful," she told The Daily Star.
In 1971, Quasem was general secretary of Islami Chhatra Sangha, the then student wing of Jamaat. When the student body re-emerged as Islami Chhatra Shibir in 1977, he became its founding president.
The victims of his heinous crimes and their family members had to see the dramatic rise of Quasem in the country's political and business arena.
He owned and had shares in a large number of organisations, including business firms, media outlets, charities and social organisations. Through these institutions, he allegedly financed Jamaat's activities.
Quasem also represented several foreign charities in Bangladesh. He channelled huge sums of money to his party instead of serving the stated purposes of the charities, according to prosecutors and investigators.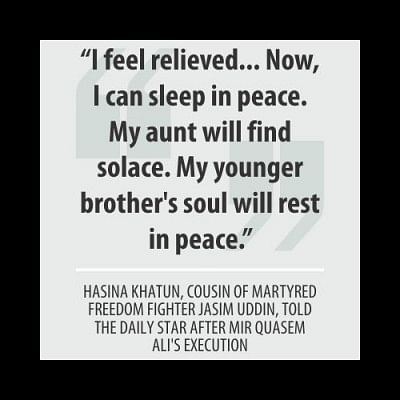 "He played a significant role in creating funds and giving the Jamaat-e-Islami a strong economic foundation," said Sanaul Huq, co-coordinator of the investigation agency designated to probe war crimes.
Quasem collected money from abroad in the name of different organisations and used it for his party, the senior investigator told this correspondent.
Son of Mir Tayeb Ali and Rabeya Begum, Quasem was born in Munsidangi Sutalori of Manikganj on December 31, 1952.
His father, an accountant of Public Works Department, used to work in Chittagong. Though Quasem was born in Manikganj, he was brought up in the port city where his father worked, according to the investigators.
Quasem got involved in Islami Chhatra Sangha in 1967 while studying at Chittagong Collegiate School. Later, he became president of its Chittagong College and Chittagong town units.
On November 6, 1971, he was made general secretary of Chhatra Sangha's East Pakistan unit, according to prosecution documents.
The defence did not dispute these facts.
As a top leader of Chhatra Sangha that turned into Al-Badr in 1971, Quasem became chief of the infamous force in the port city. He set up several torture camps, including the one at Mahamaya Dalim Hotel, and committed crimes against humanity in 1971, the prosecution said.
Quasem went into hiding after the Liberation War.
Following the country's independence, the government banned five communal parties, including the Jamaat. The ban resulted in suspension of Chhatra Sangha's operation.
But after Bangabandhu's assassination on August 15, 1975, the anti-liberation elements got a strong footing in the country.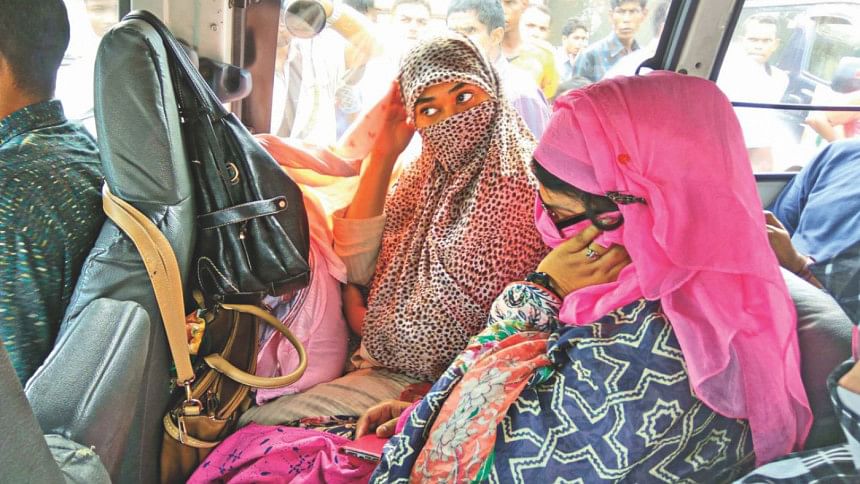 Many of the collaborators of the Pakistan army resurfaced in Bangladesh even before their mother organisation, the Jamaat, got the chance to operate again in the country in 1979.
Islami Chhatra Sangha again started its activities in Bangladesh in 1977, renaming itself Islami Chhatra Shibir.
And Quasem, being at its helm, shouldered the responsibility for reorganising his fellows under the new umbrella.
According to a book titled Ekattorer Ghatak O Dalalera Ke Kothay published in 1987, except for the name, there was no difference between Islami Chhatra Shibir and Islami Chhatra Sangha. Everything else, including the flag and the monogram, remained the same. The prosecution used the book as evidence in many war crimes cases at the tribunals.
Quasem joined the Jamaat as an activist in 1980, when he was coordinator of Rabeta Al Alam Al Islami, a non-governmental organisation.
He became a member of Jamaat's Shura in 1985. Though he was in Jamaat Central Executive Council, the 18-member highest policymaking body of the party, he was better known as a supplier of funds to his party, said prosecutors and investigators.
According to a defence petition filed on July 19, 2013, Quasem was chairman of Keari Ltd, a real estate and tourism company, chairman and director of Diganta Media Corporation Ltd, which owns daily Naya Diganta, and now off-the-air Diganta TV.
He was director (marketing) of Ibn Sina Pharmaceutical Industries, chairman of Agro Industrial Trust, member-secretary of Fouad Al-Khateeb Charity Foundation and chairman of the Association of Multipurpose Welfare Agencies of Bangladesh, the petition said.
He also held management positions in many other organisations, including Industrialists and Businessmen Welfare Foundation, Allama Iqbal Sangsad, Islamic University of Chittagong, Darul Ihsan University and Centre for Strategy and Peace Studies, the petition mentioned.
He was member-secretary of Islami Bank Foundation, a sister concern of Islami Bank Bangladesh Ltd.
Quasem had paid $25 million to an American lobby firm to carry out smear campaigns to create controversy about the war crimes trial, the then law minister Shafique Ahmed told parliament in April 2013.
 In its full verdict, the Supreme Court said Quasem was a very resourceful person and was "capable of engaging lobbyist firm by spending US$25 million to frustrate the trial of offences of crimes against humanity."
"The fact of engaging a lobbyist firm may or may not be true, but fact remains that learned Attorney General has collected a receipt of payment of US$25 million from which it can be inferred that the appellant is a very resourceful person…. This is evident from the materials on record as well," said the judgment.