'Missing' Kalyan Party leader now on remand
Police show him arrested in an explosives case; he was without trace for 4 months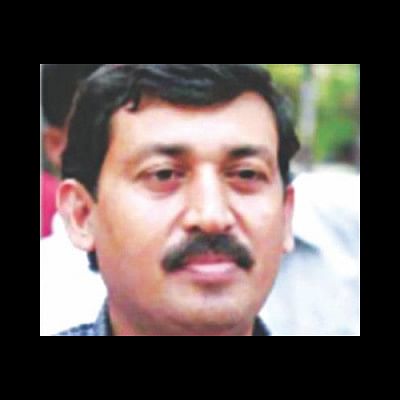 Bangladesh Kalyan Party Secretary General MM Aminur Rahman, who went missing around four months ago, is now shown arrested in an explosives case filed in 2015. 
A Dhaka court yesterday placed him on a four-day remand in connection with the case.
Aminur had gone traceless after he came out of the office of Kalyan Party in Paltan to go to his home in Savar around 10:00pm on August 27, said his relatives and leaders of the party, an ally of BNP.
Aminur's family members filed a general diary with Paltan Police Station on August 30. Police had been looking for him since then, they said.
Shaikh Nazmul Alam, additional deputy inspector general of Detective Branch of Dhaka Metropolitan Police, claimed that a DB team found Aminur after tracking down his cell phone in Shahjadpur area around 11:40pm on Friday. The phone was switched on after a long time, he further claimed.
Immediately after Aminur was found, he was arrested in connection with the case, Shajahan Shaju, an additional deputy commissioner of DB, said.
The case was filed with Gulshan Police Station over a crude bomb attack on a rally of Shipping Minister Shajahan Khan outside BNP Chairperson Khaleda Zia's office in Gulshan on February 16, 2015.
At least 14 people, including Khaleda, were accused in the case. Aminur was not among them.
Shaju claimed that during investigation they have found Aminur's involvement in the incident.
Aminur's arrest came hours after Mubashar Hasan, a teacher of North South University who went missing on November 7, returned home early Friday. His captor released him near the Dhaka airport.
Since August 22, at least 12 people had gone missing from the capital alone. Five of them have since returned while police later said to have arrested four others, including Aminur.
Shaju claimed that Aminur during primary interrogation told detectives that he was in a dark room for all those days. Aminur, however, did not tell anything about the location of the room and whether he was abducted, the police officer said. 
The ADC also said they suspected that Aminur might have gone into hiding to avoid arrest.
 "We are hopeful to unearth the mystery after investigation," he added.
It was not clear why Aminur would go into hiding as he was not supposed to know that police had found his involvement in the case filed more than two years ago.
Inspector Jihad Hossain of DB police, also the investigation officer of the case, said apart from Aminur, they also arrested four to five people in the case. He, however, could not give details about the other arrestees immediately.
In the remand prayer yesterday, Jihad said they found evidence that Aminur was involved in the crude bomb attack in 2015.
"We need to interrogate Aminur to trace the other accused of the case," the IO mentioned in the remand prayer, adding that 18 people were hurt in the attack.
Contacted, Aminul's brother Mizanur Rahman told The Daily Star that they had gone to police seeking help to find the Kalyan party leader.
"Suddenly around 12.00pm yesterday, we got information that Aminul is in DB custody and they are producing him before a court after showing him arrested in a case," he said.
"I met my brother after so many days. But I could not talk to him properly. All I could do is ask him how he was and introduce him to our lawyer," he said.
Maj Gen (retd) Syed Muhammad Ibrahim, chairman of Kalyan Party, told The Daily Star yesterday that Aminur was abducted to "thwart the progress of the party".
Asked about the police claim that Aminur could have gone into hiding to avoid arrest, he said, "I am convinced that the story which police are trying to feed the nation regarding Aminur is surely a political drama."