Supplies stretched, challenges many
Aid workers overwhelmed by the extent of the crisis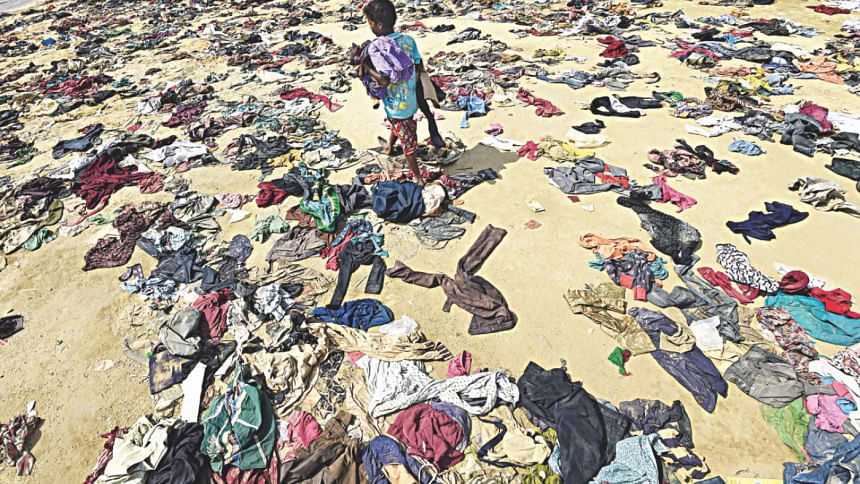 Amarpreet Singh and Jeevan Jyot Singh, two Indian volunteers with Khalsa Aid, stand looking at the long lines of refugees behind a truck laden with sacks of rice in Balukhali area of Ukhia. They are a little taken aback at the sheer number of people.
"We didn't expect to see so many hungry people here," Amarpreet said as he looked at the crowds of Rohingyas yesterday.
As aid begins to flow in to Cox's Bazar from many corners of the world, aid workers like them are still grappling with the extent of the crises.
"One of the biggest requirements here is food. We want to set up community kitchens that can help feed the people. The people will be able to cook for themselves," he said.
His team has beens assessing the situation since it arrived here on Wednesday.
Khalsa Aid, an Indian organisation based in London, had set up a bakery in Syria, which feeds 16,000 people a day. They, therefore, have the experience the task of setting up community kitchens would require. "If we set up two to five such kitchens, then each can go towards feeding up to 10,000 people a day," Amarpreet said.
Khalsa Aid have already set up a langar (community kitchen) to help feed the refugees in Teknaf and fed over 30,000 refugees.
Rayhan Sultana Toma, communications officer of International Committee of Red Cross (ICRC), who had been working at the no man's land near Bandarban, revealed some more challenges.
"During assessment, we found a need for medical treatment and care which isn't available there. There is also the unavailability of clean water and sanitation.
"We went there with food for 500 families, but once there saw the number had risen to 700 families and it is constantly increasing," she told The Daily Star over phone.
The situation was quite dire at the no man's land she said, adding that some of the Rohingyas were getting food from locals and sometimes were allowed to go to the local bazaar to buy necessities, but not a lot of them have money.
"One of the biggest challenges for us has been getting all the components needed for proper distribution of relief. We have to source food, trucks and labour all from here and the resources are getting stretched," she said.
The supply lines are blocked as roads are often congested and the rain makes things worse. "Right now we are providing them supplies for 11 days, consisting of rice, pulse, sugar and salt but we know that even that is not enough."
Action Contre La Faim's (ACF) has set up emergency operations (emop) center at Kutupalong to serve various needs of the refugees. For example, they have set up a dining hall for the refugees. With mobile centres, which go from place to place, spread around Ukhia and Teknaf, ACF is currently feeding around 35,000 people a day. "We have prepared a nutritional meal for them and are providing them food every day. We plan to feed over 85,000 people soon," Md. Motaher Hossain, Deputy Program Manager-EMOP Nurition and Health said, admitting that even that number may not be enough but is a start.
Tariq Syed Harun, assistant director of Coast Trust, which has been distributing food, also said the relief efforts were inadequate. "We are giving 3000 packs of kichuri everyday, but while a pack is for one person, we have seen entire families sharing it. There are 20,000 families in Kutupalong alone, so it is a challenge."
He also mentioned that the refugees are being provided fresh water, but many of them have no means of carrying it. "Some of the women have not been able to shower in eight or ten days and they are still covered in mud."
He also feared an outbreak of diseases like cholera and pneumonia in near future. "There is still a lot of work left to be done," he concluded.