Mahmudur attacked in Kushtia
'BCL men' swoop on him, leave him bloodied on court premises
Amar Desh acting editor Mahmudur Rahman suffered injuries in an attack allegedly by BCL men on the court premises in Kushtia yesterday after he was granted bail in a defamation case.
The case was filed on December 10, 2017 for making "derogatory" remarks about Bangabandhu Sheikh Mujibur Rahman and Prime Minister Sheikh Hasina at a seminar in Dhaka earlier that month.
Several other cases were also filed in different districts over the same allegation.
Known as a pro-BNP-Jamaat intellectual, Mahmudur Rahman was made adviser to the energy and mineral resources ministry during the four-party rule in 2001-06.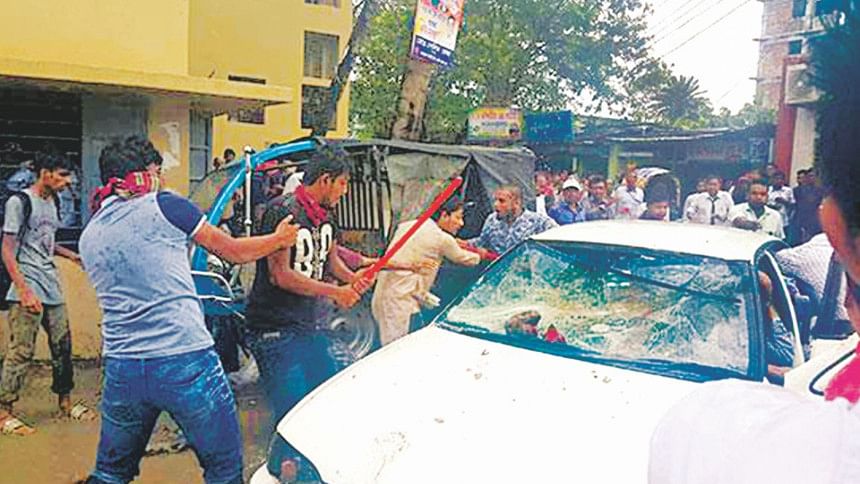 Yesterday, he appeared before a Kushtia court, seeking permanent bail in the case, filed by Kushtia BCL President Yasir Arafat Tushar.
During the bail hearing, one of his counsels questioned the legality of the defamation case, saying the complainant was not the aggrieved person.
Outside the courtroom, witnesses said, around 100 activists of the pro-government student body led by Tushar had taken position.
"We are waiting for him," the BCL leader told reporters. "When he will come out of the courtroom, we will seek to know how he dared to make derogatory comments about Bangabandhu and Sheikh Hasina."
The BCL men confined Mahmudur to the courtroom till 4:30pm since Senior Judicial Magistrate MM Morshed granted him bail around noon.
Mahmudur shouted for police help to come out, but the officials allegedly were inactive. After 4:30pm, he along with his lawyers burst out of the courtroom and tried to get into his car.  
The BCL men with brick chips and sticks smashed the windscreen and some other parts of his car, witnesses said. Police allegedly remained silent spectators this time as well. 
Mahmudur took shelter in the room of advocate Shams Tanim Mukti, also general secretary of Mohila Awami League's Kushtia unit.
BCL men allegedly stormed into the room and beat him up, leaving him with bloodied face and head. Mukti tried to save him but only in vain.
He was rescued by police at one stage. 
Talking to The Daily Star on the spot, Mahmudur said he was badly hurt but it was not safe for him to stay in Kushtia even for treatment.  "I must leave this place to save myself."
High officials of Kushtia police refused to make any comment on the incident.
Nasir Uddin, officer-in-charge of Kushtia Model Police Station, however, said police helped Mahmudur to come out of the courtroom and managed an ambulance to take him to Jessore Airport.
Kushtia BNP President Mehedi Ahmed Rumi, also a former lawmaker, told this correspondent that Mahmudur left for Dhaka on a flight around 7:30pm and reached his residence safe and sound. 
A faction of Bangladesh Federal Union of Journalists and Jamaat-e-Islami demanded arrest and punishment of those involved in the attack.
The Daily Star last night tried to contact Saifur Rahman Sohag and SM Jakir Hossain, president and general secretary of central committee of Bangladesh Chhatra League, but they could not be reached despite several attempts.