Let there be light!
Jamalpur shoal community benefits from local solar power grid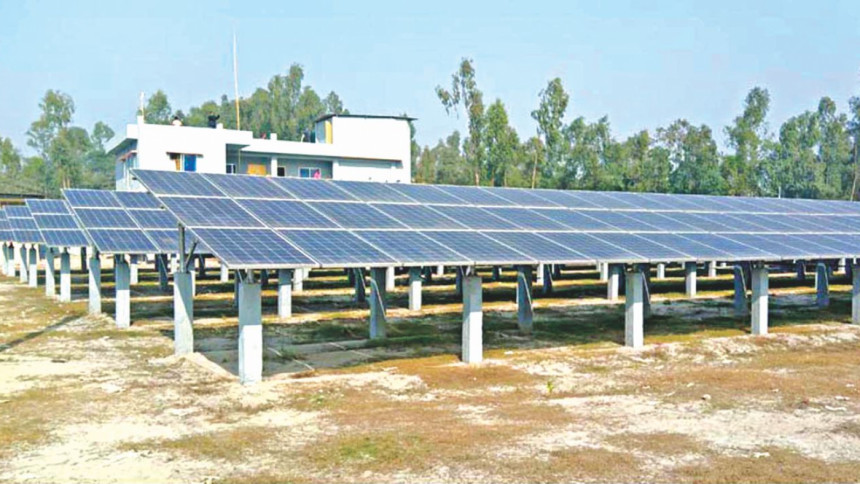 Modernity doesn't come easily to Jamalpur's Jamuna shoals. In places like Munnia Char in Islampur upazila, residents know well what it means to live in relative isolation from the mainland. Traditional ways persist. Far from the national grid, they could hardly anticipate that they would have access to electricity; but thanks to an innovative solar power project, they now do.
"Life used to be dark and dull here," says local farmer Ismail Hossain, 50. "We were cut off from the country and the globe, before we got electricity. Now we can easily complete household chores of an evening. We watch television and it's no problem to charge our mobile phones. My family is really happy about it."
Ismail has been running three solar lights and a television for around a month, at a cost of Tk 223, which is affordable, he says.
Local students like Gaziur Rahman and Ziaul Haque, both of whom study in class-X at Munnia High School, have likewise benefited. "We have sufficient light to study without disruption," says Gaziur. "We watch the news on television, which keeps us up-to-date."
"Electricity is a boost for a whole range of activities, from farming to business to education," says the chairman of the local council, Abdul Malek. "Ultimately local incomes and living standards will rise."
Munnia Char's solar power plant, built with Tk 4.44 crore in support funding from the United Kingdom's Department for International Development, began operations on 20 December 2017. An initiative of private company Vincen GTech, the plant uses 960 solar panels to produce 249.6 kilowatts per hour.
Via a localised grid it is planned that a total of 1,200 households, 200 shops and other businesses, 2 schools, 20 irrigation pumps and several mills will be supplied with power, says the plant's manager, Israful Islam. In total, around 8,000 people will have direct access to 24-hour electricity.
Over 100 households, 60 shops, two schools, a husking mill and four irrigation pumps are already connected. "The remaining connections should be in place within three months," Israful says.
"Solar power will boost the agro-based economy of the shoal and improve local socio-economic conditions," says the power company's chairman Mostafa Al Mahmud. "An average household using three lights, two fans and a television can expect to pay around Tk 360 per month."
The current payment system consists of pre-paid digital meters, he says.