Last Day's Campaign: Outsiders flout rules in 3 cities
Fresh case filed against Sylhet BNP men; polls tomorrow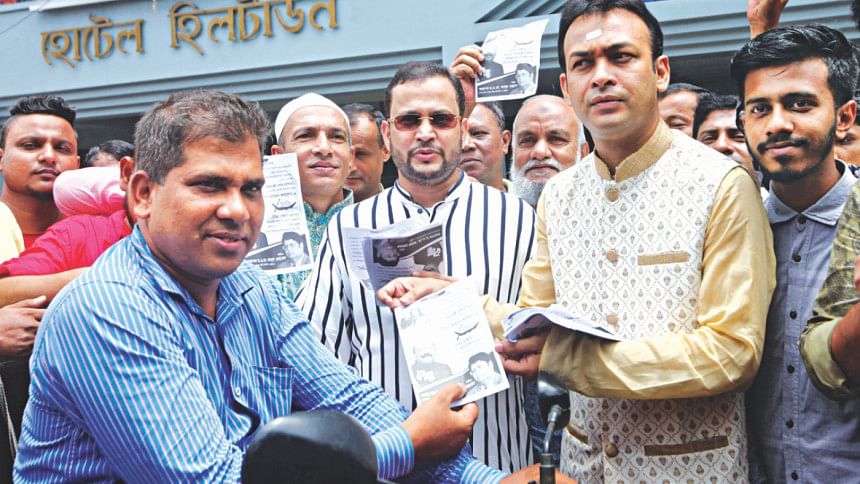 Defying a ban on their stay in the city corporation areas going to polls tomorrow, outsiders campaigned for the Awami League's mayoral candidates in the three cities on the last day of electioneering yesterday.
In Sylhet, Jatiya Party leader and lawmaker from Sylhet-2 constituency Yahya Chowdhury and SM Jakir Hossain, general secretary of Bangladesh Chhatra League, campaigned for Badar Uddin Ahmed Kamran.
In Barisal, Sadar Upazila Chairman Saidur Rahman Rintu campaigned for Serniabat Sadiq Abdullah. Gournadi Mayor Haris Chowdhury and upazila chairmen Khalid Hossain Swapan of Babuganj and Shamsul Alam Chunnu of Bakerganj were staying in different areas of the city yesterday.
In Rajshahi, Chapainawabganj district AL President and Zila Parishad Chairman Moinuddin Mondol campaigned for AHM Khairuzzaman Liton.
As usual, election officials said the atmosphere is good and action will be taken if they get any written complaint. And they have instructed police to watch out for outsiders in the cities.
According to an Election Commission circular, outsiders were supposed to leave the city corporation areas by July 27 midnight.
Election experts said the main challenge is whether people can vote for preferred candidates on the voting day without any fear.
"The main concern is election day's atmosphere. I hope people will be able to cast their votes without fear," Brig General (retd) M Shakhawat Hossain, former election commissioner, told The Daily Star.
In Sylhet, lawmaker Yahya Chowdhury announced JP's support for Kamran at a press conference held by the party at a city hotel.
Contacted, Yahya said he joined the press conference as a JP vice chairman.
"I am well aware of electoral rules but I had to join the press conference and I did not even urge people to vote for 'boat'. But I only announced our decision to support the AL's mayoral candidate."
Besides BCL General Secretary Jakir, School Affairs Secretary Joynal Abedin, Religious Affairs Secretary Khaer Uddin Chowdhury, and other central and several upazila-level leaders of the organisation were seen in campaigns for Kamran.
Talking to The Daily Star, Proloy Kumar Saha, assistant returning officer, said police have been instructed to remain vigilant so that no outsider can stay in the city.
He also said an MP's joining a press conference and campaigns is a violation of electoral rules. "If we get any written complaint that he violated the rules, we will take action."
Meanwhile, some 66 BNP-JCD leaders have been sued in connection with a cocktail blast in front of an electoral camp of Kamran.
Haydar Hossain Faruk, president of Ward-6 unit of Sylhet city AL, filed the case with Airport Police Station on Friday night.
In the case, Humayun Ahmed Masuk, joint secretary of Sylhet city BNP, is named as the prime accused, police said.
Around 1:30am on Friday, miscreants riding two motorbikes threw a cocktail that blasted in front of an electoral camp of the AL candidate in Chowkidekhi area. No one was injured.
Ali Ahmed, general secretary of Sylhet district BNP, said, "The Awami League is using some miscreants to carry out this type of acts to intimidate us ahead of the election."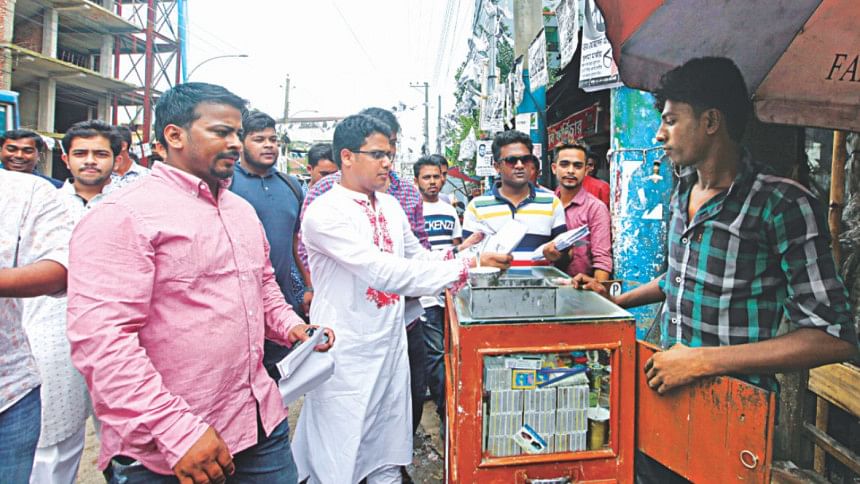 CAMPAIGNER HELD IN SYLHET
Police last night arrested the member secretary of BNP mayoral candidate Ariful Haque Choudhury's election management committee.
Kotwali Police Station OC Mosharraf Hossain said they arrested Abdur Razzak around 9:00pm as he was accused in several cases. Besides, an arrest warrant had been issued against him.
However, the OC didn't go into detail about the cases and the warrant.
Later at a press conference around 10:00pm, Arif termed the arrest an act of "intimidation".
Meanwhile, AL men got engaged in a scuffle at the last rally of Kamran held in the city's Chandni Ghat area. Police detained three people from the spot.
Violating the electoral code of conduct, Central AL Organising Secretary Ahmed Hossain was present at the programme.
BNP'S SITUATION IN RAJSHAHI 
In Rajshahi, most of the polling offices of the party's mayoral candidate Mosaddek Hossain Bulbul have remained closed for almost three days.
Bulbul set up an electoral office on the Padma river embankment in Sreerampur and BNP-backed councillor candidate Sohrab Hossain Sheikh built another office there. Both the offices were crammed with party supporters and activists five days ago but none was found yesterday.
Sohrab said BNP men were avoiding the offices since Tuesday when plainclothes officers arrested two of their workers -- Bachchu Mondol and Rana.
Rana was taken to Chapainawabganj district while Bachchu to Godagari upazila, claimed Sohrab.
Most of the 30 electoral offices of BNP-backed councillor candidates have been closed for the last several days due to police arrests and threats of AL men, said Rajshahi city BNP Office Secretary Nazmul Haque.
"We cannot campaign openly. If we do it, we are certain that police will arrest us," said Delwar Hossain, president of BNP unit of ward-30.
"Local AL men have warned us not to stay in the areas on the election day. But they are not our problem. We are worried of the detectives who are roaming the areas on motorcycles to arrest BNP men," Delwar said.
Another BNP worker said a policeman told him on his mobile phone to stay away from election activities for Bulbul.
Contacted, Rajshahi Metropolitan Police spokesman Iftekhar Alam only said, "The allegations are not based on truth."
BNP candidate Bulbul in a campaign yesterday alleged that some 10 black microbuses with tinted glasses were seen on the streets and people on board the vesicles were asking BNP leaders to leave the city.
'ARREST' IN BARISAL
In Barisal, BNP's mayoral candidate Mujibur Rahman Sarwar alleged that in the last 48 hours, at least 35 leading election workers of their party were arrested in false cases.
Addressing a press conference, he also alleged that violating the High Court directives, law enforcing agencies are arresting their activists and raiding their houses.
"How will we continue our election activities if our polling agents are arrested by police?" he questioned.
Issuing a note of warning, Sarwar said, "If such condition prevailed, then we can take any decisions, including boycotting the election."
Assistant Returning Officer Md Helaluddin told journalists, "We sent a letter to the police authorities asking whether people were arrested in last two days."
Meanwhile, AL brought out a procession with band and musical instruments from different city wards.
Campaign ended yesterday midnight amid allegations of polls code violation. Campaigners passed a hectic day going from door to door and held street rallies trying to woo voters with their electoral pledges.
Meanwhile, 15 platoons of BGB have been deployed in Barisal, 15 platoons in Rajshahi and 14 in Sylhet ahead of the election. They will remain deployed in the three cities till July 31.