Land registry hamstrung
Copiers of deeds, unpaid for 13 months, are on an indefinite strike at land offices; people suffer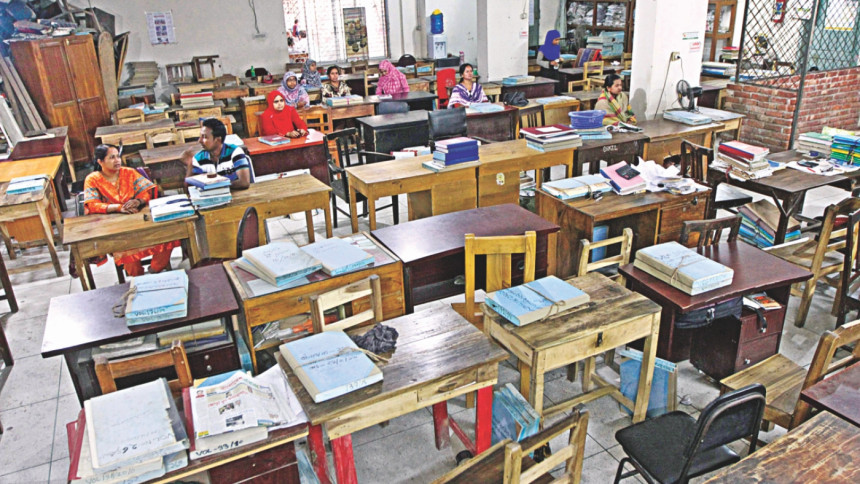 Land registration is being severely hampered at 495 land registry offices across the country due to an indefinite strike by extra-muharrirs, copiers of land documents.
"Around 20,000 certified copies of land documents are issued every day from land offices across the country. But it has remained stalled due to the strike," Zainal Abedin, president of Bangladesh Extra-Muharrirs (nakal nabish) Association, told The Daily Star yesterday.
Around 15,000 extra-muharrirs have been on an indefinite strike since April 24, as they didn't get paid for the last 13 months for fund crisis. 
The association has been demanding that the government pay their arrears and bring them under the national pay scale. 
Extra-muharrirs prepare certified copies of land documents and also copy the data of land deeds into ledger books.
The government, which gets Tk 400 in revenue from every certified copy, was deprived of about Tk 4 crore in five working days till April 28, said Zainal.
Over the last one week, the strike dealt a heavy blow to land-related businesses, including purchase, sale and mutation of land and mortgage on property, as owners couldn't get certified copies of their land documents.
Nur Mohammad Khokan from Patiya in Chittagong mortgaged his land to a bank for a loan to expand his poultry feed business.
The mortgage was registered with Patiya Upazila Sub-Registry Office on April 28, but he was yet to get a certified copy of the document due to the strike.
The bank concerned didn't disburse the loan, as he couldn't provide it with a certified copy of the document.
"I badly need the loan… If I don't get it timely, it will be of no use," said Khokan.
Like him, hundreds of people have been suffering over the last one week.
Md Ershadul Haque travelled 40 kilometres from his house in Raozan upazila to Chittagong land registry office yesterday morning to get a certified copy of his land documents.
He said one of his neighbours filed a land-related case with a Raozan court against his family after his father's death.
"Now I need a copy of the land deeds," said Ershadul. But he failed to get a certified copy of the documents because of the strike.
NO PAY FOR 13 MONTHS  
Abu Farid Chowdhury from Kutubdia in Chittagong has been working as an extra-muharrir at the district registry office since 1976.
The elderly man said he didn't get any payment from the office for more than a year, and that he was uncertain about the future. 
Extra-muharrir Abdul Haque, who has been working at Sylhet registry office for the last 12 years, said he didn't get paid for 13 months. 
"I usually earned around Tk 7,500 a month. But it was far from enough as I have a big family to run… Now I don't know how I will feed my family," he said.
Association president Zainal said almost half of the extra-muharrirs are women, but they don't get maternity leave. They have to go on leave without payment during pregnancy.
Reiterating the demand for bringing extra-muharrirs under the national pay scale, he said an extra-muharrir gets only Tk 24 for writing (300 words) a page, and the muharrir cannot write more than 12 pages a day as per the government rule.
Usually, an extra-muharrir writes 300 pages a month and earns around Tk 7,200, while the government gets Tk 12,000 in revenue from those 300 pages.
"If the government appoints an extra-muharrir as a staff, it would have to pay him Tk 8,012 as per the 2009 national pay scale. And the government would still get Tk 3,987 in revenue."
He said they would hold a grand rally today in front of the Jatiya Press Club to press for the demand.
Asked, Abbas Ali Mandal, inspector of registration officer (IRO), said extra-muharrirs work at registry offices on a contractual basis.
"We couldn't pay them as we didn't get block allocation from the finance ministry this year. But we are working on it. The problem will be solved soon."
On muharrirs' demand for bringing them under the national pay scale, he said it is for the government to decide. "I cannot make any comment about it."