Killings aimed to destabilise Bangladesh: PM
Warns against recurrence of such incidents, urge people to remain alert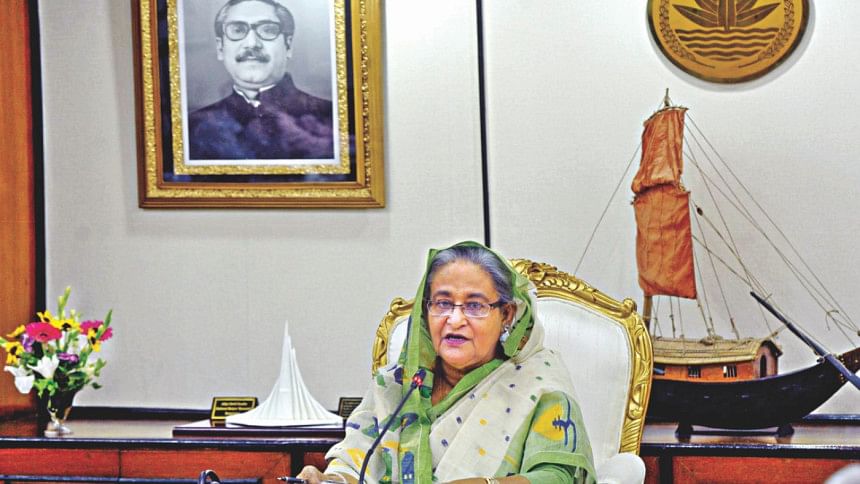 Strongly denouncing the recent killings, Prime Minister Sheikh Hasina yesterday said she does not want such incidents to reoccur in the country.
"The law enforcement agencies have been working to this end…. I hope they'll be able to hunt down the criminals after conducting investigations," she said.
The PM made the remarks in the fourth meeting of the Fast Track Project Monitoring Committee at her office.
PM's Press Secretary Ihsanul Karim briefed reporters after the meeting.
Hasina alleged that those who had earlier burnt and killed people in the name of a movement are now engaged in such killings. "Such killings are being carried out in a planned way to destabilise the country."
"Those who are committing these killings do not believe in any religion and boundary. The militants have no religion and boundary," the premier added.
On Monday afternoon, unidentified killers hacked USAID staff Xulhaz Mannan and his friend Mahbub Tonoy to death in Xulhaz's apartment in the city's Kalabagan.
Referring to the deaths of two Bangladeshi citizens in their San Jose home in California, Hasina said the US government would investigate the incident.
Golam Rabbi and his wife Shamima Rabbi were found dead at their home in California on Sunday.
The PM also condemned the recent killings of eight people of a family in Ohio, USA.
'LAW AND ORDER NORMAL'
Speaking in parliament, Hasina yesterday said people are getting justice and as a result the local and foreign citizens are leading their lives and doing businesses normally and peacefully in the country, reports The Daily Star correspondent.
"Foreign investment is on the rise, the country is moving forward and the base of the country's economy is getting stronger as its law and order situation is normal," she told the Jatiya Sangshad.
She stated that it was possible for the government to control terrorism and militancy in the country due to the initiatives taken by law enforcement agencies.