Kerry calls PM, seeks justice for Xulhaz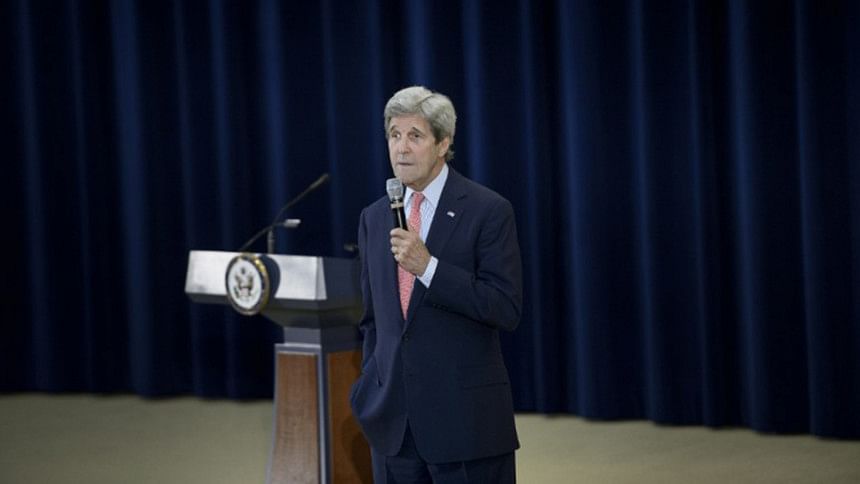 US Secretary of State John Kerry last night phoned Prime Minister Sheikh Hasina and requested her to take necessary steps to bring to book the killers of Xulhaz.
According to the prime minister's press wing, Kerry talked to Hasina for 16 minutes from 9:04pm to 9:20pm and exchanged pleasantries.
Expressing his concern over the killings, he said, "Xulhaz was our colleague."
The PM thanked the US secretary of state for expressing his concern and said, "Our stance is very firm against terrorism. We're following a zero tolerance policy in this regard. Our law enforcement agencies are working very hard to this end and they've got some clues. We hope we'll be able to arrest the killers and thus put them behind bars."
Xulhaz Mannan, a USAID staff and also editor of the country's only known LGBT magazine Roopbaan, and his friend Mahbub Rabbi Tonoy were hacked to death inside the former's Kalabagan flat on Monday afternoon.
Reiterating that her government condemns any kind of killing, Hasina said one of the two victims of Kalabagan killings was a close relative of a former foreign minister of Bangladesh.
She also said, "All the members of our family except me and my sister became victims of murder and today is the birthday of my younger brother Sheikh Jamal who was assassinated along with other family members on August 15, 1975."
In this connection, the PM mentioned that two of the Bangabandhu killers still remain in the USA, and urged Kerry to take steps for sending them back to Bangladesh.
She said Bangladesh has mutual cooperation on counterterrorism with many countries, including the USA, and under such cooperation, the FBI came to Bangladesh.
"I hope such cooperation on counterterrorism will continue in the coming days and information will be shared."
Kerry said he would send US Assistant Secretary of State for South Asia and Central Asian Affairs Nisa Desai Biswal to Bangladesh to further bolster the cooperation on counterterrorism.
Hasina alleged that those who had killed and burned people to death in 2015 are patronising these killers and they are moving with a soft target strategy by launching attacks on imams, priests and padres. All these killings are being carried out in cold blood, she said.
She also strongly condemned the recent killings of eight members of a family in Ohio and requested the US secretary of state to arrest the killers of a Bangladeshi couple who were murdered in San Jose of California.