Kadar's plight not over yet
He is under immense pressure to withdraw case against suspended police officer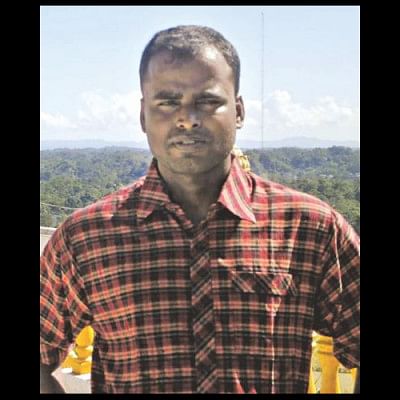 Former Dhaka University student Abdul Kadar thought the torture he had endured in police custody after being falsely accused in a case was in his past and the rogue cop responsible for his agony was to be punished and that was it.
It was not so. His long battle for justice is yet to end.
The threats, sufferings and increasing mental pressure continues on the now teacher of Comilla Victoria College.
Kadar is under tremendous pressure to withdraw the case he had filed against now suspended officer-in-charge (OC) of Khilgaon police station Helal Uddin, who had arrested him in a false extortion case and tortured him in custody.
Helal was punished with three years' imprisonment for the crime in absentia but he has been moving freely securing bail.
He has been issuing threats on Kadar and his family members to withdraw the case, Kadar and his family sources said.
"I am now going through a new phase of trouble as I am being asked to withdraw the case by various people and quarters," Kadar told The Daily Star.
Kadar said he would not withdraw the case and hoped that the law would take its own course.
The OC is using lawmakers, politicians, teachers and even my friends, he said, adding that most of them were saying that the OC got his punishment for the crime he committed in 2011 "so you should forgive him and withdraw the case".
Kadar is dealing with another problem. The hearing of the appeal Helal had filed against his punishment was not being held and hearing dates were being deferred again and again. This is allowing more pressure on him to be added.
An additional district session judge court is scheduled to hear Helal's appeal on June 16.
Asked Mohammad Gaffar Hossain, counsel of Kadar said his client is in constant pressure from different people. "From morning to dusk, from work to home, Kadar has been facing pressure to compromise with Helal Uddin," he added.
Kadar's lawyer said the hearing on the appeal had been deferred at least 11 times in the last one year due to defence team's time petitions.
Saidur Rahman Manik, one of the counsels of Helal, said it was true that hearing of the appeal was deferred many times but the defence and the prosecution were to blame for this.
Manik, also president of Dhaka Ainjibi Samity, said he was not aware that pressure was being mounted on Kadar to withdraw the case.
Following a three-year legal battle, Kadar finally won the case in May last year when a Dhaka court punished Helal, setting a rare example of punishing a police official for custodial torture in a country where allegations of such torture and deaths are rampant.
Before delivering the judgment, the court cancelled Helal's bail, declared him a fugitive, and issued a warrant against him.
Helal then surrendered before a higher court and obtained bail from it.
In the early hours of July 16, 2011, some plainclothes policemen from Khilgaon Police Station stopped Kadar at Segunbagicha while he was returning to his dormitory, Fazlul Huq Hall, from a relative's house in the capital's Eskaton area.
They beat up Kadar, then a DU student of biochemistry and molecular biology, with sticks terming him a criminal, according to the statement of the case filed by Kadar in January 2012.
Two cases were filed against Kadar. He was shown arrested in another false case filed with Mohammadpur Police Station for carjacking.
Taking into cognisance a report of The Daily Star, the High Court directed the government and the police authorities to launch special probes into the matter.
On January 23, 2012, Kadar filed a case with Khilgaon Police Station against Helal for torturing him in custody and implicating him falsely in three criminal cases.
The Daily Star could not reach Helal for comments.