Jute goods losing export market
Shrinking global demand key reason; 21 private jute mills shut, many running below capacity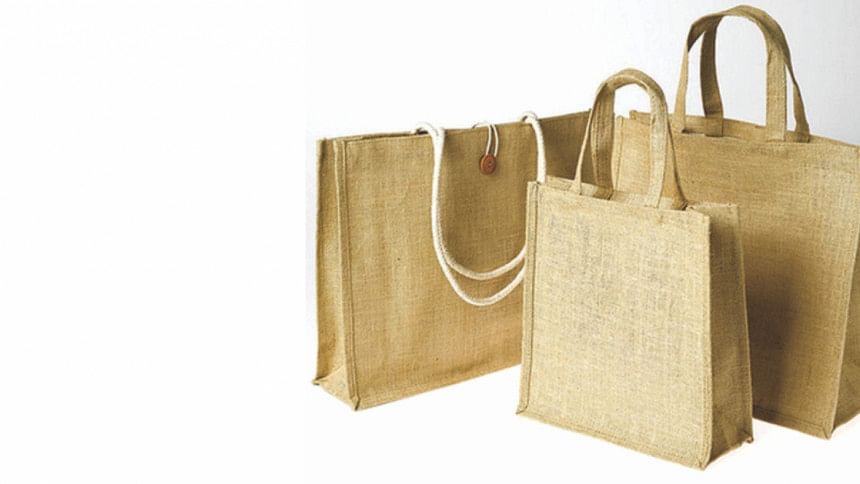 Shrinking global demand and imposition of anti-dumping duty by India have threatened Bangladesh's export of jute goods, industry players said.
Conflicts in the Middle East countries, particularly in Syria, Egypt, and Iraq, have almost halted the jute exports there. Developed countries do not import that much jute products either.
Now the export market has been squeezed to just India, Turkey, China and countries in the African continent.
Inefficiency of the millers, be it productivity, management or diversification of products, has added further woes to the exports of jute goods.
"Some mills have failed to survive the losses and got closed in recent years," said Mahbubur Rahman Patwari, director of Alijan Jute Mills. Declining demand for jute goods forced Pubali Jute Mills, one of the oldest mills in the country, to close last year.
He said 21 jute mills out of 35 that were privatised during the Ershad regime were now closed. Many of the existing mills were running below capacity, he said.
There were around 120 jute mills, including 25 state-owned mills. In addition, there were scores of jute spinning mills in the private sector.
According to industry insiders, the mills have an installed production capacity of 12 lakh tonnes of jute. Now the mills are running at only 50 percent installed capacity because of sluggish demand in the international market.
Of Bangladesh's total jute production of 10-12 lakh tonnes per year, 80 percent are exported and remaining 20 percent is consumed by the local market. Even the mandatory jute packaging law could not boost demand in the local market.
Export Promotion Bureau (EPB) data shows, Bangladesh exported jute and jute goods worth nearly $920 million in fiscal year 2015-16. Of the exports, yarn and twine was $559 million, followed by raw jute over $173 million, sacks and bags over $122 million.
EPB data for the July-September period of the current fiscal year shows, exports of jute yarn, twine, bags and sacks were down by around 20 percent.
Shahidul Karim, secretary of Bangladesh Jute Spinners' Association, said European Union market has been squeezed in recent years and the Middle East countries, which were a big market for jute goods, were war-affected.
"Yarn is used for making carpets, which is a luxury item. Economic recession in the developed countries has reduced the demand for carpets," said Shahidul.
He said of the 97 jute spinning mills, 25 were closed.
According to data of the Bangladesh Jute Spinners' Association, Turkey, which is a big market for Bangladesh's jute yarn and twine, imported 1.74 lakh tonnes in 2015-16, down from 2.04 lakh tonnes of a year before. Export to Syria, Egypt, Iran and Iraq was almost at a halt because of wars.
"Anti-dumping duty by India on jute exports from Bangladesh will further affect our exports," said Shahidul. Bangladesh exports 1.50 lakh tonnes of jute goods to India annually.
Yousuf Haroon, a retired official of the state-run Bangladesh Jute Mills Corporation (BJMC), saw no future of jute goods unless diversification of products was made.
He said the world now uses synthetic packaging materials instead of jute products because these are easy to use and handle.
"Revival of jute is impossible unless millers diversify their products … ," said Yousuf who was in the BJMC for 32 years. Jute bags are not cost effective compared to its competitors, he said.
Gopi Kishon Sureka, CEO of Fiber n Fibre, said, "Further investments in traditional jute mills should be discouraged. Efficiency, modernisation and product diversification are very important for competitiveness and sustainability."
Yet, some people like Mushtaq Hussain, managing director of the Golden Fibre Trade Centre, sees hope. He said car manufacturers in the United States, Europe and Korea have shown their interest in jute for car interior. 
"Jute mills here lack technical and managerial skills. Mismanagement also causes losses," said Mushtaq who has been in the jute trade for over 25 years.
Mirza Azam, state minister for textiles and jute, also emphasised on the diversification of jute products.
"BJMC has taken a Tk 700-crore project to manufacture diversified products," said the state minister. The project will take 3 to 4 months to begin, he added.