Judiciary relieved of burden
Says AG on Justice Sinha's resignation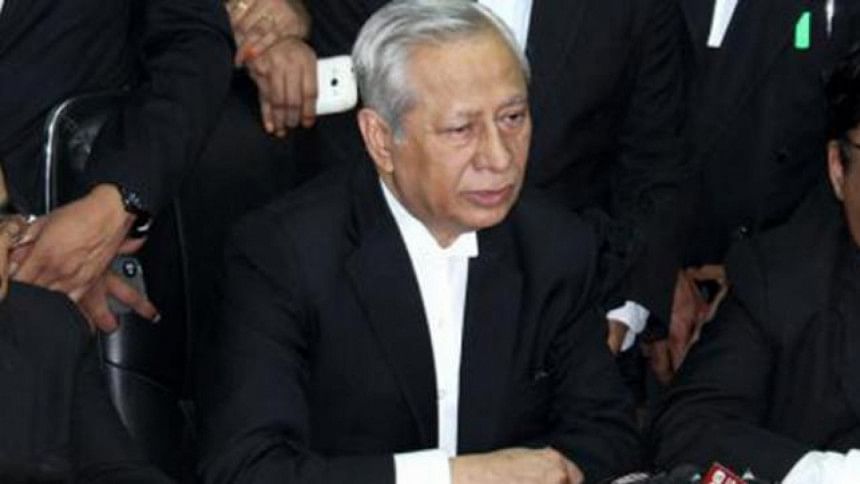 Justice Surendra Kumar Sinha's resignation has relieved the judiciary of a burden, Attorney General Mahbubey Alam said   yesterday.
"If anybody in the judiciary is involved in corruption or moral turpitude, that person should not be in the judiciary under any circumstances," he told reporters at his office when asked about his reaction to Justice Sinha's resignation.
Amid flak from the ruling quarters over different issues including the 16th amendment verdict, Justice Sinha resigned on Saturday.
Now abroad, he sent his resignation letter to the Bangabhaban, the official residence of President Abdul Hamid.
What reason Justice Sinha cited in the letter is yet to be known.
Mahbubey Alam yesterday said, "The Appellate Division of the Supreme Court means all judges of the division, not the chief justice only.The matter was settled the day other judges of the Appellate Division expressed their reluctance to sit with the chief justice to dispose of cases. Against that backdrop, I said that his reassuming the charge of chief justice on return was a far cry."
The chief law officer of the state also said Justice Sinha had no choice but to step down.
Asked for comment, Law Minister Anisul Huq said, "I have not talked to the president about it. I donot know who will be the new chief justice. Nothing regarding the resignation of Justice SK Sinha or appointment of new chief justice has come to my office from the president's office."
The minister on Saturday told this correspondent that the appointment of the chief justice is an absolute prerogative of the president under the constitution.
The minister also said Justice Md Abdul Wahhab Miah, the senior most judge of the Appellate Division after Justice Sinha, would continue to carry out the responsibility of the chief justice, under Article 97 of the constitution until a new chief justice was appointed.