'CJ Sinha to be considered absent if he doesn't rejoin office tomorrow'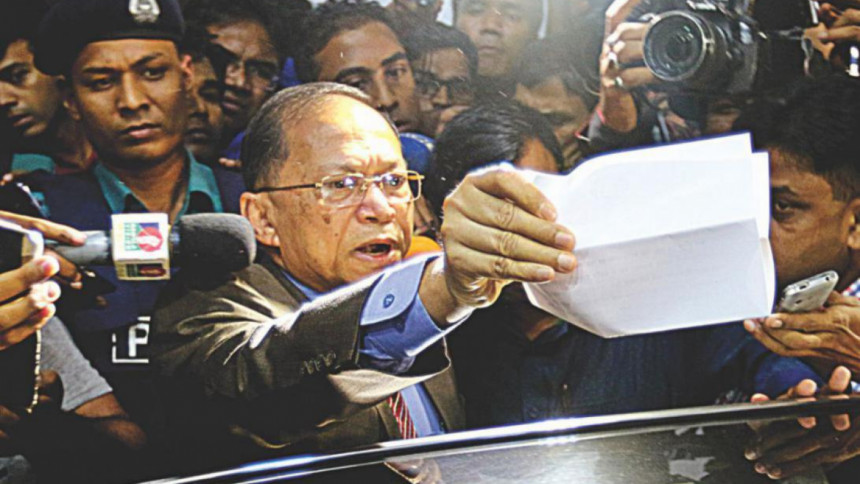 If the Chief Justice Surendra Kumar Sinha does not rejoin his office tomorrow the senior most judge of the Appellate Division (Justice Md Abdul Wahhab Miah) will be appointed as acting chief justice of Bangladesh under Article 97 of the constitution, Law Minister Anisul Huq told The Daily Star tonight.

He said, "Tenure of leave of Chief Justice SK Sinha expires tomorrow and I don't know whether he has extended his leave."

Replying to a question the law minister said that Justice SK Sinha will be considered absent if he does not rejoin the office or extends his leave from tomorrow.
He said that the CJ can rejoin his office after his coming back to the country.

He however said that he does not know what will happen if the CJ remains absent in his office.

Chief Justice Surendra Kumar Sinha is facing 11 charges, including money laundering and corruption, the Supreme Court said on October 14, a day after he left the country for Australia.

On the same day, Attorney General Mahbubey Alam said Justice Sinha's rejoining the office of chief justice after returning from abroad is "a far cry."

A deadlock would be created if other judges of the Appellate Division do not want to sit with the chief justice, he said.

Before leaving the country on Friday night, Justice Sinha said he was not sick, contradicting the government claim that he went on leave on health grounds earlier this month.

He spoke to reporters briefly in front of his Hare Road residence and handed them a signed statement, typed in Bangla, before heading to the airport.

In the statement, Justice Sinha said he was fully well, but embarrassed by the way he was criticised by a political quarter, lawyers, and especially the honourable prime minister and some ministers over a verdict.

He also said he was a "bit worried about the independence of the judiciary.