Jhalakathi court summons Star editor
A Jhalakathi court yesterday asked Mahfuz Anam, editor and publisher of The Daily Star, to appear before it on March 31 in a defamation case.
Advocate Boni Amin, law affairs secretary of Jhalakathi Sadar Awami League, filed the case with the Senior Judicial Magistrate's Court in the district on February 16, demanding Tk 5 crore as compensation.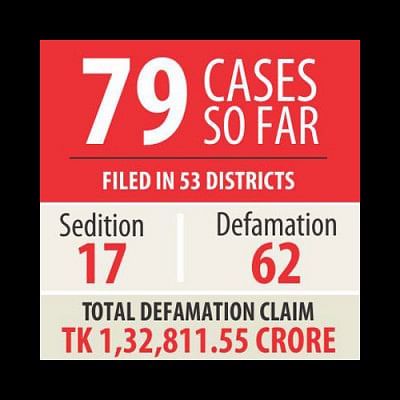 The court summoned the editor after the district information officer submitted an investigation report to Judge Md Jayed Ahmed complying with an earlier order, our Jhalakathi correspondent reports.
So far, 79 lawsuits, which include 17 sedition and 62 defamation suits, have been filed in 53 districts against Mahfuz Anam.
The barrage of cases began days after the Star editor at a talk show on February 3 made an introspective comment about a lapse in his editorial judgement in publishing some reports, based on information given by the Task Force Interrogation (TFI) cell during the 2007-08 caretaker government's tenure, without being able to verify those independently.
During the period, almost all the media outlets, both print and electronic, ran similar stories. 
At the time, this newspaper published 11 such reports -- seven on alleged corruption of Khaleda Zia, her two sons – Tarique Rahman and Arafat Rahman Koko – and other BNP leaders. Three reports involved alleged graft of Sheikh Hasina and the other one of the then chief conservator of forests, Osman Gani.