Brave Kiwis overcome mighty India
New Zealand book place in second straight World Cup final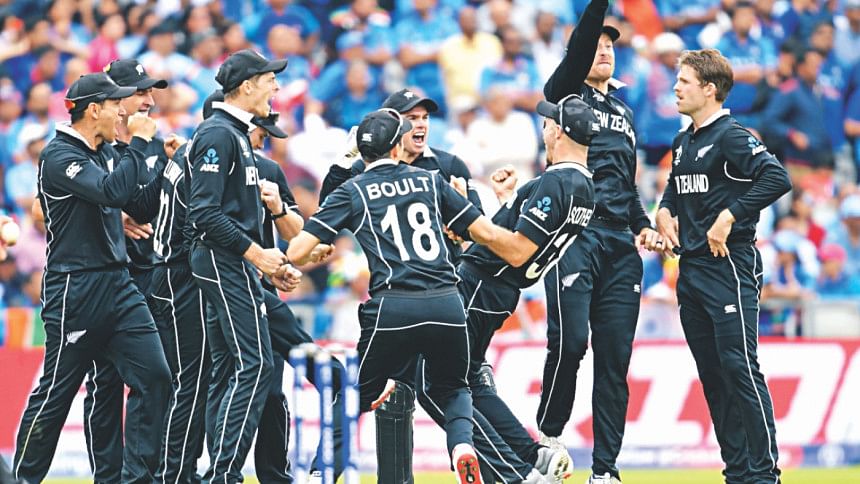 A magnificent rearguard effort from India all-rounder Ravindra Jadeja could not offset the early damage done by seamers Trent Boult and Matt Henry as New Zealand secured a second successive World Cup final berth with an 18-run win in a pulsating semifinal at Old Trafford yesterday. New Zealand completed the win on the reserve day set aside for the semifinals and finals after rain had forced a suspension on Tuesday, which ended with the Kiwis on 211 for five in 46.1 overs.
The Black Caps will meet the winner of today's second semifinal between Australia and England in the final at Lord's on July 14. If Australia win, it will be a replay of the 2015 World Cup final and if England win, there will be a new world champion come Sunday night.
Chasing 240 to win, India had brought the chase down to 37 from the last three overs with Jadeja and Mahendra Singh Dhoni at the crease. Having hit four sixes while dragging India back into contention, Jadeja perished trying for a necessary fifth to be caught in the ring off a Boult slower ball. Dhoni started the next over from Lockie Ferguson, which began with India needing 31, with a six over point but off the third ball a precision throw from deep square leg from Martin Guptill found Dhoni just short of his crease in his attempt to complete his 51st run. Guptill's pinpoint accuracy was one of the examples of fortune favouring the brave after skipper Kane Williamson had gone for wickets early on and gambled by bowling his best bowlers out before the last two overs.
Ferguson bowled Bhuvneshwar Kumar with a slower ball and then Jimmy Neesham had Yuzvendra Chahal caught behind as India were all out for 221 with three balls to spare.
New Zealand's win over the more fancied India was based on doing what no other team had managed against the 2011 World Cup champions in this edition so far -- dismissing Rohit Sharma and skipper Virat Kohli within the first 10 overs. After New Zealand had added 28 runs for the loss of three wickets in the morning yesterday, three wickets from Henry and one -- that of Kohli -- from Boult cut the Indians down to 24 for four after the first 10 overs. The significance of those early blows can best be illustrated by the fact that in their eight league games, India had lost just four wickets in the first 10 overs.
But the two-time champions' chasing pedigree came through later on, when Jadeja dominated a 116-run seventh-wicket stand with MS Dhoni, who was handing the strike over to the left-hander in red-hot form. Jadeja came to
the crease with India reeling on 92 for six in the 31st over with Dhoni playing slowly and the match all but lost. He hit a 59-ball 77 in the partnership that lasted 17.2 overs and nearly pulled off a miracle.
Earlier, in ideal swing-bowling conditions, captain Williamson's gamble to go all out for wickets was rewarded by two bowlers who executed that plan to the letter with highly accurate and incisive spells. Henry drew first blood in the second over by having Sharma -- who scored five centuries in eight league games -- caught by the keeper with an edged away-swinger. Boult worked Kohli over with a sequence of two outswingers and two inswingers, with the right-hander playing across the line and being trapped in front by the second inswinger. Lokesh Rahul repeated Sharma's error -- poking without conviction at an away-swinger -- to leave India on a woeful five for three in the fourth over. Dinesh Karthik and Rishabh Pant fought hard to survive with Boult constantly keeping the batsmen guessing and playing late. Neesham then completed the Powerplay dominance by snaffling a superb catch at point millimetres off the ground diving to his left when Karthik checked a drive to another outswinger from Henry and got a thick outside edge in the 10th    over.
Left-arm spinner Mitchell Santner did his part by bowling a tight line and Pant, realising the need for some quick runs, attempted a maximum but was instead caught off a slog sweep at deep midwicket in the 23rd over. The pressure also told on Hardik Pandya, whose wild slog in the 31st over off the same bowler was caught by Williamson in the ring, leaving India in a seemingly hopeless position. Jadeja's innings followed, as did a late Dhoni fightback in what could be the legendary wicketkeeper-batsman's last ODI, but the early ground ceded to the brave Kiwis proved too much to recover.