I am woman
Once penniless, Pabna woman reinvents herself as agriculture businesswoman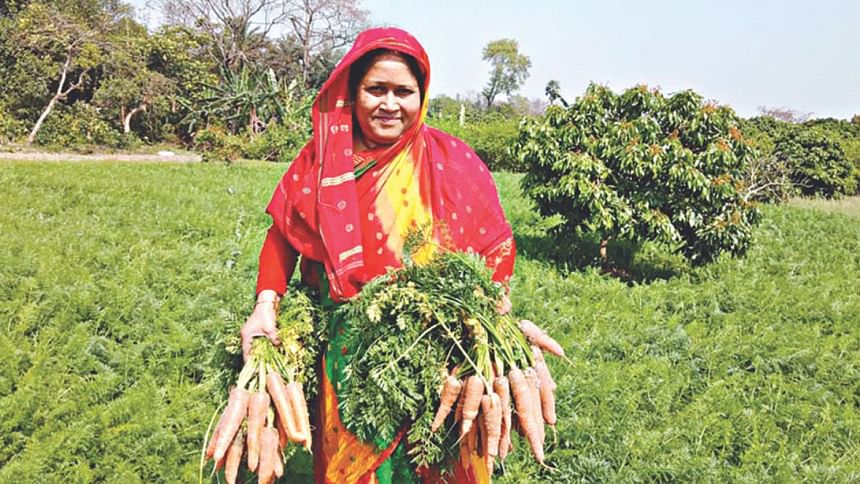 The trouble was love. When Nurunnahar from Boktarpur village in Pabna's Ishwardi upazila married her husband in 1991, neither family agreed. The couple lived alone on five decimals of land behind her in-law's house. Her husband was unemployed. Without the benefit of higher education and without taka in hand, Nurunnahar was determined to build a better future.
"I started my married life sleeping on a brick floor," she recalls. "I only had the land around the house. I planted pumpkin and bottle gourd. If I sold even Tk 1,000 of vegetables I was happy."
The following year she took a Tk 2,000 loan from a non-government organisation to expand her plot. She added brinjal and a few other vegetable varieties, to earn a more respectable Tk 15,000. It was enough to make her enthusiastic about farming.
"When I signed up for training my relatives and neighbours responded with insults," she says. "We were forced to leave our shelter and move to a new location beside my husband's uncle's house. He made six bighas available for me to cultivate. It was the beginning of my success."
That was many years ago. Since then, the mother of four sons has gone from strength to strength. With the help of bank loans she gradually transformed herself into a leading businesswoman. These days she farms 130 bighas, 28 of which she owns outright.
"This year I grew potatoes, carrots, other vegetables and paddy," she says. "I have a ten-bigha pond, a banana grove and a dairy farm." Nurunnahar earns up to Tk 3 lakh per month. Her days of struggle are a distant memory.
"She is an adept farmer," says the deputy director of Pabna's agriculture department, Bivutipushon Sarker. "Nurunnahar proves that what men can do, women can do better! Her success in agriculture is brilliant!" For her efforts she has won numerous awards over the past decade, including a 2016 Bangabandhu Gold Medal for contribution to the agriculture sector.
But the woman who started with nothing seeks more than her own prosperity. "I formed a women's organisation of 1200 members," she explains, "They are insolvent and neglected women. I am training them. I offer logistic support so that they can build a better life through agriculture."
"A few years ago I was just a housewife and we were very poor," says one of the women in the group, Jhorna Begum. "Then I started working as a day labourer with Nurunnahar. I learnt a lot about farming. I grew vegetables on two bighas for myself. The future looks brighter now."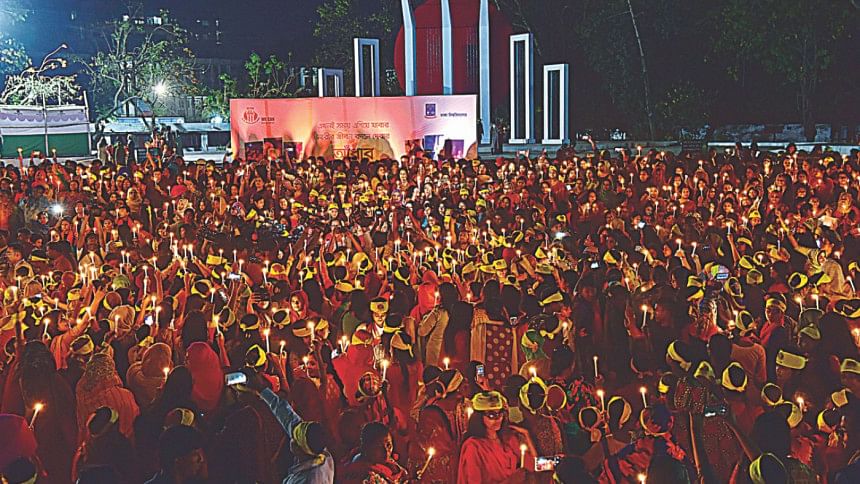 While Nurunnahar is kept busy managing her enterprise and family, still now she likes to work with her labourers in the field when she can. Her sons are all pursuing higher education and recently she has launched a plan to establish a village hospital. "At the end of each day I feel happy for my small contribution to society," she says.
Needless to say her children are proud of her. "I am the son of Nurunnahar, an icon of Bangladesh," says one son, university student Ryhan Kabir Herok. "My mother is recognised as a successful farmer. There are many affluent and well-educated people in the country who do not have as much honour as my mother does. She has achieved so much with her life."
Those other relatives who once neglected her have also changed their tune. "They also love me now," says Nurunnahar, "and it's all because of agriculture."