A dream of self-identity fulfilled
Pabna woman becomes successful dairy entrepreneur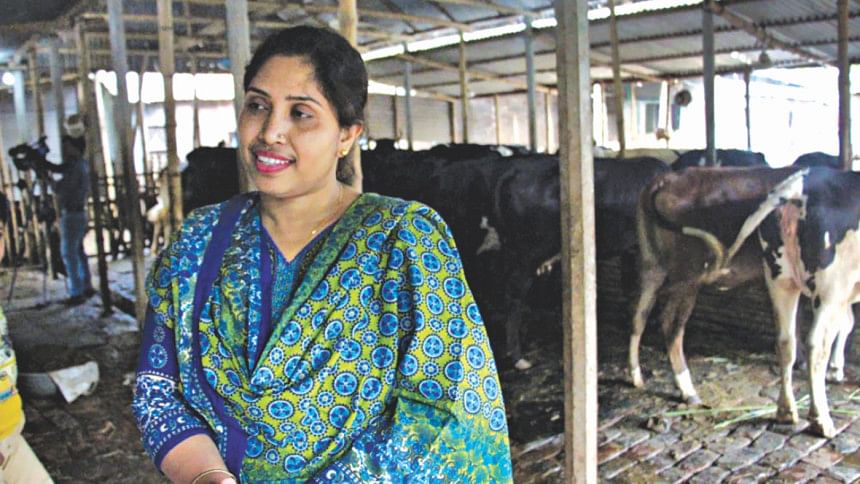 As a school teacher, wife and mother of two sons, Mahfuza Mina from Bongram village of Pabna's Bera upazila is like many a contemporary Bangladeshi woman: busy. Yet between managing household and running the classroom, Mina has also challenged traditional notions of a village woman's role to become a successful entrepreneur. She operates one of the largest dairy farms in the northern districts.
"Mina wakes early and prepares her sons for school," says Mina's mother Nazmun Nahar. "Then she visits the dairy. By 10 a.m. she's herself in class, returning home from school by afternoon. She then goes back to the farm before taking care of home and family."
Despite what would seem to be an unmanageable load of responsibility, according to her mother Mina manages perfectly well.
"I dreamt of a son," says Nahar, "but God blessed me with a daughter. Mina has proven herself better than any son and I am so proud of her!"
After completing her Master's degree in social science from Rajshahi University in 2000, Mina embarked upon her primary school teaching career. A year later she married engineer Kabirul Ahsan Ripon from the same village, with whom she started her own family.
It was in 2010 that she established the dairy, with two cows. "When I started the farm locals, colleagues, relatives and even my husband criticised the decision. They wondered if it was at all necessary," explains Mina.
"It was my father's dream to have a dairy," she continues, "He wasn't able to achieve it before his death from cancer. I followed his instruction because I wanted to work towards realising his dream."
Were he alive there is no doubt Mina's father would be pleased with the results. There are currently 50 cows at the dairy, with 20 producing up to 150 litres of milk per day.
Yet it wasn't solely her father's dream which drove her. Mina long had a dream of her own.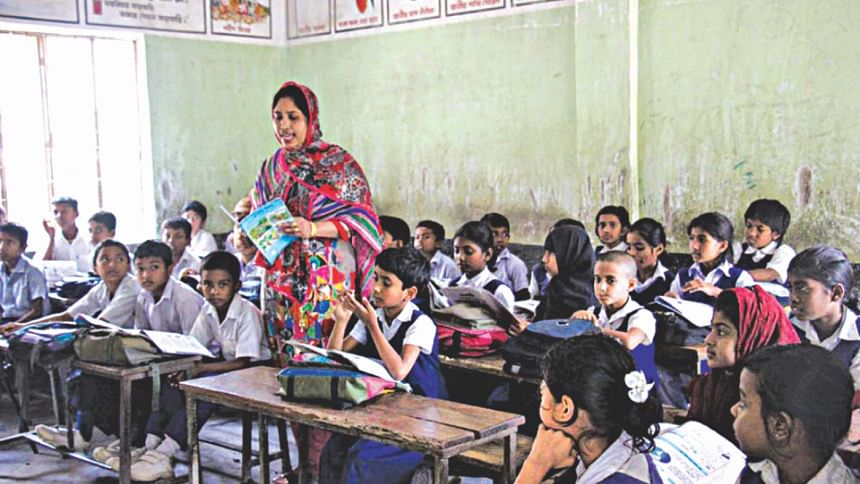 "When I first graduated," Mina recalls, "My initial plan was to pursue an ambitious career away from the village, but as an only daughter I couldn't leave my parents. Nonetheless I was determined to establish, beyond the primary school, an independent self-identity."
"Mina is an educated woman ready to take on any challenge," says Md. Shahdat Hossain, headmaster of the government primary school where Mina works. "She's worked hard to make her own identity alongside the teaching profession. The dairy farm is the result of her efforts."
"Mina is an inspiration to local women," the headmaster continues. "The people of Bongram are proud of her." Indeed, following her example, many of Mina's neighbours have also embarked upon establishing agro-businesses in addition to their regular work.
Recognised as a successful entrepreneur by Bangladesh Bank, Mahfuza Mina has achieved her father's dream. In establishing a strong self-identity she has achieved her own. But Mina's efforts are not yet done.
Most recently she's trying her hand at sheep and goat farming. "I'd like to build a fully-fledged, diversified agro-business," she says. And what Mahfuza Mina sets out to achieve, her personal history tells us, she usually does.